9 Best roofer web design examples that bring roofing leads
Every successful digital marketing strategy must include a high-ranking website. Building a comprehensive roofer website design is essential to the growth of your roofing company. An excellent contractor website brings you more visitors and converts them to leads and sales.
If you are looking for ideas for your roofer web design, continue reading this review. Not only do we highlight the best roofing website examples online, but we also recommend customizations. By the end of this guide, you will have both visual and functional inspirations that you can apply to your roofing website design.
It is possible to get more leads and book more roofing jobs with a high-ranking contractor website. There is research proving that a solid online presence can generate massive amounts of sales. The best roofing website design brings more customers to the business. 
So, how has web design changed the roofing industry? What are the benefits of curating a website?
Why Roofing companies need the best web design
Firstly, working with experts is the only way to launch your ideas for your roofing company website. That is where the Marketimh 1776 team comes in. Our job is to bring your ideas to life by creating and customizing the website for your roofing company. Therefore, if you need roofing websites that generate sales, contact us!
Here are the benefits of having a leading website in the contractor industry.
Boosts visibility - When you rank high up on a major search engine like google, potential customers will prefer your company to other roofing contractors on page 2.
Increases reliability rates - Roofing business owners always ensure that all contact information is available on the website. Therefore, clients with emergency roof repair needs can easily reach you.
Double your roofer leads within your budget - the best websites for roofers bring more customers without going above the marketing budget. 
Connects roofers with clients - Most people searching for a roofer want to know something about you or your business. Contractor companies with websites are deemed more trustworthy than those without. With the right content on the site, you can share your projects and form a connection with your customers.
The common elements of roofer web design
Your website must be unique, user-friendly, and visually attractive to users. The goal is to create a 'wow'  effect to any potential customers who open your site. Still, top roofing companies apply a few common elements to their websites. Whether building a new website or upgrading the existing one, pay attention to the essential details. 
SEO-optimized pages, widgets & blocks - One way of ranking high online is by including all the necessary keywords in your text, from the main text in blogs to the alt text in images, tags, and metadata.
Helpful content - The most optimized roofer web designs must have great content. Consider the type of questions your clients are likely to ask and provide answers in range. You can write blogs, create videos or upload original pictures into the gallery.
Proper core web tests (90 to 100) - A crawl ability test is vital in determining how your site performs compared to others in the same industry. 
Visually appealing and easy-to-use web design - Top-performing roofing businesses with converting websites have fluid web designs that make their platform navigable and user-friendly. Previous reports indicated that readers are more likely to view a website with a beautiful design than a simple design. How you presently use the widgets on your pages determines how long customers will stay.
Trust factors - Prove that you ate the best contractor for them to hire by showcasing your awards. Also include reviews from former clients and visuals of your team at work!
The best roofing company websites 2023
The list below comprises of the best roofing contractor website designs. Several things were taken into account while compiling the examples below. Take a look and pick a template that comes close to what you already have in mind. 
1. Manhattan Roofing
New York
https://manhattanroofs.com/
What they have done well:
Used captivating typography, mixing big, bold headings with standard text.
Perfect shades of red and white.
Clickable contacts at the top of the landing page.
There is a simple contact form just above the bottom header.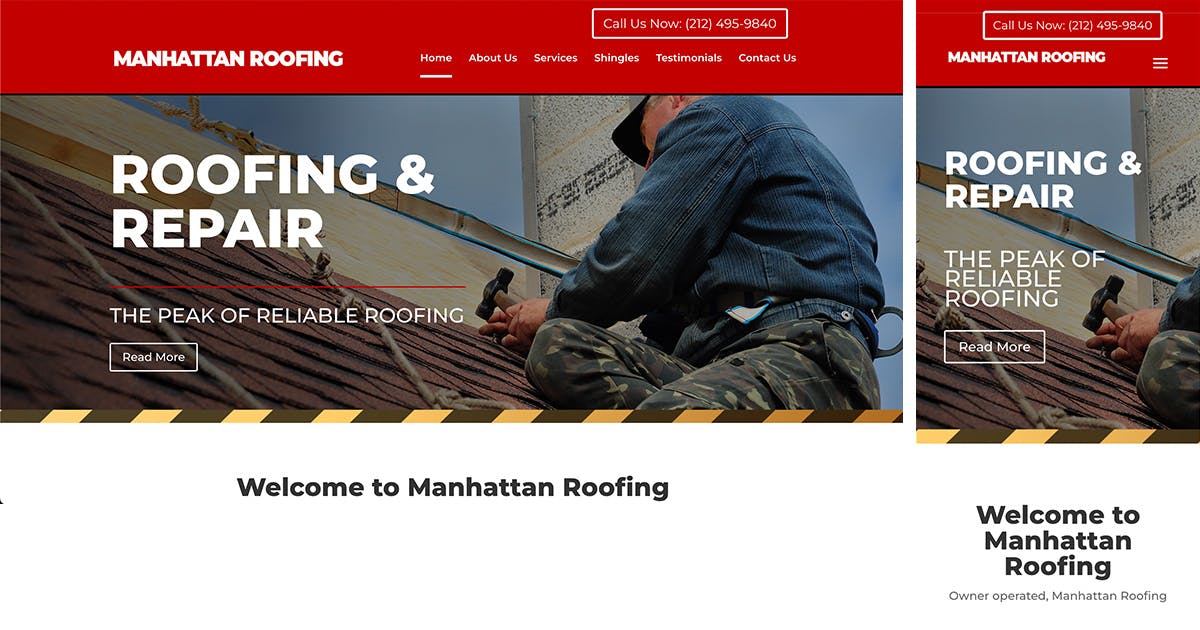 Recommended changes:
The site should have more pictures or videos. 
Customer reviews are not easily found on the site.
The company could have added images with their roofing services.
2. Chicago Flat Roof Company
Chicago
https://chicagoflatroofcompany.com/
Great features of the site:
The website offers highly creative navigation.
All-inclusive footer.
The blue and dark theme is elegant and modern.
4K pictures give customers a detailed view of the company's work.
A map with service area details.
Custom roofing packages and their prices.
Awards and other trust factors are well visible.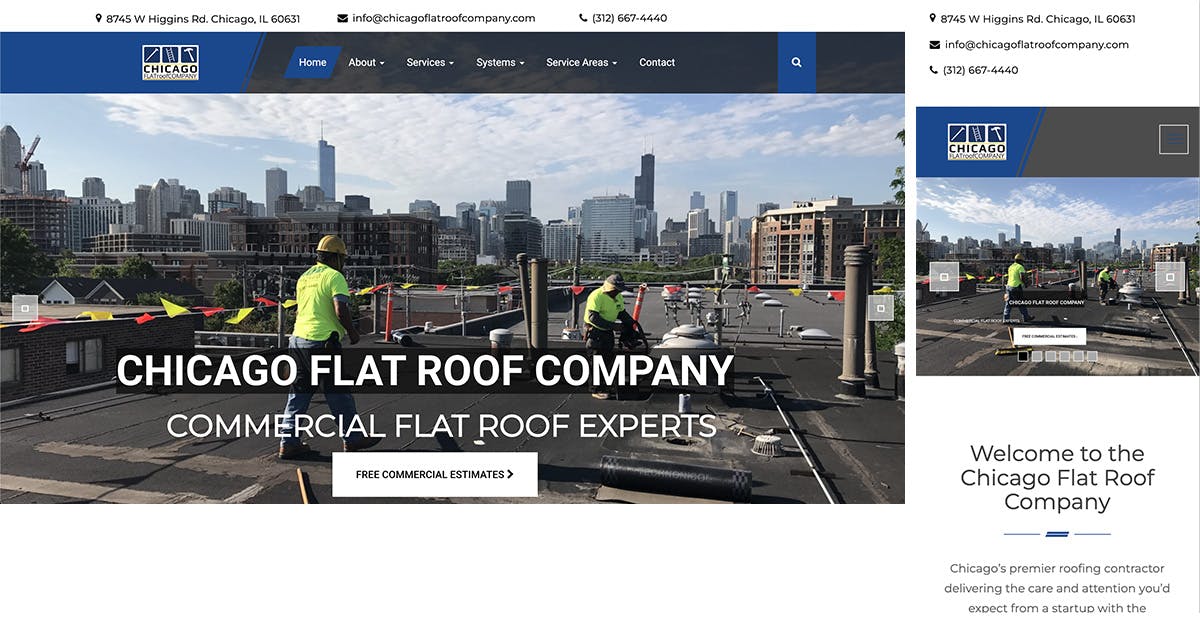 Recommended changes:
Adding a blog post grid or slider could increase customers' time on the homepage.
3. Punun Roofing 
Houston
https://www.punumroofinghouston.com/
Impresive efatrues on the website:
An outstanding header that captures the attention of website visitors.
An easily navigable estimate form.
High accessibility to all pages and internal links.
A gallery of stunning  images 
The footer is comprehensive will further information and services.
Sticky estimate form on the side.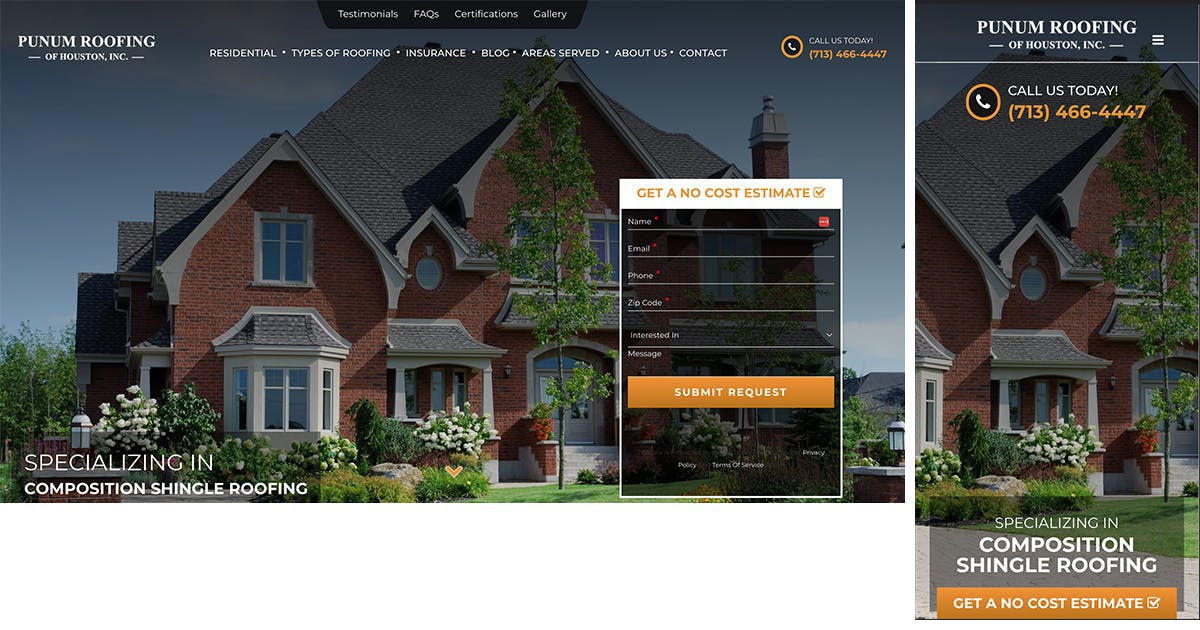 Suggested improvements:
The site already has charming [pictures, but adding a video would be great. 
The company should add more trust factors to its roofer web design.
4. Dr. Roof
Calabassas, California
https://mydrroof.com/
Notable features on this roofer site:
Opening hours, phone number, and physical address, are listed at the top.
A search block in the header to help you book an appointment.
Engaging CTA buttons.
Each segment has helpful SEO content.
Counter displaying years of experience and customers served.
Contact form.
Map with the service area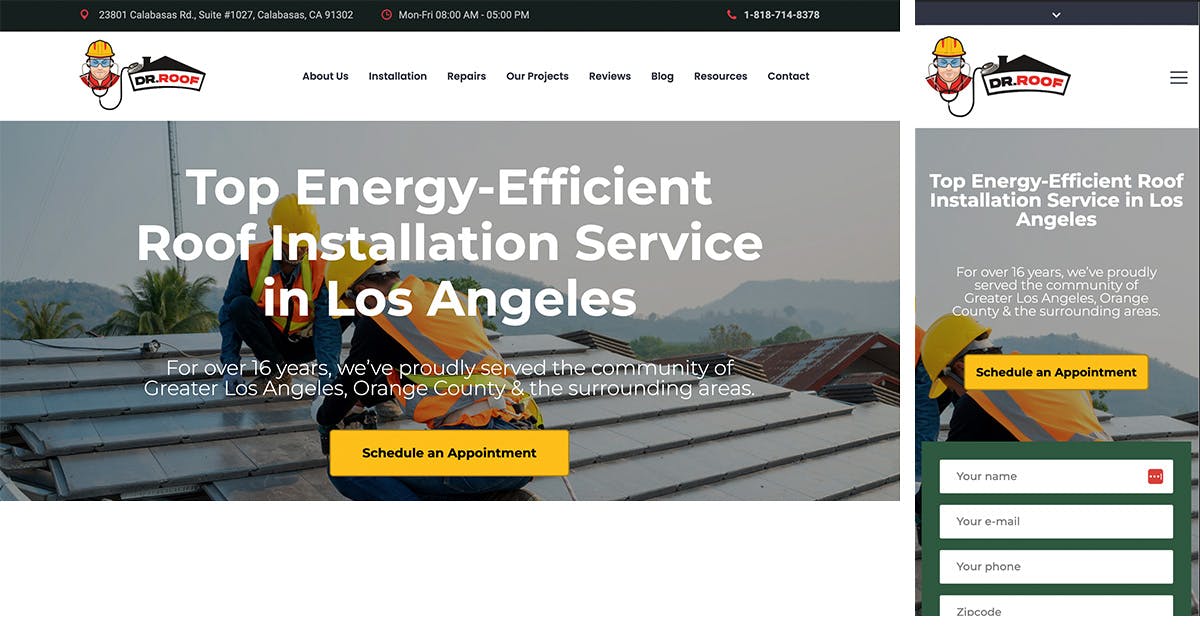 Suggested improvements:
Accessibility functions need to be added to the site.
As a high-end roofing company, it's necessary to have a translation. 
More customer reviews and awards should be added to the landing page.
5. Phoenix Roofing & Remodelling 
Phoenix
https://phxrandr.com/
What they have done well:
This is a winning roofing website.
A simple yet sophisticated color palette of rich red.
An estimate form is available at the top of the site.
There's a video lobby with more content.
A grid of trust factors is at the center of the page.
Service areas are listed at the bottom/
Well-visible CTA buttons.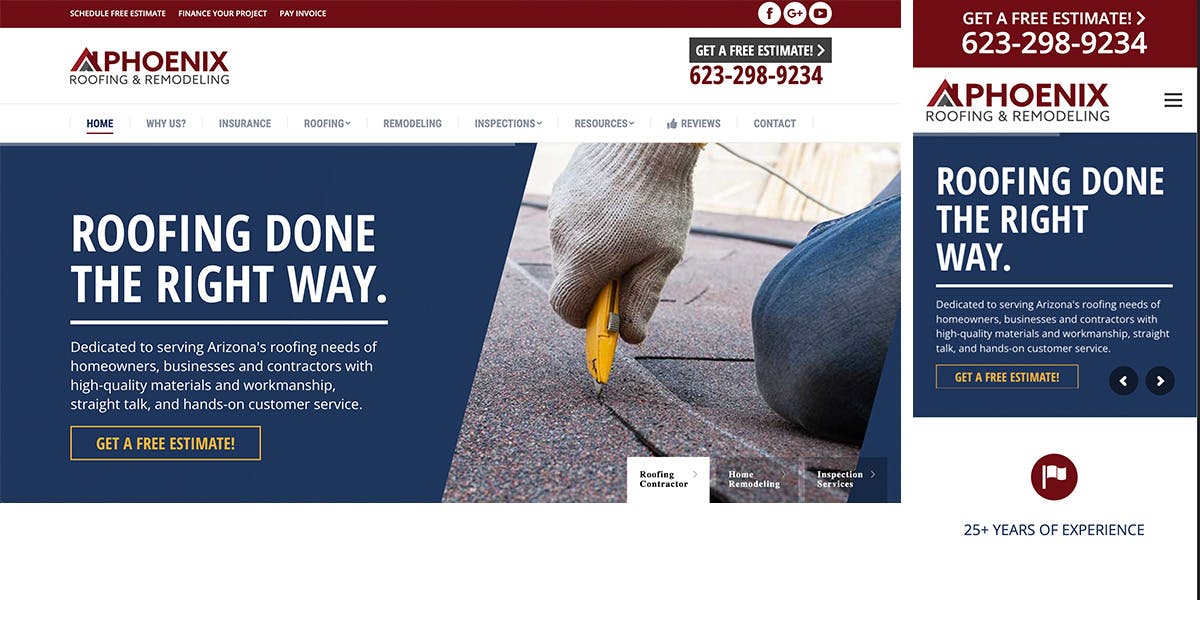 Improvements needed:
They could have used bigger images for the services section. 
The footer needs more content. 
6. Asap Roofing and Exteriors Inc
Washington DC
https://asaproofingandexteriors.com/
Excellent qualities of the website:
The website correctly loads across multiple devices.
Responsive roofing web design 
Clickable contact information at the top menu.
An outstanding Contact Us space at the top 
A subtle blue shade for overlays and buttons. 
High-quality photos, great for roofing marketing.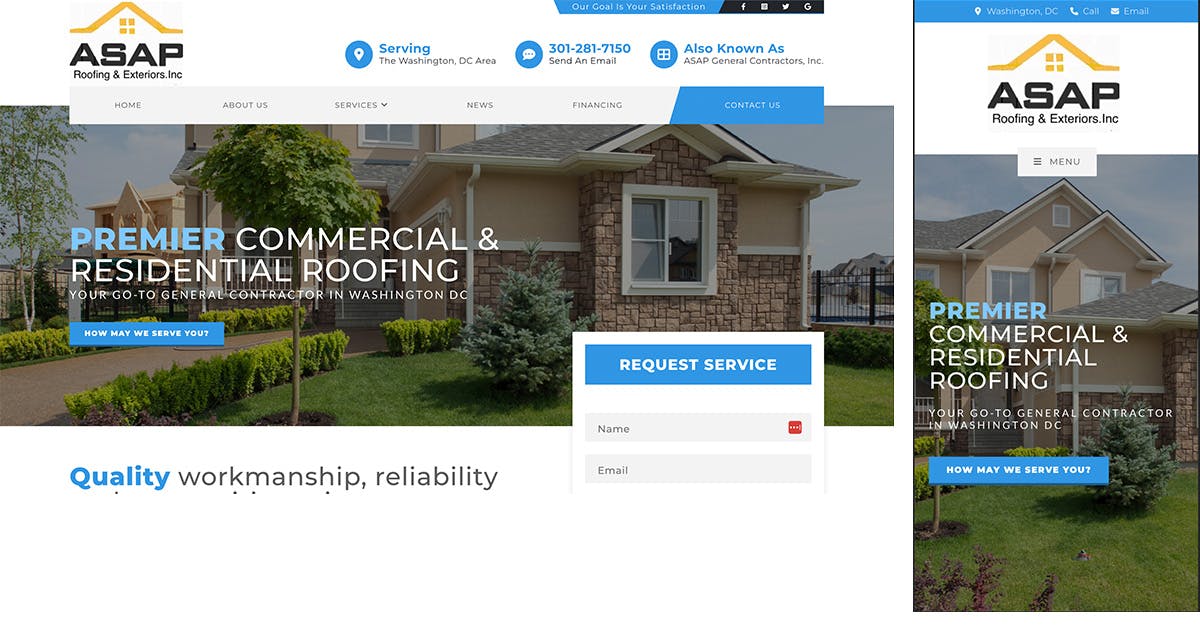 Changes required:
This is one of the most impressive websites for roofing firms online. The only thing missing is an updated blog page or a section.
7.  Quantum Roofing 
North Carolina
https://www.quantumroofingcompany.com/
Excellent qualities of this roofing site:
The design of the website makes visitors want to scroll to the bottom.
Contrasting blue and orange color schemes.
The three pressing buttons at the top are contact information, payment link, and booking options.
Eye-catching header image.
Services are listed horizontally on a grid with images.
Customer reviews are at the bottom.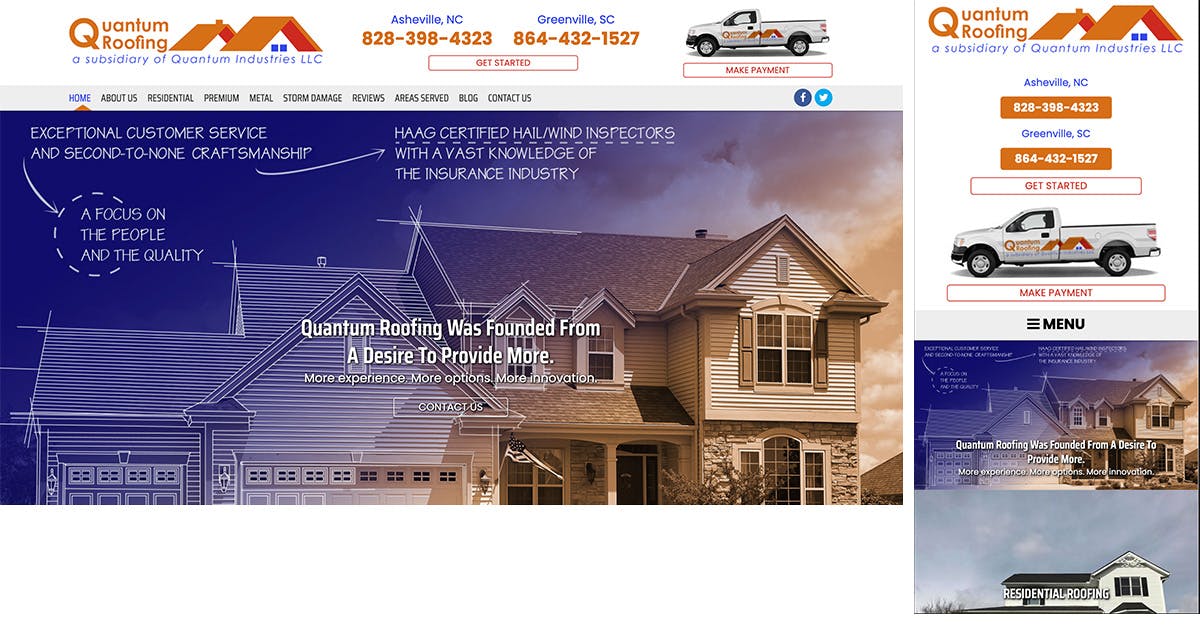 Improvements recommended:
Whitespace between the header image and the images of the services. 
8. Showalter Roofing Windows 
Illinois
https://www.showalterroofing.com/
What have they done well:
The color scheme is consistent with the logo and the entire bank.
Simple and seamless pages.
Live chat with quick response.
There is a service chart guiding users on how to get the services.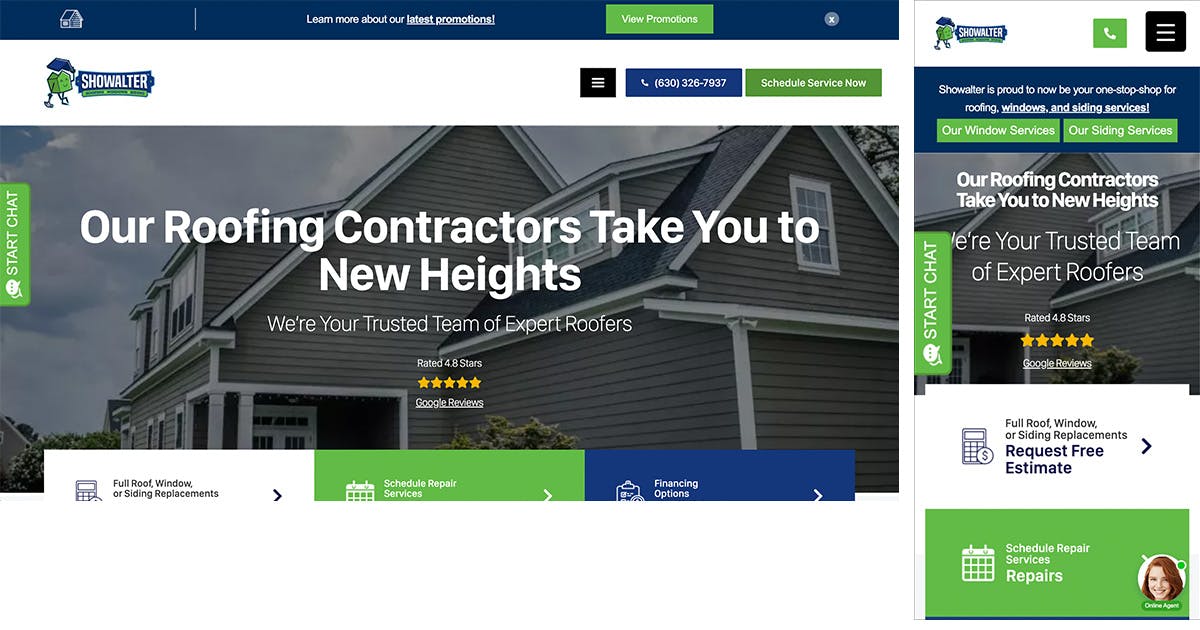 Recommended changes:
The menu should be a full video instead of a drop-down.
9. Stay Dry Roofing 
Indianapolis
https://staydryroofing.com/
What they have created well:
A well-organized and clean design.
They make it easier for clients to book services with CTAs.
Social media icons are placed at the top.
Seo optimized content all over the sight.
Stunning dark overlay on images.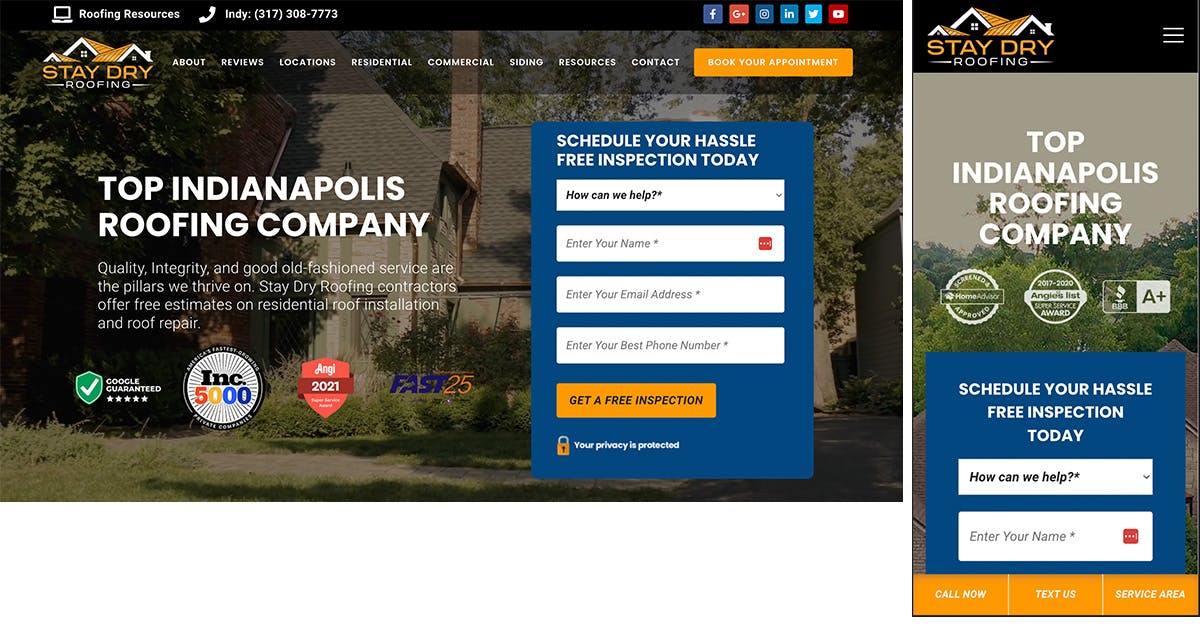 Recommended changes:
Blog titles should be more visible.
In conclusion, if you have a roofer company, roofing websites that generate leads should be on your must-do list. Contact us anytime to get the best website design services. Trust our design company to build a custom website with a responsive web design.