Best Plumbing Website Design: 9 Examples
An optimized plumber website design is the best way to stand out from the competition, draw new clients and convert website visitors into actual sales. Thanks to technology, SEO, and advanced web hosting services like WordPress, growing your plumbing business is now easier. Not to worry, we shall discuss all the steps of building a new website for your plumbing company. Most importantly, we can create a custom website template for your company!
The best websites for plumbers appeal to both residential and commercial clients. After all, plumbing installation is essential to every building or establishment. Furthermore, with the stiff competition between plumbing businesses comes the need to use different digital marketing channels. This is where Marketing 1776 experts come in to assist you in building a website that customers will trust. 
Not only do you need a professional plumbing website design, but you must also have valuable content, optimized images, appealing color schemes, and fast-loading contact forms. Not forgetting videos, maps, and testimonials! It would be best to create online visibility so your customers can reach you 24/7, especially when they have urgent plumbing issues.
The bottom line is that your plumbing services could be accessible to a wide demographic if only you have the right web design. We understand that coming up with website ideas can be tasking. Therefore, we put great effort into curating a selection of top-rated plumbing website designs to help activate your activity. 
How a high-ranking plumbing website design boosts business
Customers who are looking for a plumber online will find your business first. As long as your plumbing co is at the top of the first google page, you can rest assured potential customers will find you. Nowadays, people rely on the internet to find commercial and home services. Therefore, if you are the first site that shows up, you get more clicks than the plumber at the bottom of the page.
The most popular website design for plumbers must display all the contact information in the right places. Different clients prefer various methods of communication, and having a high-ranking website gives them those options. The faster they can reach you, the higher their chances of subscribing to your services.
With the right plumber web design, you will be able to tell the story of your brand. Meaning visitors get an accurate picture of how your plumbing business works. Moreover, a great website gives credibility to the plumbing industry. 
Design elements you must have for a successful plumber website
You must make sure your website is exceptional if you want to beat the competition. In addition to conveying a message, it must consist of all the essential elements of a successful plumber website. So, how does one apply these primary concepts to create a custom plumbing website?
A responsive plumber web design - Ensure your site is compatible and mobile-friendly across multiple devices. Customers will likely bounce to another website if your website doesn't load fast on cell phones.
Consistent branding - All aspects of your site should align with your firm. This includes colors, images, typography, and logo.
Defined and clickable service area - Use maps and location icons to describe your service area and help clients in your region locate you quickly.
Core web tests - Ensure your website has optimum Crawlability for plumbing-related keywords in your area. Furthermore, its Core Web test results should be around 90 to 100.
Proper plumber website layouts - A user-friendly website requires careful placement of widgets, buttons, media, links, and forms. 
Engaging call-to-action buttons and headlines - The wording on your headlines and buttons should encourage users to take action. It could be 'Contact Us,' 'Request Emergency Services,' or 'Quick Service,' to name a few.
Contact information - Make your phone number and email address easily visible on the homepage. Use contrasting colors for the text and the background. Ensure the live chat pops when the page is launched and include a CTA button.
Use original photos and videos to showcase your plumbing services and plumbers in your team. 
Have a unique selling proposition (USP) and trust factors at the top of the site - Once you have organic traffic to your plumber site, the next step is to convert these website visitors into leads. Use trust factors like awards, customer reviews, and licenses to prove why you are the best plumber company to hire.
Resourceful content - In this age of content creation, you must add plumbing-related content to your site. If you have a social media presence, add links to the site so that customers can follow you and your content. 
Top 9 plumbing websites designs for inspiration
Here are the 9 superior plumbing website designs from which you can borrow ideas.
1. Alladin Plumbing Corp
New York
https://www.aladdinplumbingcorp.com/
What they have done well:
Boosts credibility with trust factors at the top, including a guide to local laws.
Perfectly contrasting colors.
I am using a video as the header.
Clickable and detailed pricing plans.
Helpful content and guides.
Service widgets.
Well-placed customer reviews.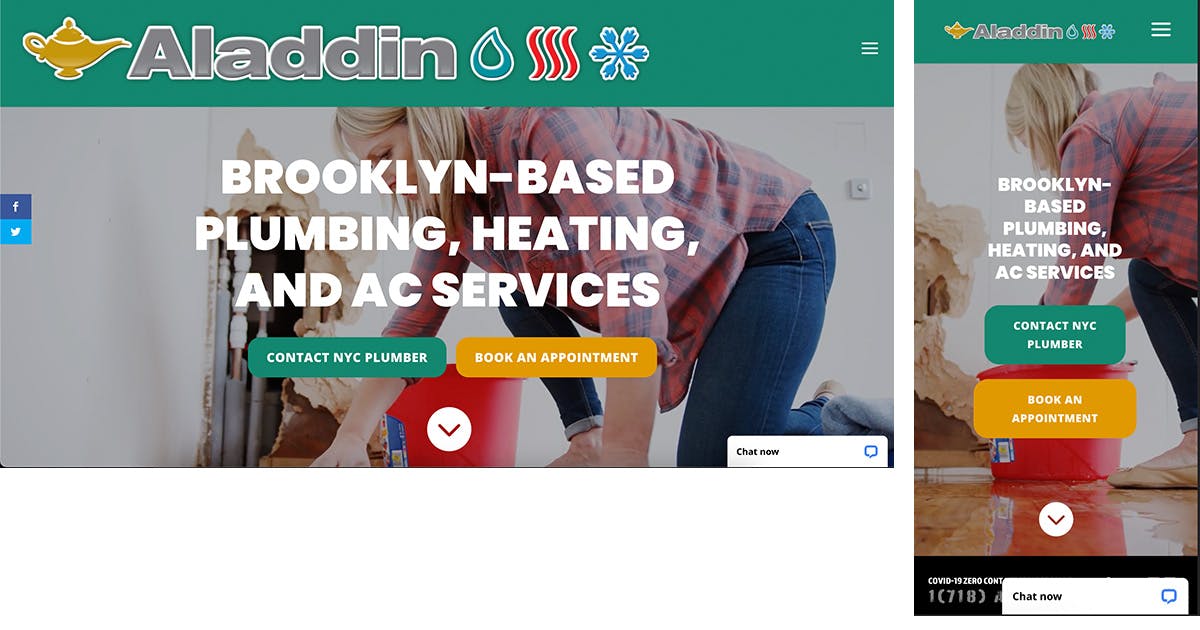 Improvements needed:
The sticky menu covers content when the tab is minimized.
2. First Chicago Plumbing
Chicago
https://firstchicagoplumbing.com/
Good qualities of the site:
Phone number and email address are at the top menu.
The color scheme is consistent with the company's logo.
Engaging content in the header, including a CTA button. 
A YouTube video explaining the business.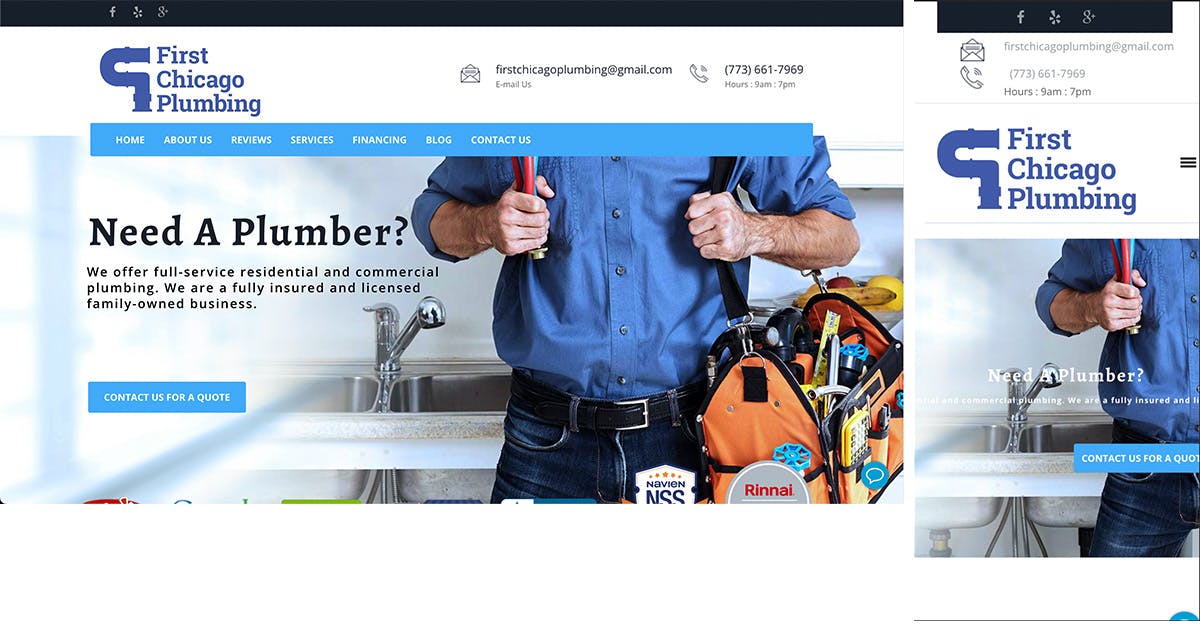 Improvements required:
More SEO content, including texts.
Adding more photos to the site.
Additional trust factors.
3. New Generation Plumbing Contractor
Los Angeles
https://www.newgenerationplumbingcontractor.com/
Great features on the site:
The blue and yellow color scheme contacts perfectly with the black background.
The phone number is just beside the main menu.
A drop down of services offered.
Live chat 24/7.
Call-to-action button on the slider.
Blue overlays on images make the text stand out.
Responsive contact form.
Customer reviews.
Accessibility menu.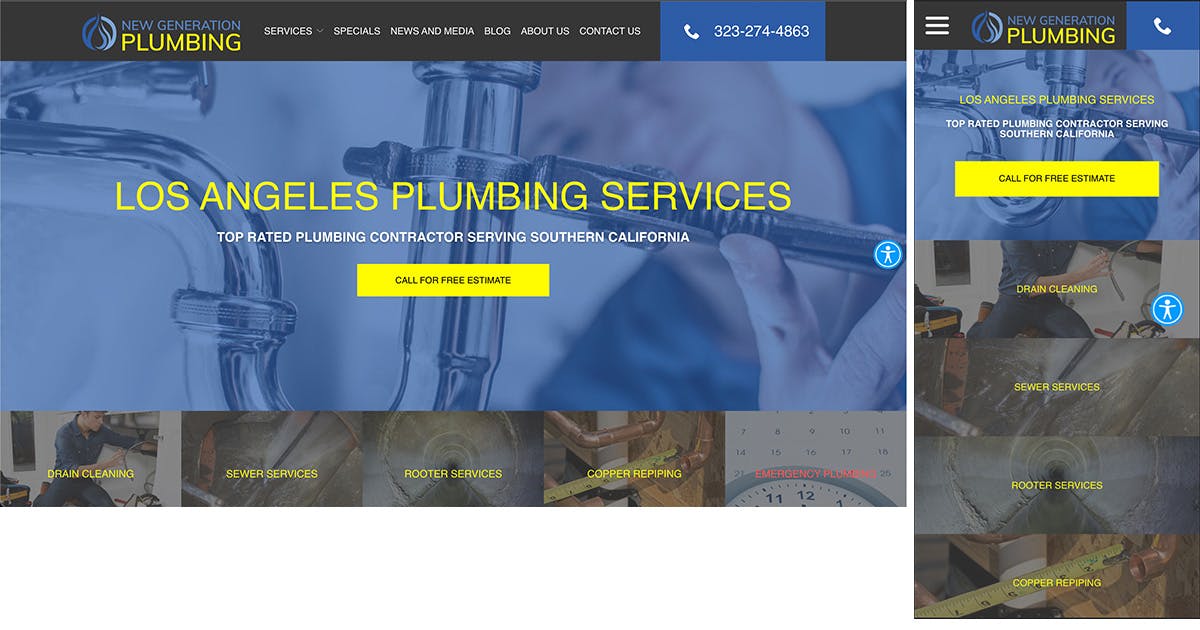 Improvements needed:
Adding more resources and SEO content for visitors.
4. Wyman Plumbing and Mechanical
Phoenix
https://www.wyman-services.com/
What they have done well:
Comprehensive homepage with many engaging sections.
A moderate color scheme of blue, white, and dark.
Visible main menu with a drop-down of subcategories.
CTA button for online booking at the top.
Blog page with more guides and content.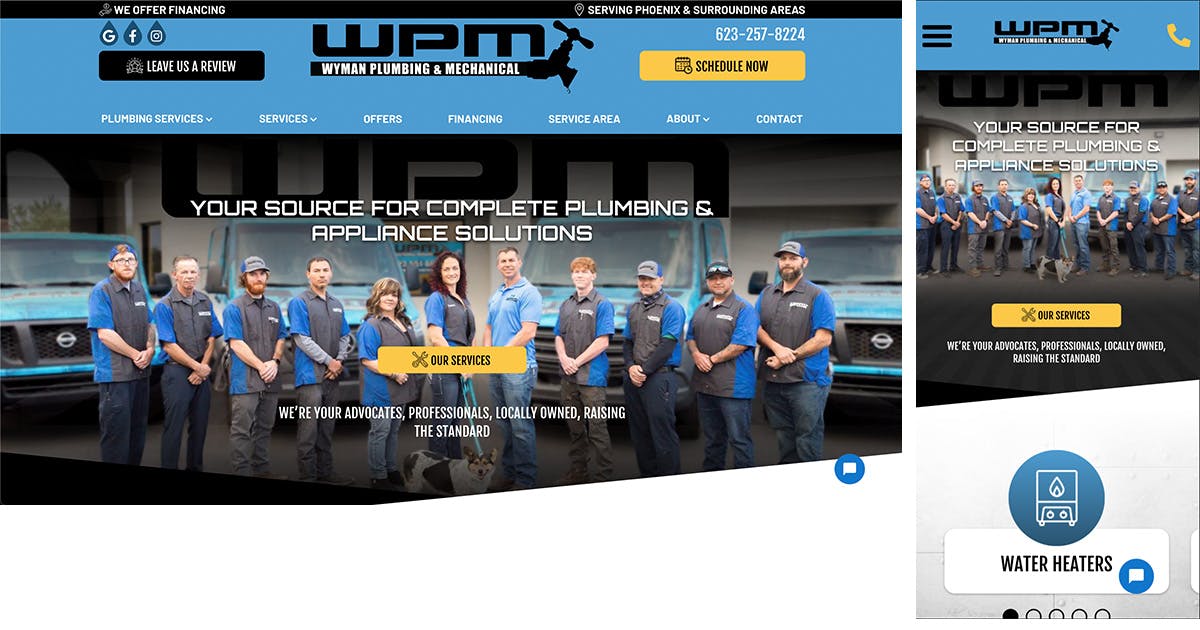 Recommended changes:
Brighter and more vivid pictures for illustrations. 
Trust awards and licenses could come sooner on the page.
5. Village Plumbing 
Houston
https://villageplumbing.com/
Excellent features on the site:
Branding consistency is evident, from the colors to the logo.
Clickable phone number and 'Request service now' button on the top menu.
Bright colors that engage visitors.
Trust factors appear soon on the landing page, including experience, reviews, and team members.
Great SEO content.
Lots of whitespaces that gives contrast.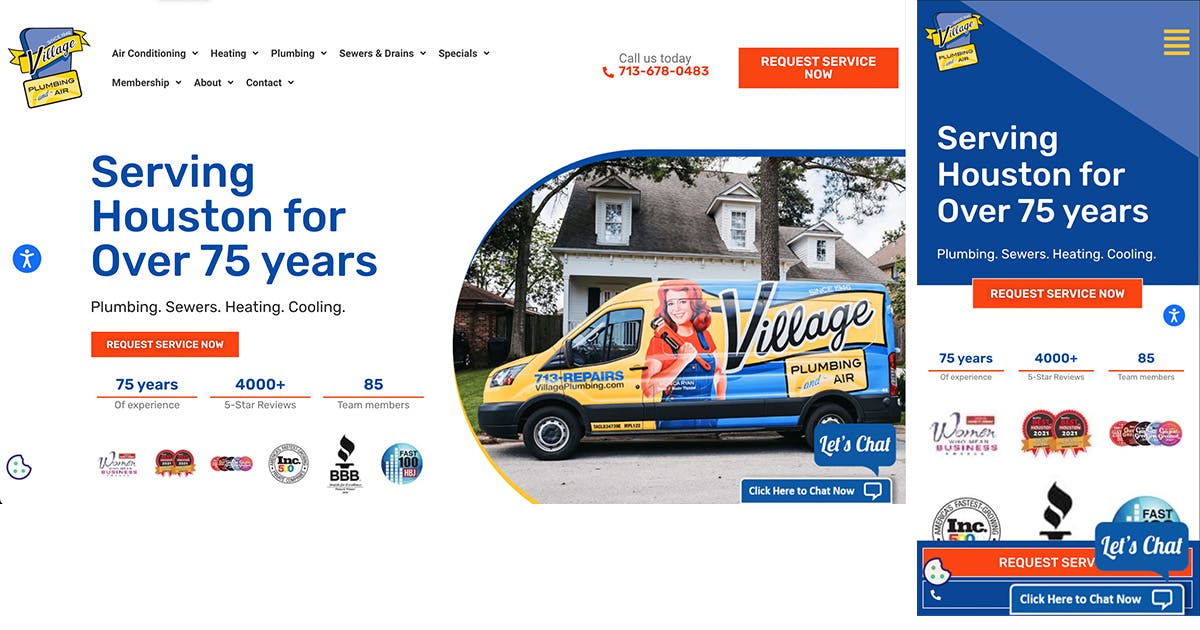 Recommended changes:
More image placement on the site.
6. John Neill & Son Plumbing and Heating
Philadelphia
https://www.johnneillplumbingandheating.com/
Significant elements of the website:
Highly responsive landing page.
A minimalist theme, with all critical links standing out.
Well-picked green and yellow shades for the theme.
FAQ section.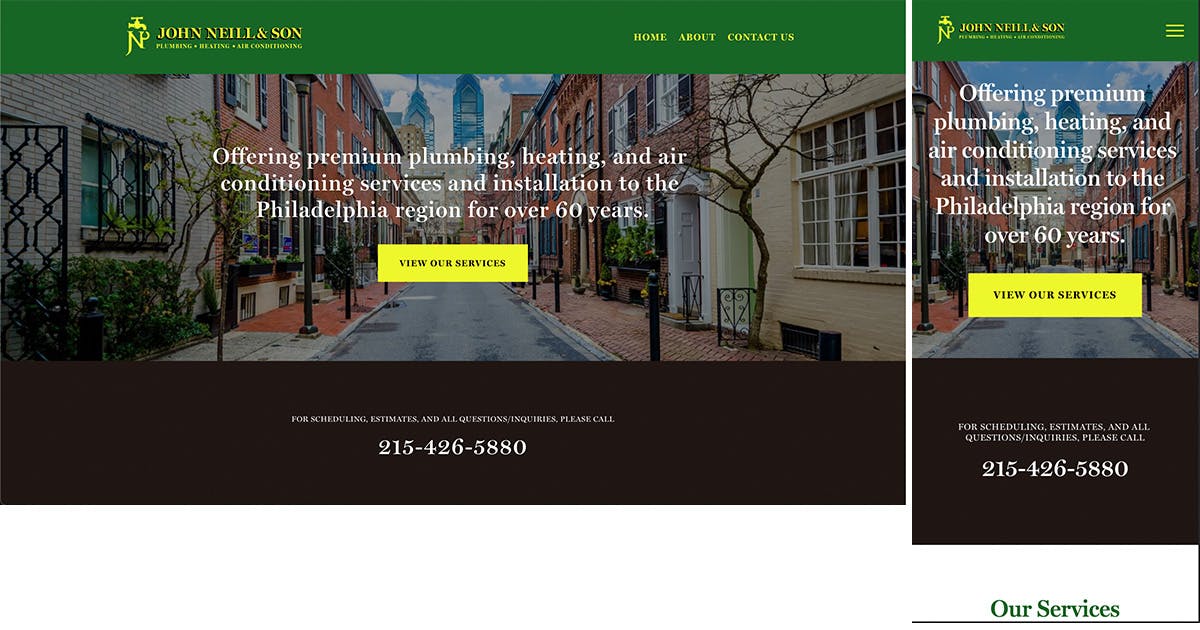 Recommended changes:
The site needs more trust factors in different widgets. 
Accessibility could be improved.
7. Anderson Plumbing Heating and Air
San Diego
https://www.andersonplumbingheatingandair.com/
What they have done well:
The live chat pops up immediately after you launch the site.
This great plumbing website also comes with a subtle but bright theme.
Live chat comes with audio capabilities.
Friendly headlines and Call to action phrases.
Hover effects are present on clickable text and buttons.
A search bar is present at the top of the site.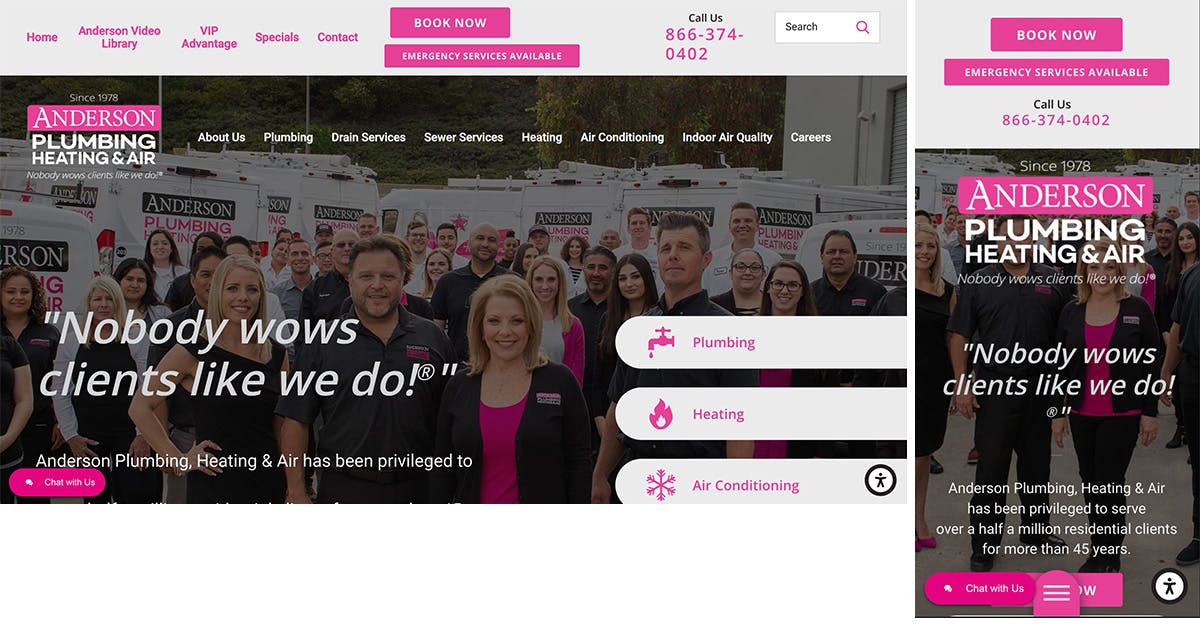 Recommended improvements:
This is a generally great website. Still, the phone number font size can be adjusted to fit better on the main menu.
8. George Plumbing Co Inc
San Antonio
https://yell4george.com/
Excellent features on the site:
They placed a coupon or special offers button at the top.
Contemporary header with professional-looking fonts and background.
Trust factors appear soon on the page, including history & team.
The text is easy to read.
Clickable products and services icons.
Service areas are correctly displayed.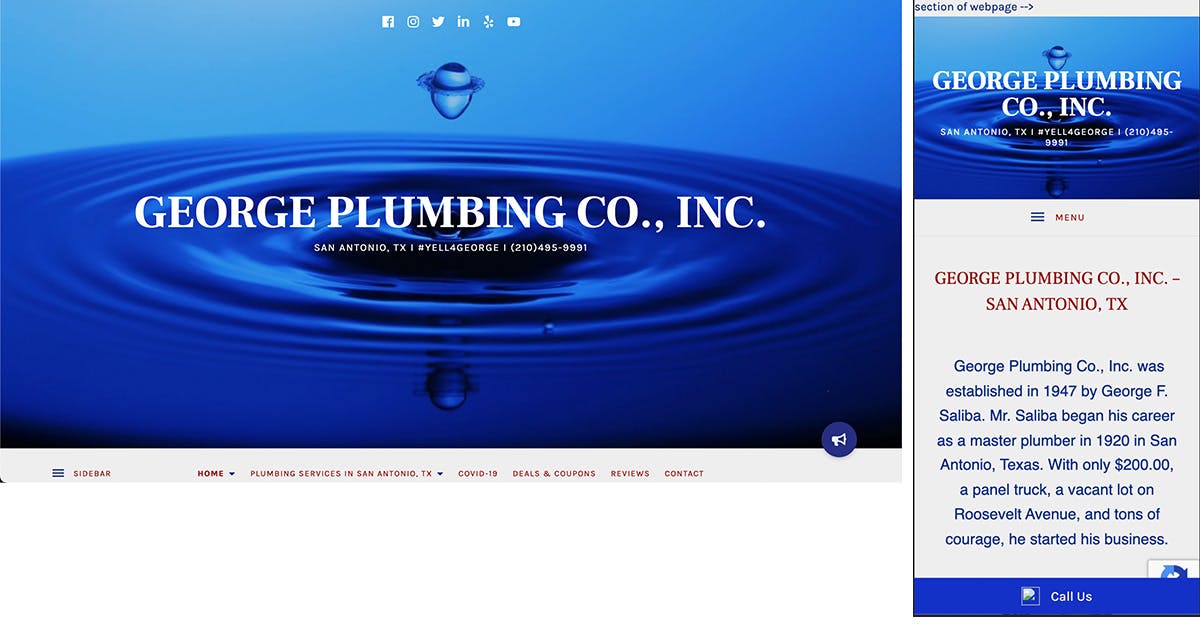 Recommended changes:
Email address and phone number need to be higher up on the page.
The audio icon should be sticky.
9. Cody & Sons Plumbing, Heating & Air
Dallas
https://codyandsons.com
What they did well:
The logo and graphics are consistent with the brand.
The website is visually appealing.
Live chat pop-up.
The primary services and their links are placed right below the header.
A list of possible emergency services.
CTA for social media.
They have quality content.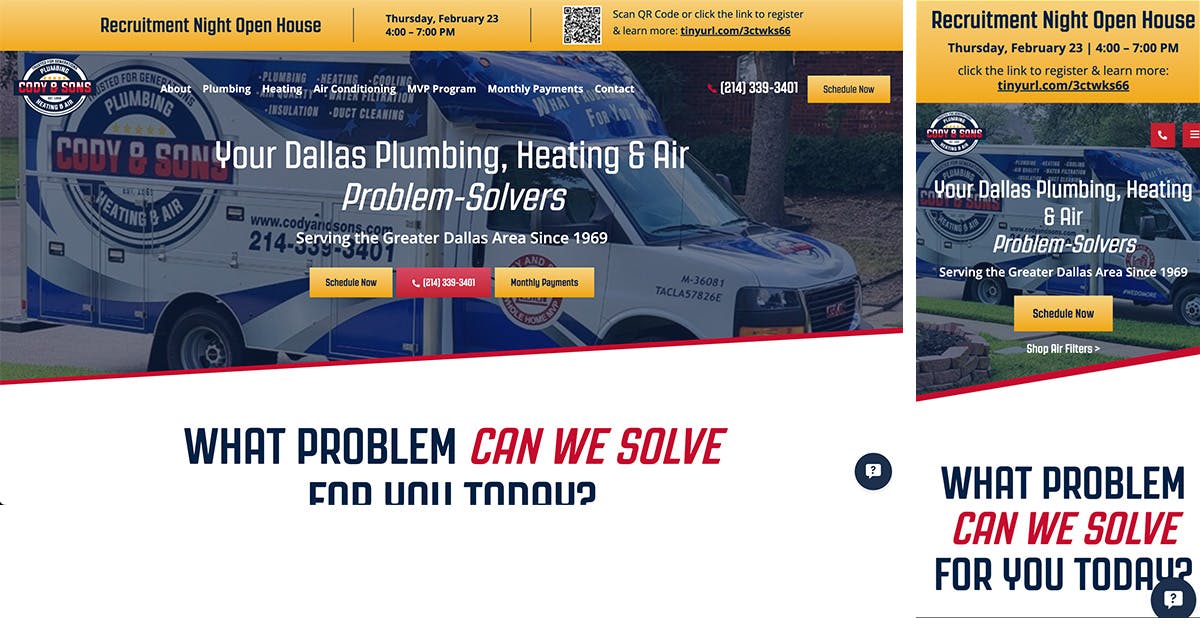 Improvements needed:
The typography on the buttons should be more precise.
To sum it up, the above plumbing website design examples are a great place to start. Of course, you want to customize your site to rank higher in search engine results. Let us know when you need a new website, and we will help to make your plumbing website stand out!