Law Firm PPC- Must read before you invest in Google Ads
Everything a lawyer should know before getting started with PPC services for law firms. This guide will help you understand what you need to look for when working with a lawyer PPC agency, or consultant.
What is pay-per-click for lawyers?
Law firm pay-per-click is the process of advertising on platforms such as Google, Facebook, and Instagram, where you pay every time someone clicks on your ad.
This guide is for lawyers!
This is not a do-it-yourself guide. If you are a lawyer and want to create a profitable Google Ads pay-per-click campaign by yourself, then you are already on the wrong path. The goal of law firm pay per click is to have a positive return on advertising spending (ROAS). This means that even with the management fee and advertising budget, you should see a positive return on your investment.
PPC campaigns need continuous monitoring and advertising industry knowledge and experience to do well.
It is better to pay someone to do it right and guarantee you a positive return on ad spend rather than do it yourself and have a high probability of doing it incorrectly and losing money.
If you do not see a positive return, then you might be lacking in one of the following areas:
Your campaigns aren't managed by someone with enough experience. PPC marketing for lawyers should be done by an experienced professional, not someone setting up their 2nd Google Ads campaign.
Your website does not have a quality call to action or a lead capture incentive in the form of a free download or consultation. We are a law firm website design company and can help you design and develop a modern-looking website that also ranks well in Google.
Your website's user experience (UX) might need to be better so the user does not feel comfortable taking the first step and contacting your law firm.
You don't answer phone calls or emails quickly enough, and the potential client has already moved to another service provider.
Your internal sales process needs improvement. You might work with an exceptional agency and get professional PPC services for lawyers, but if your internal lead intake process is not optimized, then you most likely won't see a positive return on your advertising spend.
These are the important questions you should get an answer to if you plan to invest in PPC:
How much did it cost to acquire the specific case?
What keyword group brought you the client?
What is the quality of the cases you get from the different keyword groups you target?
Are you targeting only generic "personal injury attorney" keywords or specific keyword groups "dog bite attorney"?
Do you have a relevant landing page for those specific keyword groups?
Is your landing page well structured, loads quickly, and has a clear call to action for the visitors in the form of a free consultation or some downloadable resource?
Are you tracking all of your data? Does your Google analytics have all the required conversion events?
At the end of the month, do you know how much you spent and how many cases you got?
What was the cost per new client?
What keywords brought you the highest quality clients?
What clicks are you paying for that do not yield a result?
Have a good lead intake system. You must answer your phone calls and contact forms immediately. How quickly would you answer your phone if you knew that this call would bring you a 30,000 case?
Don't learn everything using your own money. There are companies that have run multiple campaigns for lawyers, and they will take into account all of the mistakes you might make.
Don't judge your campaign's long-term performance based on short-term data. You might not get any cases for two weeks and then land multiple high-revenue cases the following week. Law firm PPC management can be done in a professional manner but it does not increase the amount of people who need your services in your local area.
Landing pages for your PPC campaigns should be relevant to the visitor's intent. If you are creating a campaign for a "dog bite attorney" keyword group, then you should not send the visitor to your generic homepage. You should have a relevant and informative landing page for all of the campaigns you might create. You will be perceived as a very relevant solution to their search intent.
For example: dog bite attorney; wrongful death attorney; car accident attorney.
Your landing pages should load very quickly on mobile and desktop devices. We have seen that most visitors to law firm websites come from mobile devices. The agency you are working with that does PPC management for lawyers should mention in their monthly report if some landing pages are loading slowly on mobile devices and thus converting less visitors into leads.
How much should you spend on PPC?
It is impossible to generalize like this because the cost of clicks for any specific search keyword is based on an auction and how much others are willing to pay to acquire that user.
The right question is what keywords I should target in my campaigns to get the highest quality lead. 
A law firm PPC specialist can answer this after extensive keyword research.
If you target "car accident attorney in miami" you might pay ~$160 per click.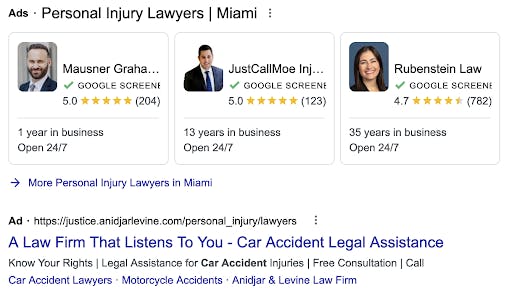 If you target "personal injury attorney in miami" you might pay ~$60 per click.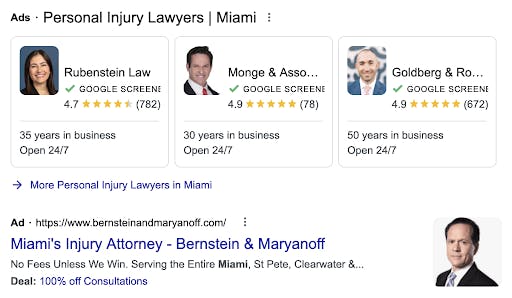 The price differs because the latter is more generic, and fewer advertisers are bidding on it due to its lower intent and less business value.
If you noticed the top three cards are called Google Local Service Ads. These law firms have completed the Google Screening process and met Google's official pre-vetting. These ads get the highest percentage of clicks when the user is searching for law firms. You will have to pass Google Screening Process to be eligible to run these types of ads.
How to guarantee success with law firm PPC?
Choose the right platform to advertise on. In the majority of cases, Google search is the best first choice when it comes to ppc advertising for lawyers.
Here is a list of other advertising platforms you can consider:
Google Search Ads - show you ads when people are searching in Google for a specific keyword ("car accident lawyer miami").
Google Display Ads - people see banners across different websites.
Facebook - ads are shown on Facebook.
Instagram - ads are shown on Instagram.
Twitter - ads are shown on Twitter.
Have a good website
Your website has to load quickly and get at least 90-100 performance scores on Mobile and Desktop. Use Google Page Speed Insights to test your website https://pagespeed.web.dev/
PPC marketing for attorneys is just the process of buying clicks from Google and directing them to your website. Your websites job is to convince your visitor to take action and contact you via phone or email.
If you are planning to get a new law firm website then you should ensure that your website loads in 2 seconds and gets a performance score of 90-100.
Your website should have a page for each type of service you are offering. This will allow you to direct the traffic from your advertising campaigns to a relevant landing page. This also helps you to rank organically for those specific keywords. 
For example:
"Car accident attorney" - this page can be used for advertising campaigns and it will help you rank organically.
Have a good call to action
When your website has a clear call to action, it directs the visitors attention to contact you and not leave your website immediately.
Here is an example of a call to actions you can add to the top section of your website:
Phone call to schedule a free consultation
A downloadable resource to help them learn how to deal with the specific situation.
Track everything.
It is important that you will track everything. You should collect as much information about your visitors as possible to know where to make improvements.
Here is an example of what you need to track with Google Analytics:
How many people clicked to call your law firm.
How many people clicked to download your free report?
What keywords are bringing you the highest quality cases?
What is your cost per new case?
What does the visitor do on your website and where do they navigate the most?
What is the click-through rate on your ads? CTR% is the percentage of people who see your ads and how many actually click on them.
How to pick the right law firm PPC agency?
Here is the best approach you can take if you don't already have experience with advertising your law firm on Google or any other major advertising platform.
Search Google for "legal ppc agency" and pick out multiple ones from the first two pages.
Contact them and tell them that you would like to receive more cases and you have considered using Google Search Ads.
Schedule a free consultation with them and ask them if they have any case studies for your particular law firm. For example, if you practice family law, personal injury, or whatever else.
Ask them what would be the expected budget and how many clicks you would potentially get.
Ask them if your website needs improvements. If they have worked with multiple similar law firms, they might have practical suggestions that would increase the likelihood of converting all of those expensive clicks into new cases.
Ask them how much is their management fee and total advertising budget for the next couple of months.
Ask from couple of other law firm marketing agencies to decide who you would feel comfortable working with.
Summary
Attorneys should not spend their time managing Google Ads for law firms. As an attorney, you should only know how to read the performance of the campaign and how to determine if it has a positive return on investment.
If you take into account the fact that your law firm pay-per-click agency sets up tracking and campaigns correctly. 
These are the key performance indicators you should get from them in your monthly report.
How are certain ad groups performing, and what are their business metrics? If you are running "car accident lawyer miami", "personal injury attorney miami", "trucking accident lawyer miami".
How many new cases from each ad group did you receive?
What is the cost per new case from each of those ad groups?
What locations are bringing new cases and which have not for multiple months?
What is your total ad budget, total revenue, and your return on advertising spend?
What landing pages are converting the best?
Thank you for reading this article. If your law firm needs help generating more cases from Google Search ads, then contact us today, and let's schedule a free consultation.