9 best websites for interior designers that rank in Google
The best interior design websites rank high on Google. Whether you are looking for inspiration and ideas or interior design services, continue reading this guide. Great websites are built with a unique style and elegant design, and original content. Does your home decor site lead to sales? There are hundreds of brands online that offer beautiful design solutions for homeowners. 
As a design company, your website should be the essence of your company. Additionally, it should seamlessly inform new clients about your work and services. Most importantly, you must make your website credible by keeping up with design trends and applying search engine optimization. 
All top interior designer websites have a few things in common. Fortunately, Marketing 1776 experts have compiled a list of the 10 best interior design websites online. While the sites below belong to different brands, they were some of the most credible interior design websites of 2022.  Read on to discover the best design tips for your site. 
We can help you create a fantastic website that attracts new visitors to your interior design firm and converts them to paying customers. We shall advise you on the best way to portray the essence of your home decor services and curate a simple yet highly-ranking site.
Website for interior designers that convert visitors to clients
As mentioned, the best interior designer website should be inclusive enough to make your visitors want to subscribe to your services. 
Your interior design website should rank at the top of the first google page. In short, all service-related keywords should bring up your site as the first option. Online visitors are more likely to trust your site if it is well-ranked by search engines. We can achieve this through optimization.
As an online interior design company, your clients should be able to contact you in real time. Therefore, your site should have comprehensive contact information. This includes different ways of reaching you, like location, phone number and email.
A great interior design website must be visually appealing. Clients must be able to visualize your home design services and apply this image to their homes. When visitors launch your site, they are probably looking for home design inspiration and ideas. In addition to descriptive graphics, your website requires HD videos and high-spec images. 
What is the perfect website design for interior designers?
Admittedly, there is no specific way that interior decorator websites should look. After all, with different companies comes the need for varying color palettes, images, and fonts. Based on the best interior design websites in 2022 and 2023, the target audience is the primary determinant of how the site should look. Nevertheless, we have come up with a list of all the essential things to include in your website for it to rank high on google.
A checklist for interior design websites
Crawlability for higher visibility - The goal is to have a site with optimum crawlability. This way, search engines like google can access your website without running into a broken link.
Mandatory core web viral tests and reports - Top interior designer websites should score 90 to 100. Core web tests assess a site's performance in real-time using field data. 
Accessible and useful content - Your content makes your website credible and authentic. Non-plagiarized content convinces your audience that you have the potential to do the job. 
User experience (UX) - Give a diversified website experience to your clients by making great use of many different styles, lots of whitespace, and elegant fonts.
Active contact pages - It should be possible for anyone to contact your firm directly from the website. This can be achieved using contact forms and a live chat function.
Portfolio - The best websites for interior designers have portfolios showcasing their work. Apply 3D rendering to help users get inspired to build their dream homes with your firm.
Testimonial - The best websites for interior design must have a section that displays client feedback and reviews.
Best Interior design websites for ideas and inspiration
Whether you are looking for inspiration on a new site or want to design a new site and find ideas, here is a list of top interior design brands online. 
1. Mackenzie Collier Interiors
Phoenix
https://mackenziecollierinteriors.com/
What they have done well:
Included a portfolio showing beautiful interior designs.
Simple contact information at the bottom of the page.
Links to their social pages are at the top.
High crawlability score.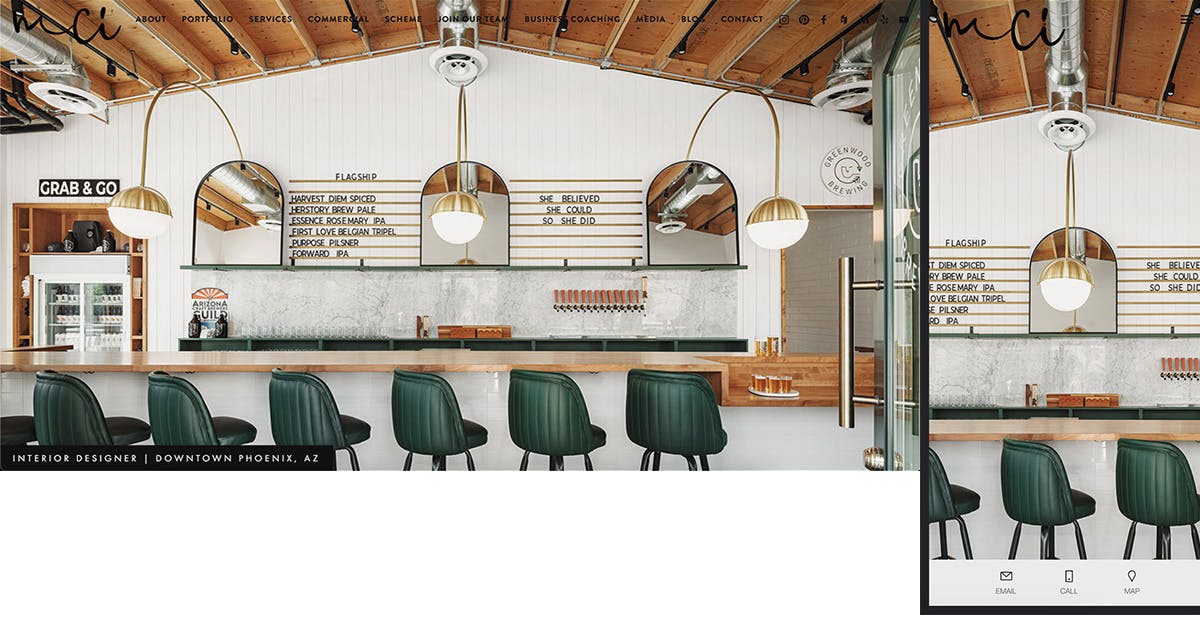 Improvements needed:
The home page only comes with a slider and a main menu. More content is needed so that users can find all the answers.
2. New York Interior design - Erika Flugger
New York
https://nycinteriordesign.com/
What they have done well:
The landing page has valuable content, including partners, testimonials & services.
The entire website is easy on the eyes.
Clearly defined categories.
The site is easy to navigate.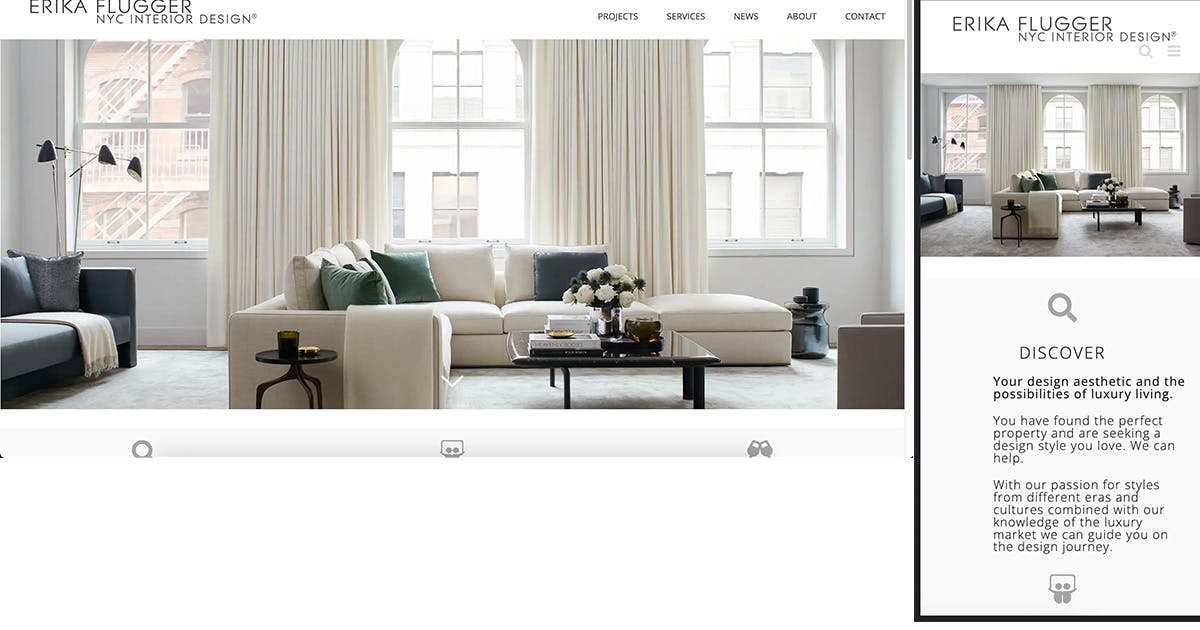 Improvements needed:
More images and videos.
The website also needs contacts to be displayed.
3. Studio 9 Interior Design
 Los Angeles
https://studio9interiordesign.com/
What they have done well:
A great site with striking images at the top.
Simple and elegant fonts.
There is the latest news section.
Contact information is at the top.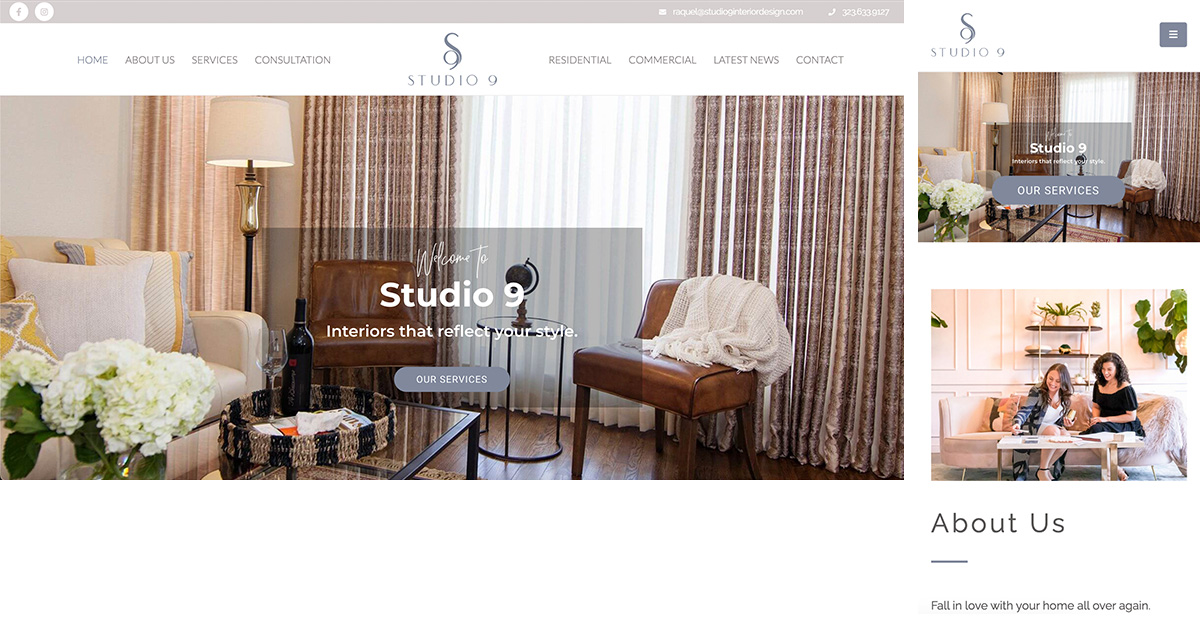 Improvements required:
The social menu needs to be more visible.
4. Summer Thornton Design
Chicago
https://summerthorntondesign.com/
Great features on this website:
The slider has nice images.
The personal designer theme is well highlighted.
A defined menu. 
Latest blog and press sections.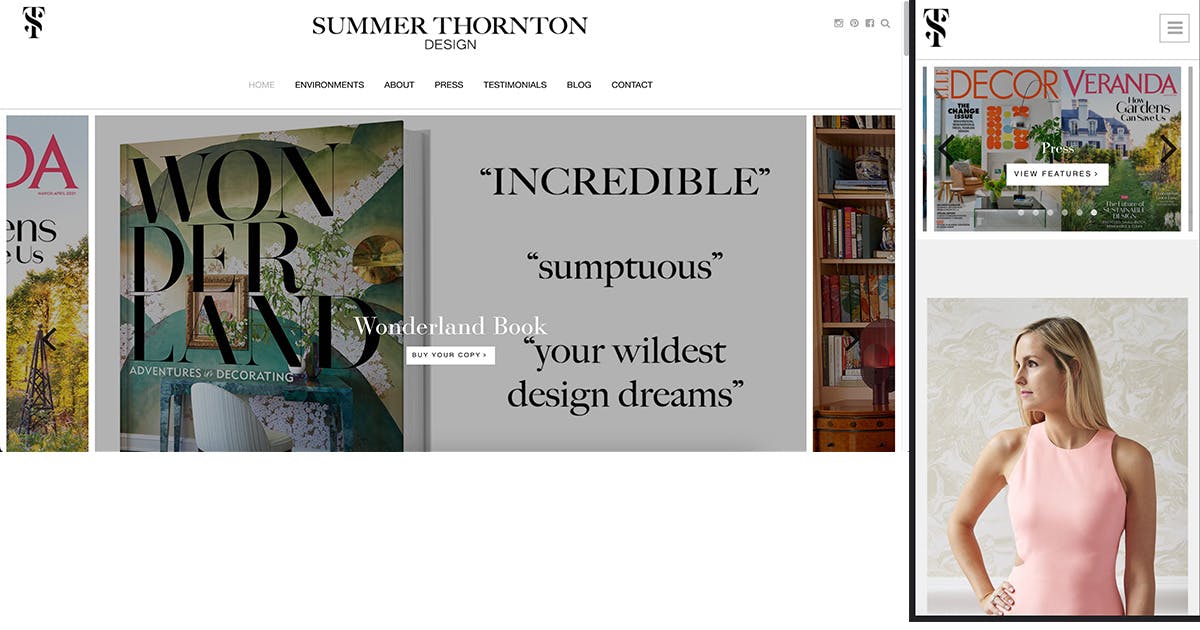 Recommended improvements:
Social link placement is not visible.
The number and contact information are not clear.
5. Tallulahan Bird
Philadelphia
https://tallulahandbird.com/
Good qualities of this site:
The contact information is right at the top.
A display of their Houzz awards.
Optimized sliders & images.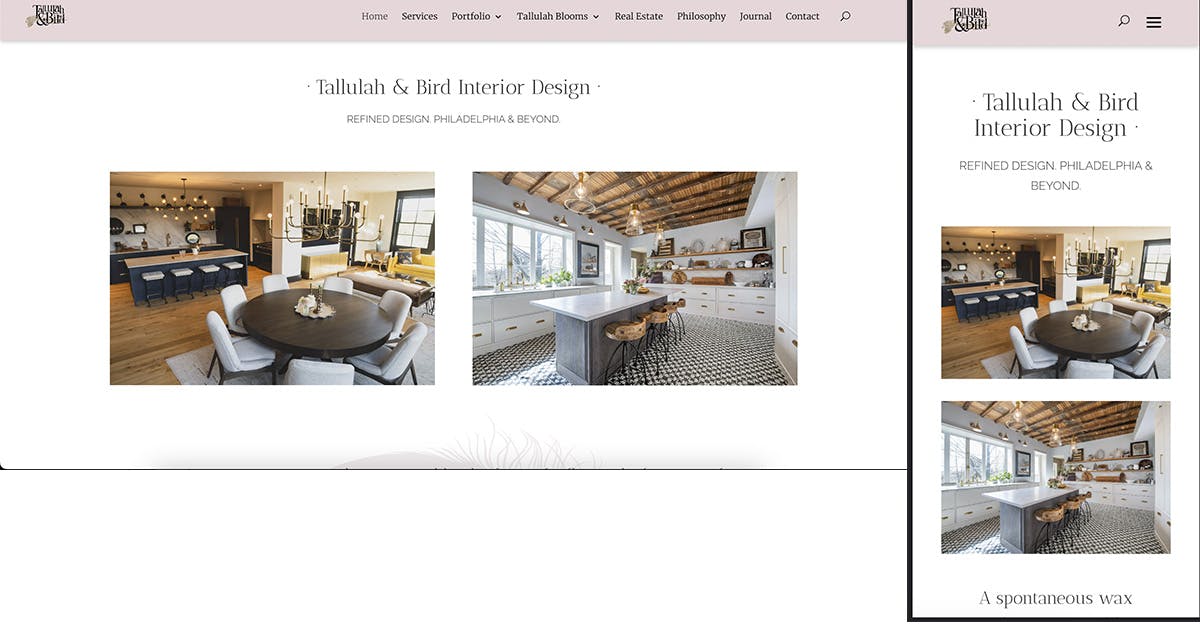 Recommended improvements:
Extra resourceful articles on the landing page.
6.  Bradshaw Designs
San Antonio
https://bradshawdesigns.com/
What they did well:
The slider has images with overlay texts.
Accessible appointment button
A site map for easy navigation
A shop page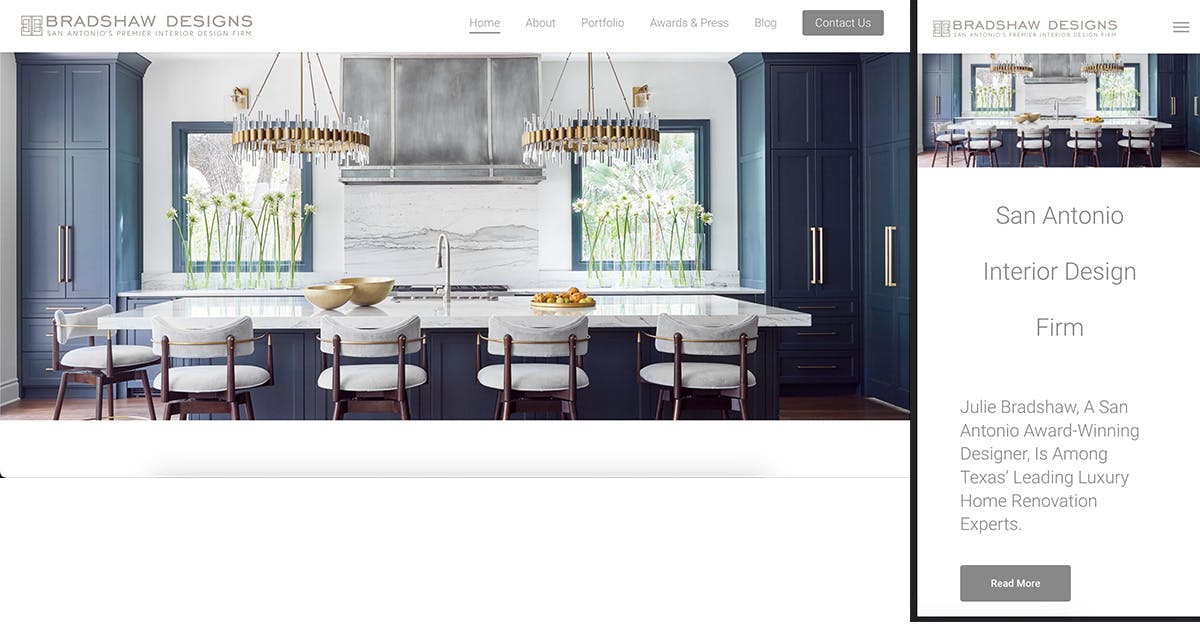 Recommended improvements:
The white font against a light grey background is not user-friendly.
7. Blythe Interiors
San Diego
https://www.blytheinteriors.com/
What they did right:
Elegant outlook with authentic 3D rendering images.
Legible fonts and color palettes to match.
Blog with interior design trends.
Use of whitespace.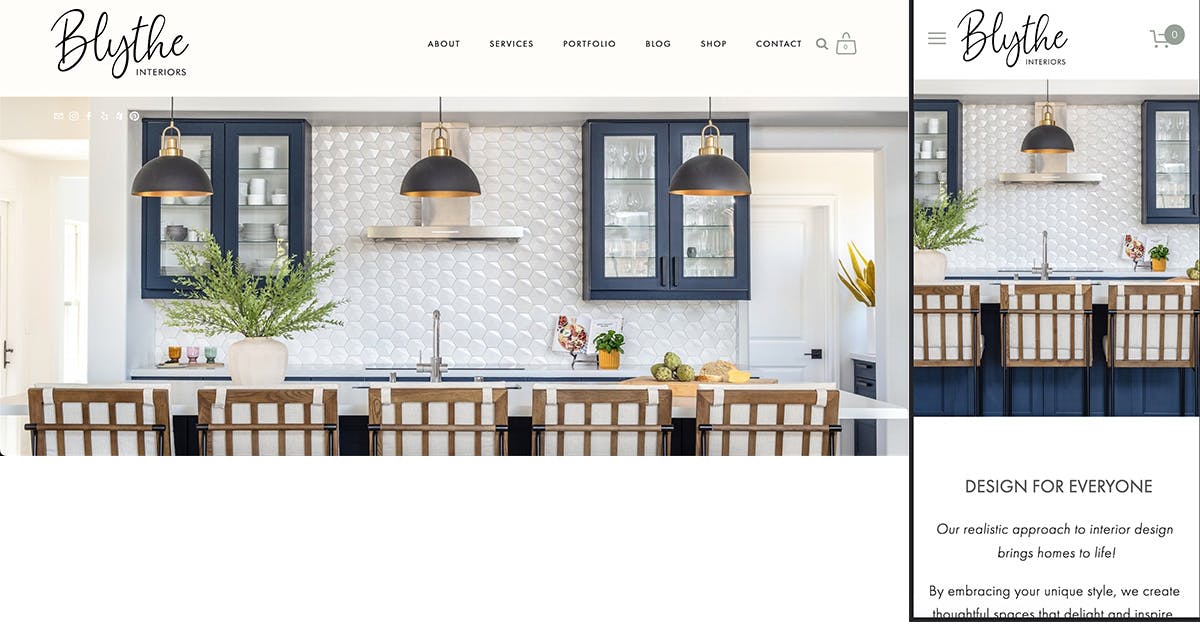 Possible improvements to be made:
Social and contact links are placed against a bright background.
8.  Baker Design Group
Dallas
https://baker-designgroup.com/
What they have done well:
A comprehensive landing page with useful resources.
A 3D slider featuring all their accomplishments.
Portfolio and services section.
Contact form with captcha capabilities.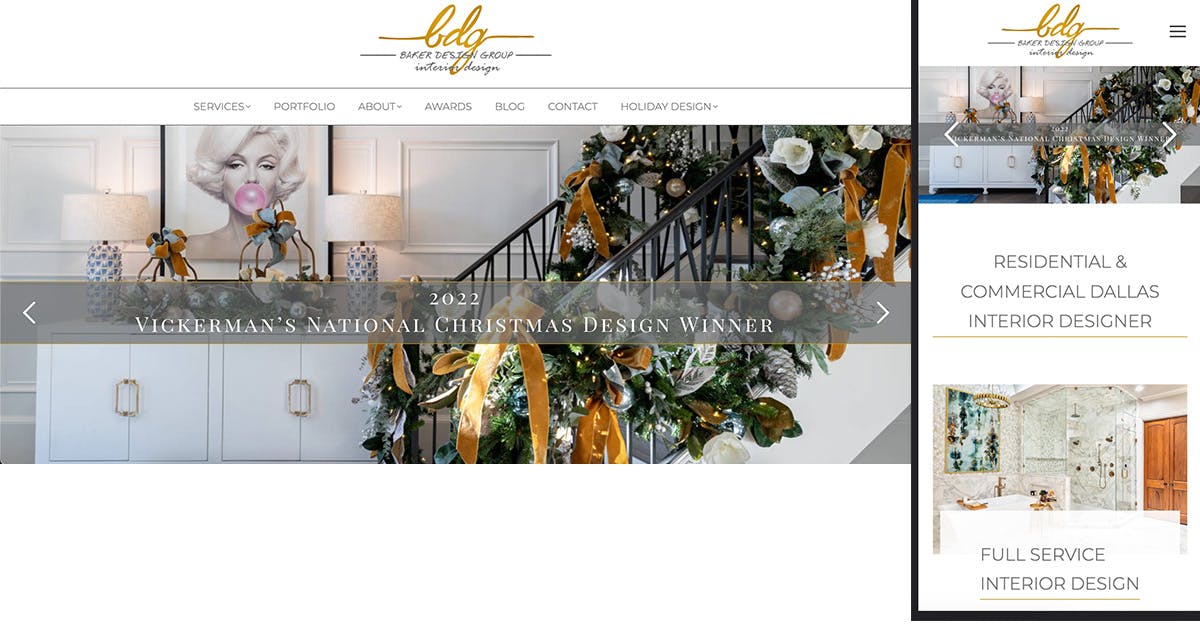 Recommended improvements:
The font size needs to be increased.
Better display of contact information.
9. Houston Affordable designs
Houston
https://www.houstonaffordabledesigns.com/
What they did well:
Simple and sophisticated landing page.
Impressive pages.
Contact link with a pricing model.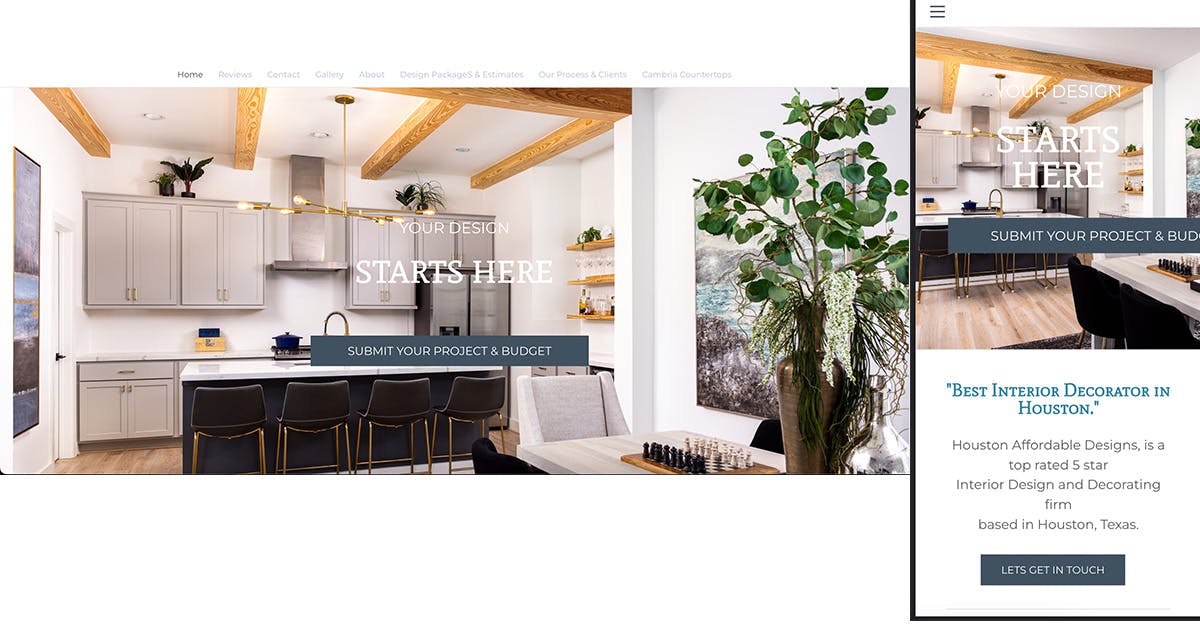 Improvements needed:
More vivid images.
The font and internal links are not clear.
To conclude, the best way possible for you to be one of the best interior designers is by having optimized websites. Contact Marketing 1776, and we will ensure your interior design firm stands out!