HVAC website design examples that generate more leads
A high-ranking HVAC website design is essential in growing your heating and air conditioning business. It would be best if you created an impression, from the homepage to the testimonials, color schemes, contact information, and every other aspect of your site. Most prominent HVAC companies get the best leads from their websites.
While being unique is paramount, it can be helpful to borrow ideas and inspirations from other leading HVAC website designs. That is why our experts scoured the internet and did their best to curate top HVAC website design ideas for you. Go through the list and select a few elements you can apply to your heating and air conditioning website.
Convince your site visitors to subscribe to your premier HVAC services by hiring the Marketing 1776 team. We have all the expertise required to convert a potential customer into a paying one! The best HVAC contractors trust us to not only create an outstanding HVAC web design but to optimize it as well. We know what your air conditioning website needs, from the header at the top of the page to the bottom of the page.
A 'winning' Website for HVAC service providers
Whether creating a new HVAC website or upgrading one you already have, we have you covered! We understand how to design an HVAC site that converts your visitors to actual leads. Additionally, all the websites built by our team rank high on google, making us a reliable partner for HVAC businesses in the USA and beyond. Here is how to know if you are headed in the right direction regarding your HVAC company website.
Your website should rank highly for your service-related keywords on search engines like google. For example, 'home services, 'residential HVAC,' 'air conditioning services,' and 'mechanical services.'  Web users rarely scroll past the first page. Therefore, your goal is to ensure your site is at the top of the first page so users don't have to scroll to find you. We can optimize your HVAC website design to achieve this.
Potential customers should be able to contact you and 'schedule an appointment' without hassles. The placement of social links, contact forms, and appointment pages is vital to your HVAC marketing strategy.
The visual elements of your HVAC website design template should be appealing. We can help you correctly place any Squarespace widgets, sliders, videos, forms, and other visual elements. Remember that a clean website design is not only mobile-friendly but it also boosts the flow of leads.
Let us discuss the elements needed to give your company an excellent HVAC website that is professional-looking, easily navigable, and appropriate to your marketing and advertising strategies.
Elements of the best HVAC website designs 
Brand colors - The color scheme should align with the colors on your company logo, images, and videos.
Compelling call to action buttons - CTAs like "schedule an appointment," ''get in touch," and "get a quote" forms should be easily seen.
High performance on Core web tests - Ensure your HVAC website templates and content have optimum Crawlability. 
Trust factors like testimonials and awards - Share positive customer ratings, and have a section to showcase your HVAC contractor awards. You can also add a company history page.
Multiple contact methods - Many HVAC clients want urgent solutions for their HVAC problems. Therefore, have various avenues of communication, including live chat, phone numbers, and contact forms. 
 Emotionally compelling images and headlines on the homepage - Encourage potential customers to book your services online by including resourceful photos and text.
Maximise search engine optimization throughout your HVAC services website for front-end content and back-end development.
Clear display of pricing, packages, and special offers - The best websites for HVAC service providers ensure clients can easily find the prices for the service they need.
Resourceful blog or case studies page - Use content to make your HVAC website design enjoyable and retain visitors to your page. This includes the latest news, blogs, research, and HVAC systems guides.
 Awesome HVAC websites have lickable social links and service icons - Do this to ensure your potential clients get more information about your HVAC businesses or services.
Top 9 HVAC websites and their designs 
1. Figlia and Sons INC
New York
https://figliasons.com/
Strong points:
Service-oriented homepage.
Clickable service icons. 
A minimalist design.
Well-blended yellow and blue brand colors.
The site has trust factors on the homepage.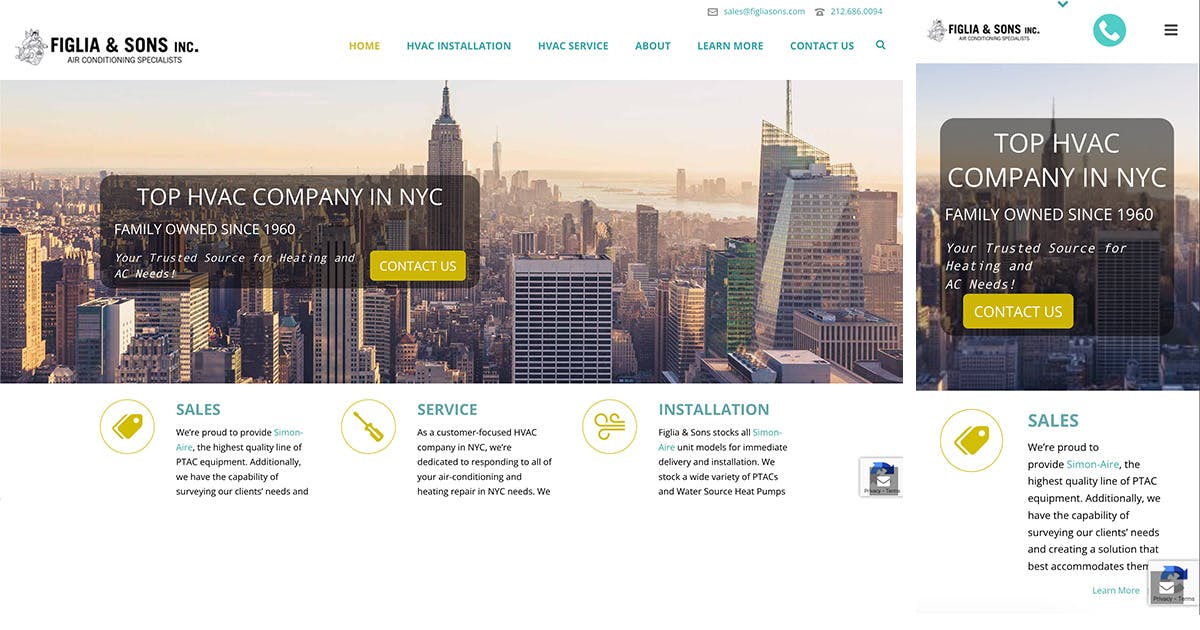 Shortcomings:
It could use more images.
There is no descriptive video.
It needs to optimize its content or blog.
2. Brody Pennell 
Los Angeles
https://brodypennell.com/
Strong points:
A very pleasing website with a blue & orange color scheme.
Clickable CTA button to 'schedule service.'
Clickable locations of areas where they serve.
Seamless navigation. 
All air conditioning, mechanical, and services offered are well displayed.
Maps
Special offers and promotions.
Blog and self-help articles.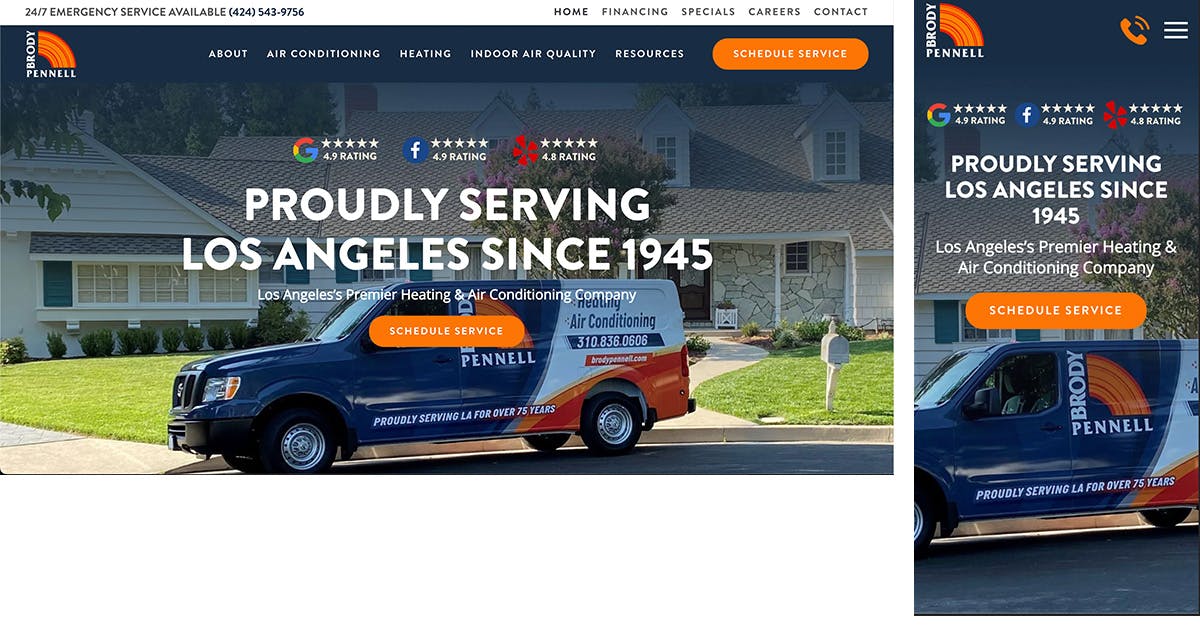 Shortcomings:
Their HVAC contractor website is generally superb. Still, it can be improved using more high-quality images and videos on a white background.
3. Chicago HVAC Dr
Chicago
https://www.chicagohvacrepairdr.com/
Strong points:
The color scheme perfectly blends with the logo.
All contact information is at the top of the homepage.
Trust factors like ownership are at the top.
Clickable services with images and 'read more' texts.
Visitors can choose their desired pricing plan.
Dedicated air quality, heating, and cooling pages.
Customer reviews and awards are at the bottom.
Maps available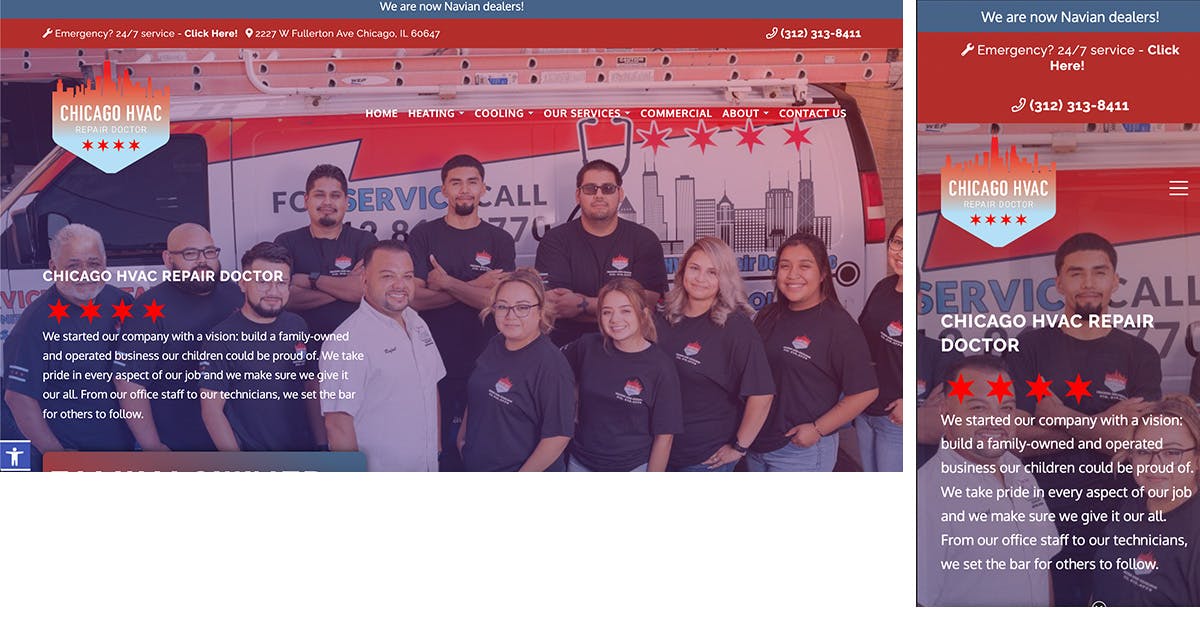 Shortcomings:
There is no video. 
There are only two contact methods.
4. AirCon Houston
Houston
https://airconhouston.com/
Strong points:
All contact information is at the top.
Emotionally appealing headlines.
Images with clickable text for different services.
Google sourced customer reviews.
Current HVAC special offers and promotions.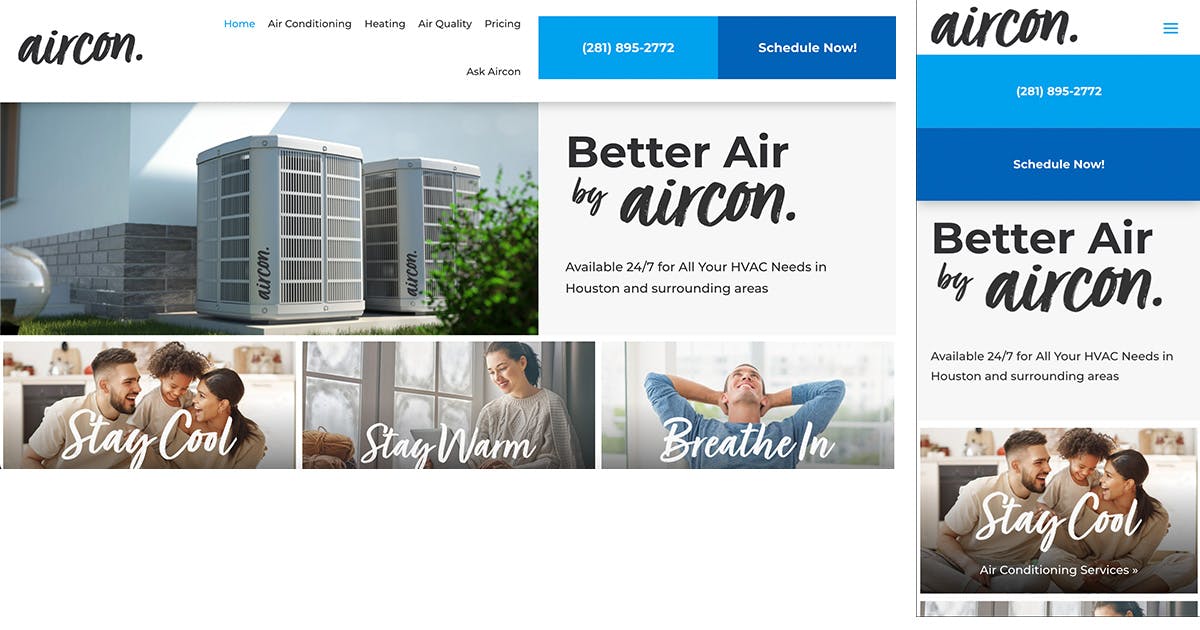 Shortcomings:
Social media links need to be made more visible.
A clickable and automatic 'contact us' form.
5. Goettl Air Conditioning and Plumbing
Phoenix
https://www.goettl.com/
Strong points:
Live chat function.
An outstanding main menu.
Offers and  About Us sections on the landing page.
Maps and operating hours.
Awards displayed.
Blog section.
Comprehensive bottom header.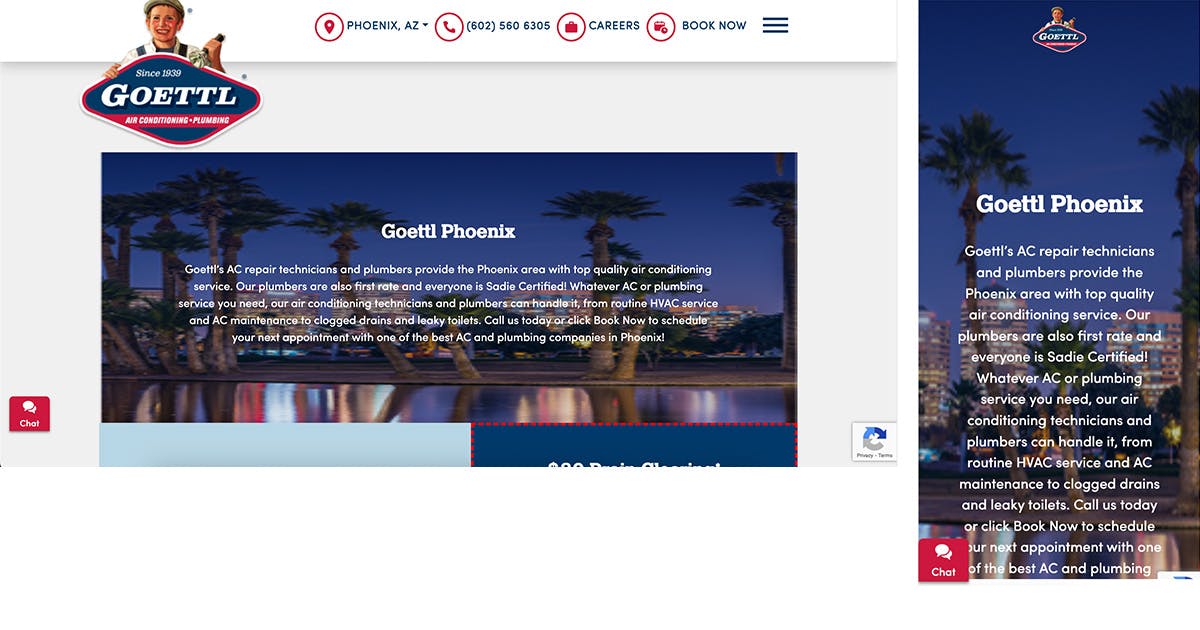 Shortcomings:
Image and video placement.
The main menu needs to be covered more, instead of the drop-down.
6. Green HVAC Air
Philadelphia
https://www.greenhvacair.com/
Strong points:
Impressive blue, green, and orange color scheme.
Contact support is available 24/7.
A well-legible main menu.
Great choice of original images.
Customer reviews.
The site highlights brands and partners.
Blog 
Contact form.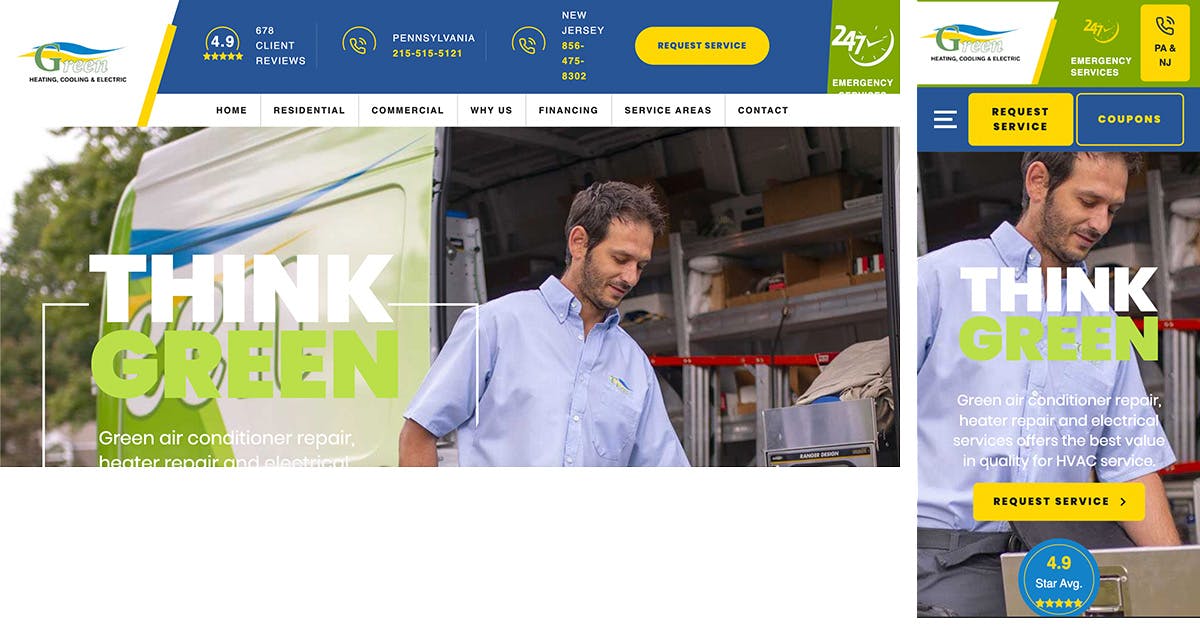 Shortcomings:
The website reveals more trust factors higher up in the homepage design.
7. Rosenberg HVAC
San Antonio
https://rosenberghvac.com/
Strong points:
You will find all the essential information at the top.
Clickable and well-visible CTAs.
YouTube video explaining the business.
Live chat functionality.
Customer ratings and licenses.
Shortcomings:
We could use more images in the services area.
8. Billihowe 
San Diego
https://www.billhowe.com/
Strong points:
A translation is available for Spanish speakers.
Unique menu buttons that ape CTAs.
An elegant red and blue color palette.
Lots of text content.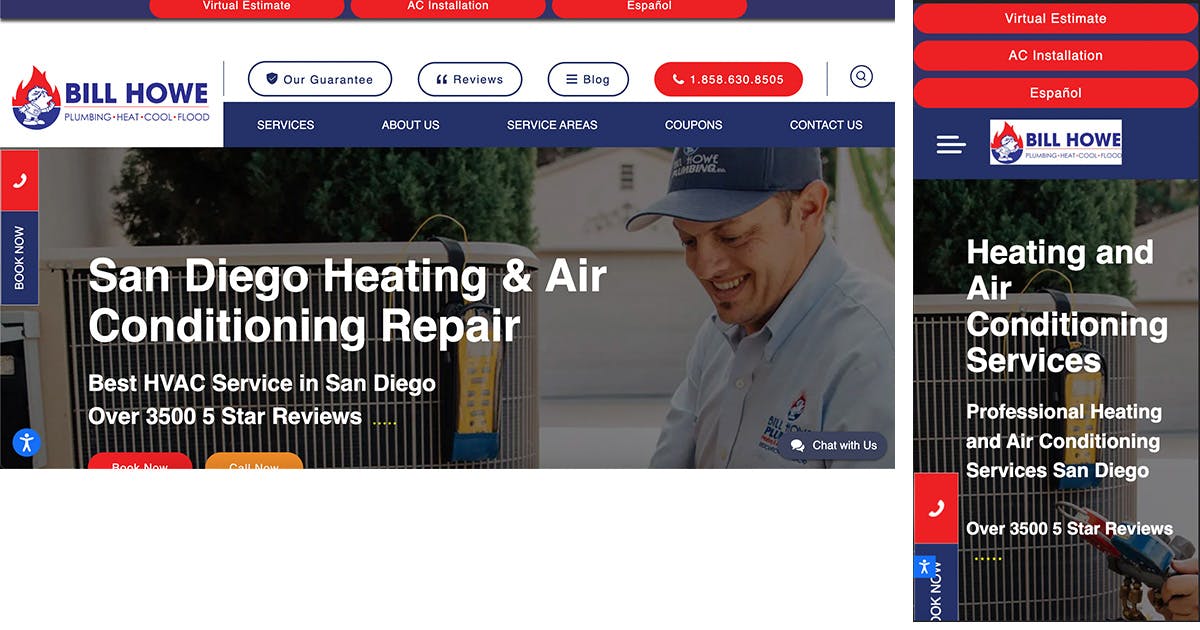 Shortcomings:
More trust factors are needed.
The ' Now Book' button needs better placement.
9. Frymire 
Dallas
https://www.frymire.com/
Strong points:
FAQ section at the top.
Tag line and CTA under the company's logo.
Clear packages near the header.
Helpful content in the blog grid.
Phone number and email address at the top side.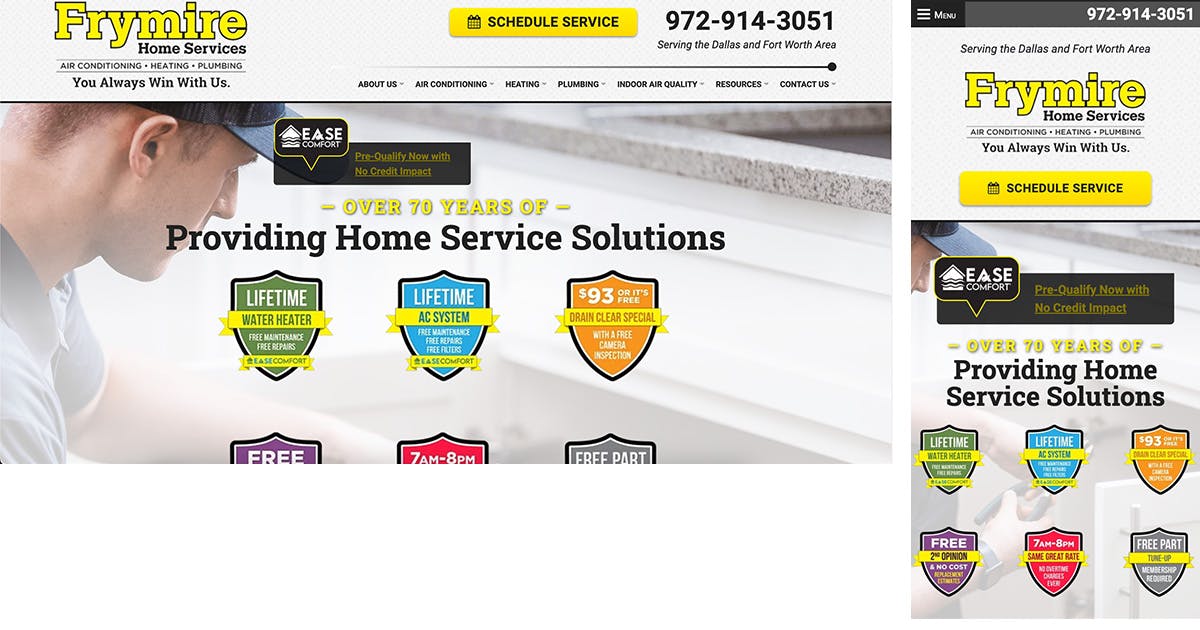 Shortcomings:
The yellow color is beautiful but needs to be a little subtle. The images used should indicate more about the service.
The site requires a widget with images, clickable services, and locations. 
We have come to the end of our HVAC web designs. Use the above information to decide which air conditioning website design you want for your business. The Marketing 1776 team is competent in creating the best heating and cooling websites for you. Contact us for further information about websites for HVAC contractors and more inquiries.