9 Best Family Law Attorney Websites
The goal of your family law firm website is to attract new visitors and get clients.
Your website should provide information about your law firm, attorneys, what type of cases you can handle, or anything that can give the visitor confidence to choose you as their go-to law firm.
Below we took 9 law firm websites that rank on Page #1 in Google for their primary search term. (i.e., "dallas family lawyer").
Every website is flawed, as you will see from the list, but they all rank on Page #1 in Google.
If you want your business to rank on page #1 as well, you should implement the best ideas in your family law attorney website design.
Learn from their mistakes and implement what they are doing correctly.
You can uncover from the list that most websites are slow on mobile devices. Since half of their visitors use mobile devices, it is crucial to load websites quickly on mobile devices.
What should you look for when getting a new website?
It has to score 90-100 performance points. https://pagespeed.web.dev/
It has to have a page for all the keyword groups you want to rank for.
It has to have a well-structured 'above the fold' or top section of the website. When users land on your website, they will see your contact phone number and a video/picture of you.
Visually it should be aligned with your corporate visual identity. This means that the colors and the images should be visually aligned with your brand.
1 - The Glimmer Law Firm PLLC
https://gilmerlegal.com/
Location: New York City
They are wasting one of the essential parts of their website. The first 'above the fold' section. It should contain some message that would grab the visitor's attention.
One option would be to produce a video where a person would introduce themselves and their law firm.
Their website is too slow on mobile and even desktop.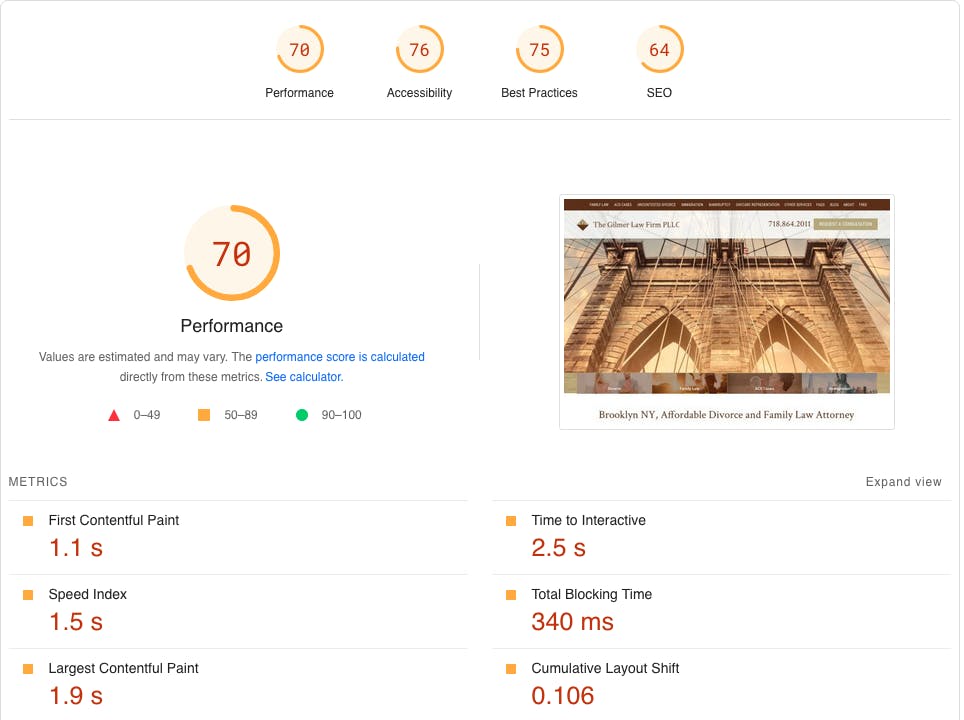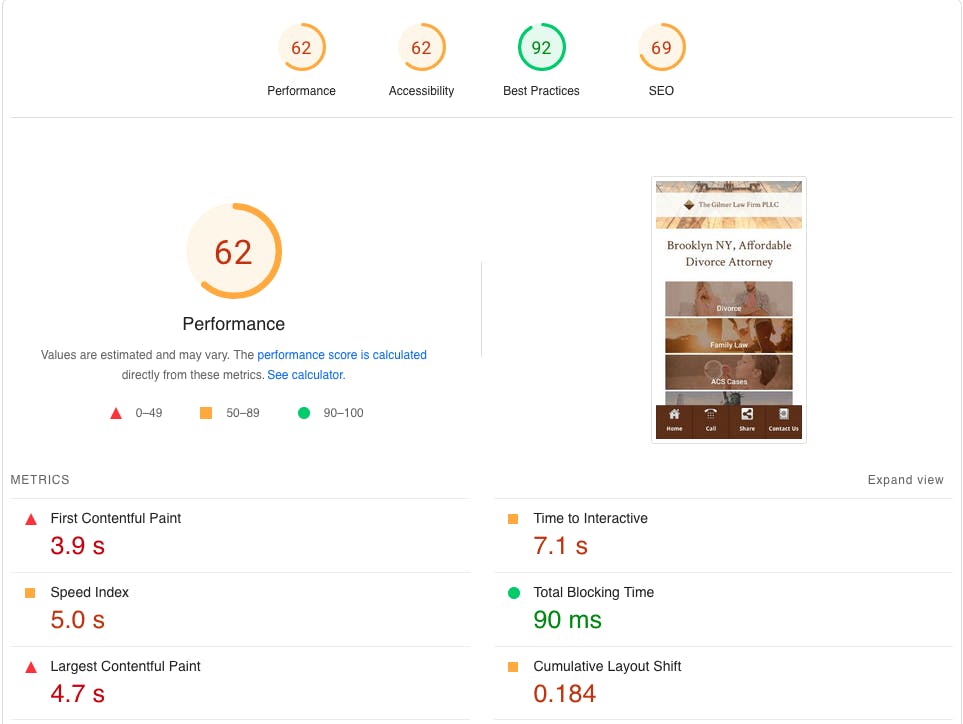 Their organic search traffic has mostly stayed the same year-over-year. Even minor SEO improvements could bring good results over time.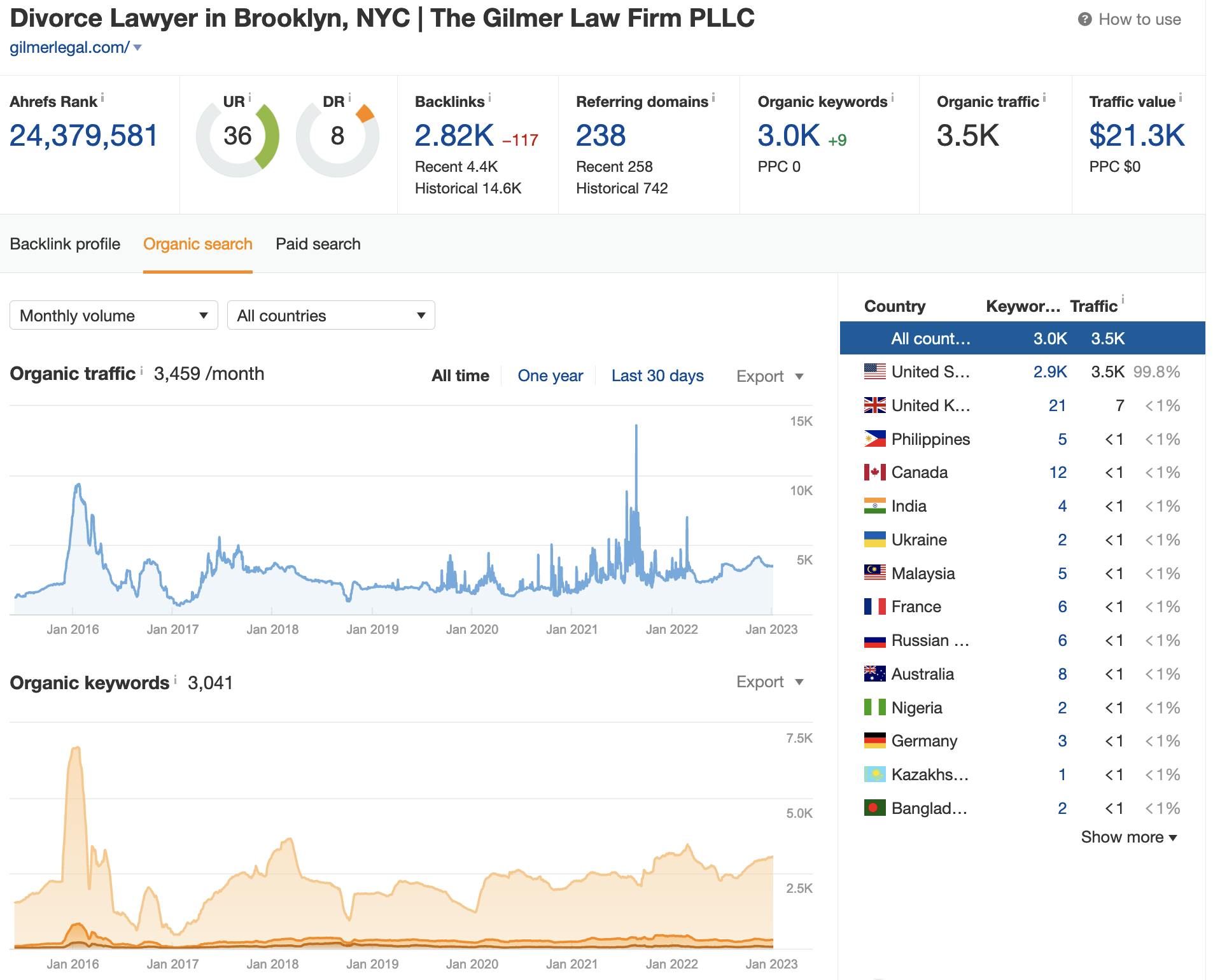 2 – Land Legal Group
https://landlegalgroup.com/
Location: Los Angeles

Video in the top section of the website is a perfect feature to implement. The visitor will see the person who they will work with and gain the necessary information to take the next step and contact the law firm.
Website loading speed on mobile devices could be better, but 2.5 seconds and 89 score is excellent. You should aim for your family law website to have a 90-100 performance score.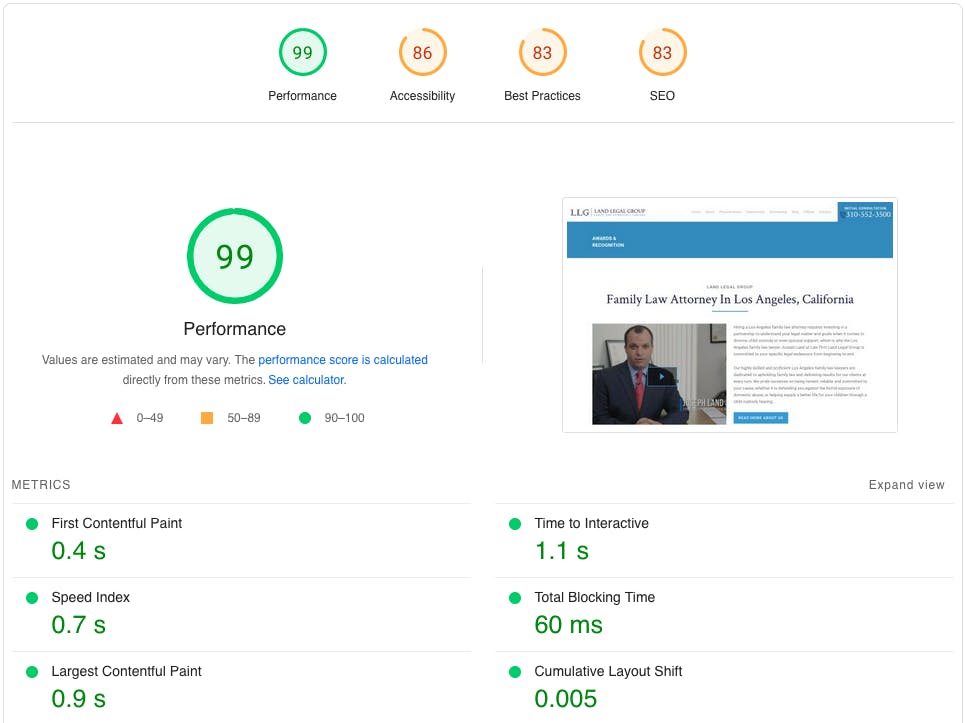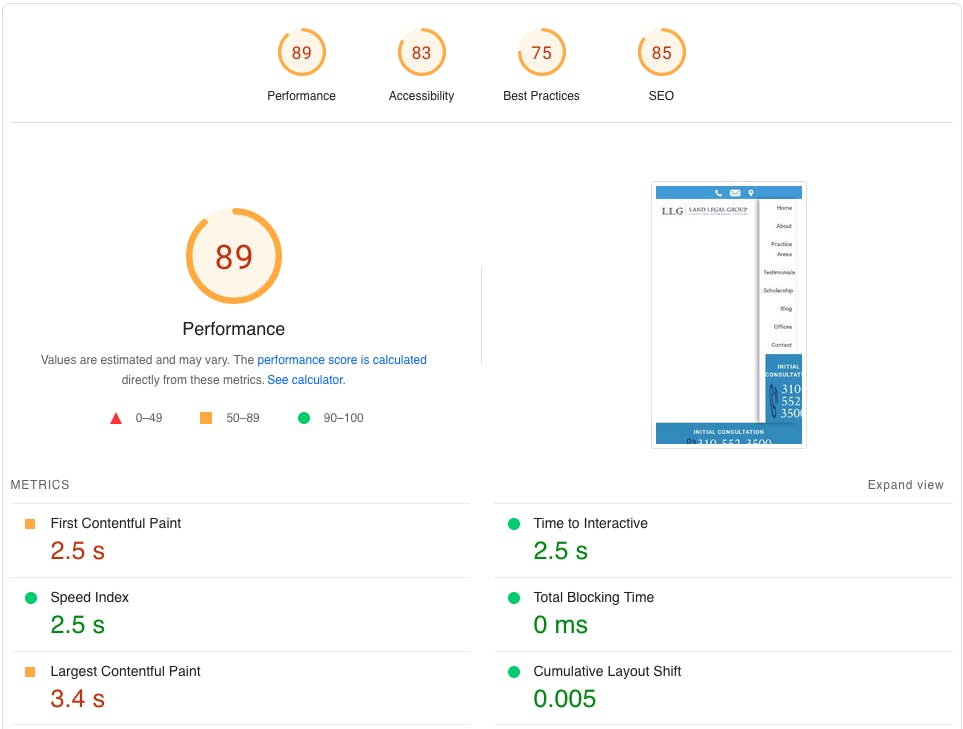 Also, the phone number at the top right corner makes it easy to call the law firm immediately. This feature should be copied by all family law websites.
The SEO graph shows that their organic traffic is growing year-over-year. They see an increase in new cases yearly or even monthly.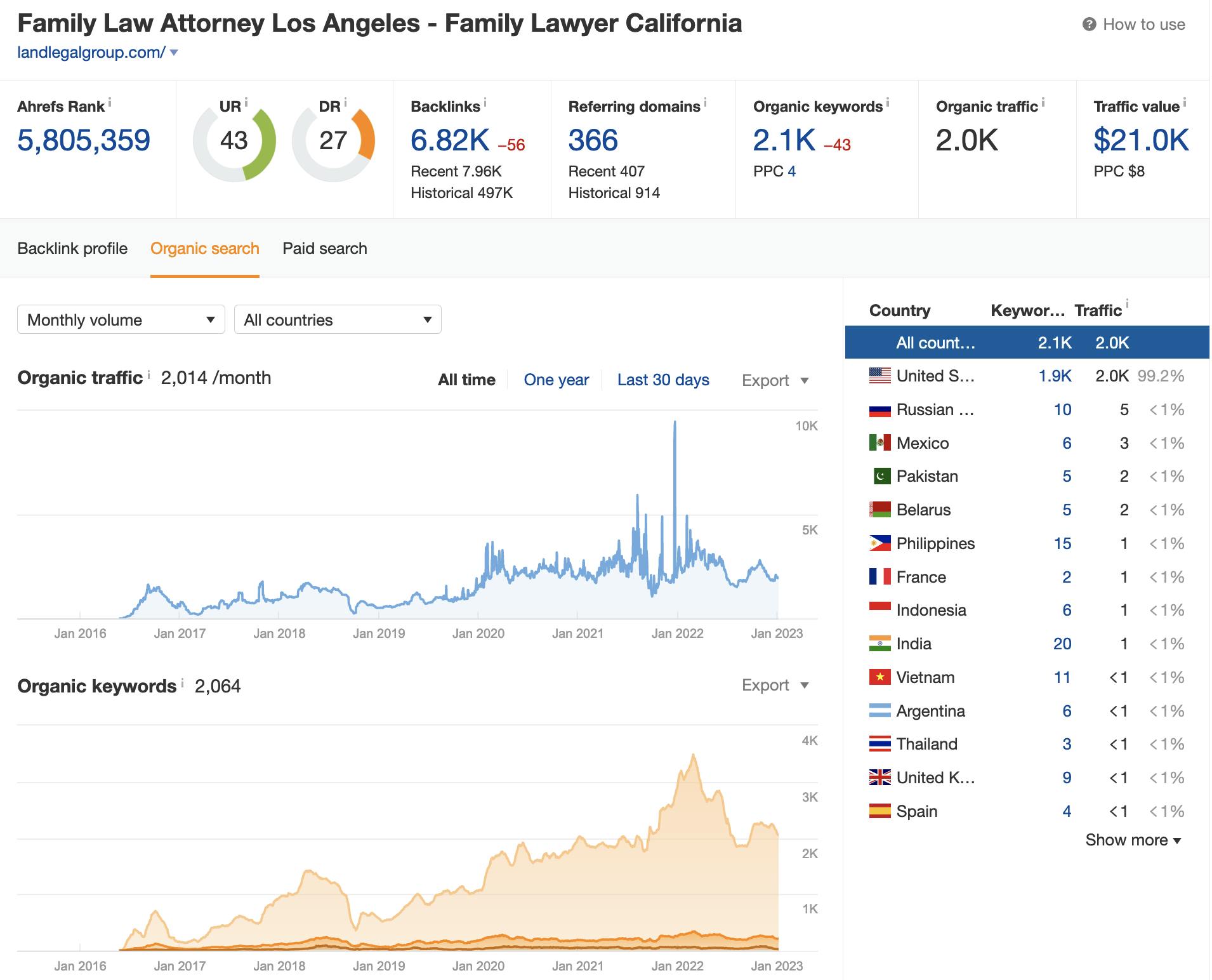 3 – Katz & Stefani
https://www.katzstefani.com/
Location: Chicago
This website has significant loading speed issues on mobile devices, which means it won't rank well for users searching on a mobile device.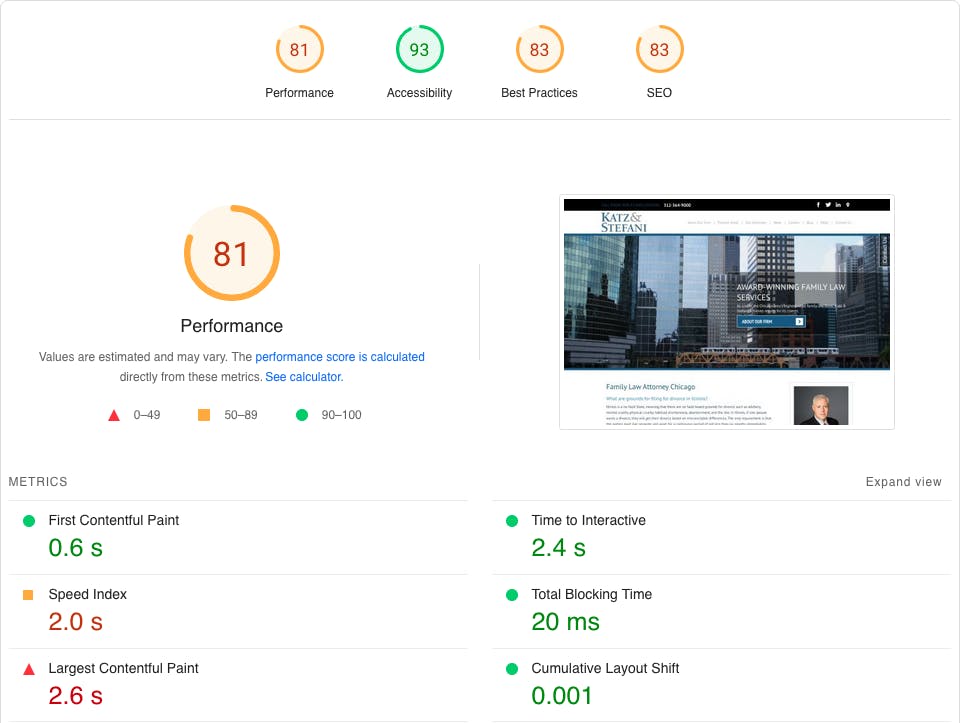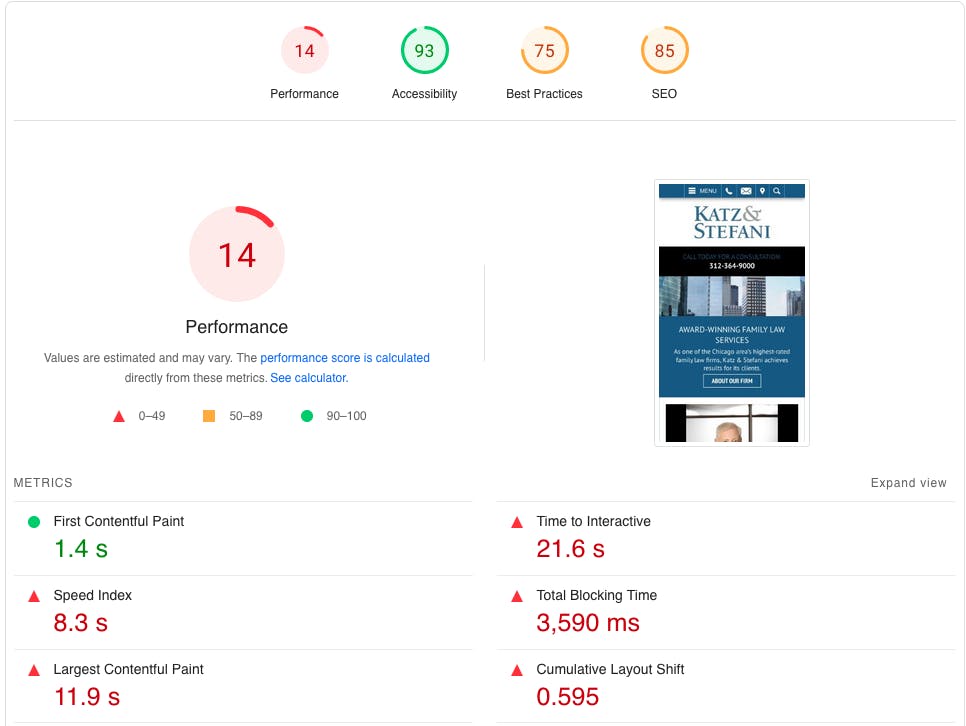 But in terms of SEO trends, it is increasing steadily over time. Family law attorney website design is important, as is the technology that is used to build the website. The underlying code of the website will determine how good is your technical SEO. You should have your website's technical SEO done well.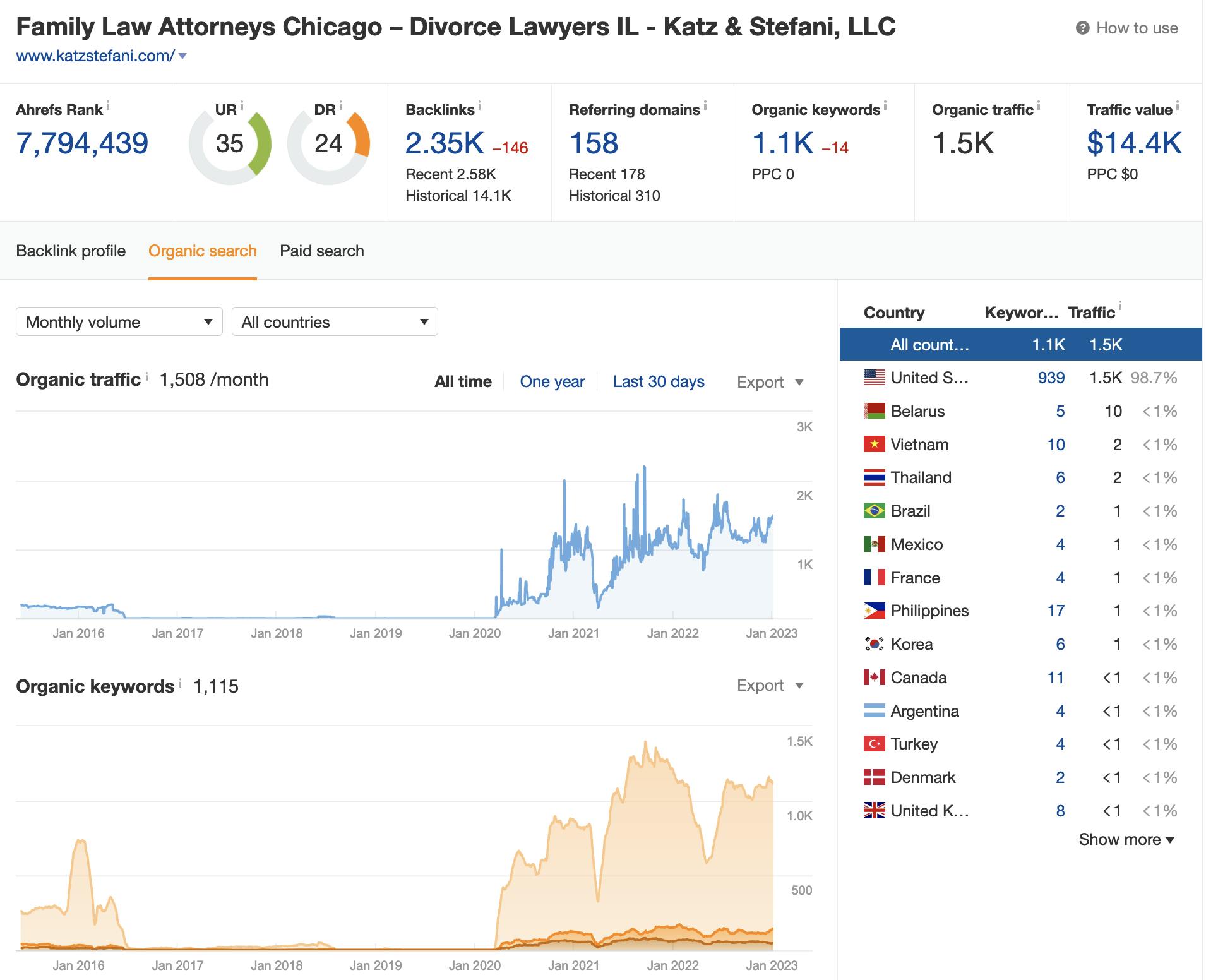 4 – The Larson Law Office
https://www.thelarsonlawoffice.com/houston-family-law-attorney/
Location: Houston
Website loads very quickly on desktop computers. 9.6 seconds is too slow for a mobile device. If they would improve mobile loading speed, then they would see a massive jump in their organic search traffic. The family law lawyer website design should be beautiful on desktop and mobile devices. The same goes for loading speed since half of the visitors will use their mobile devices when visiting your law firm's website.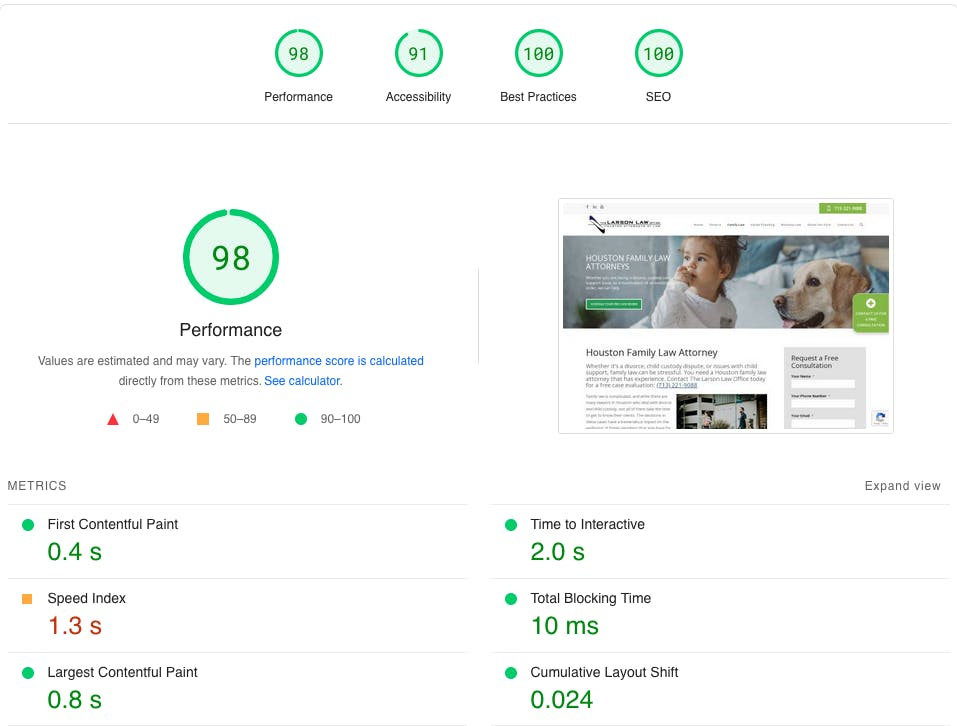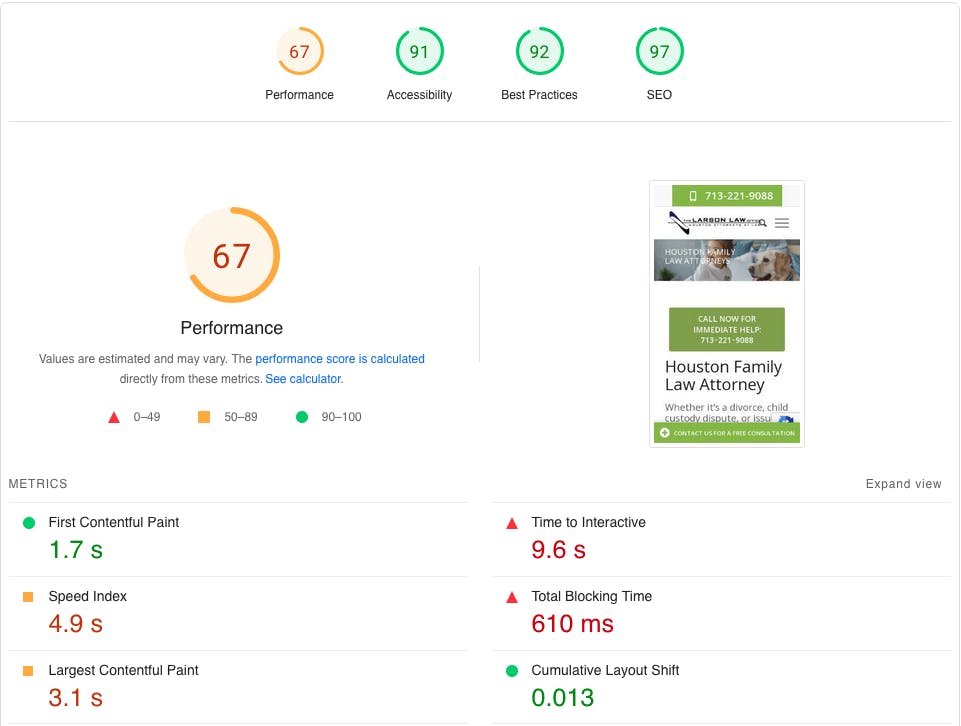 They are investing in SEO, and the results can be seen in the graph. Best family law websites are the ones that aren't just beautiful but also the ones that rank well in Google and bring you more clients.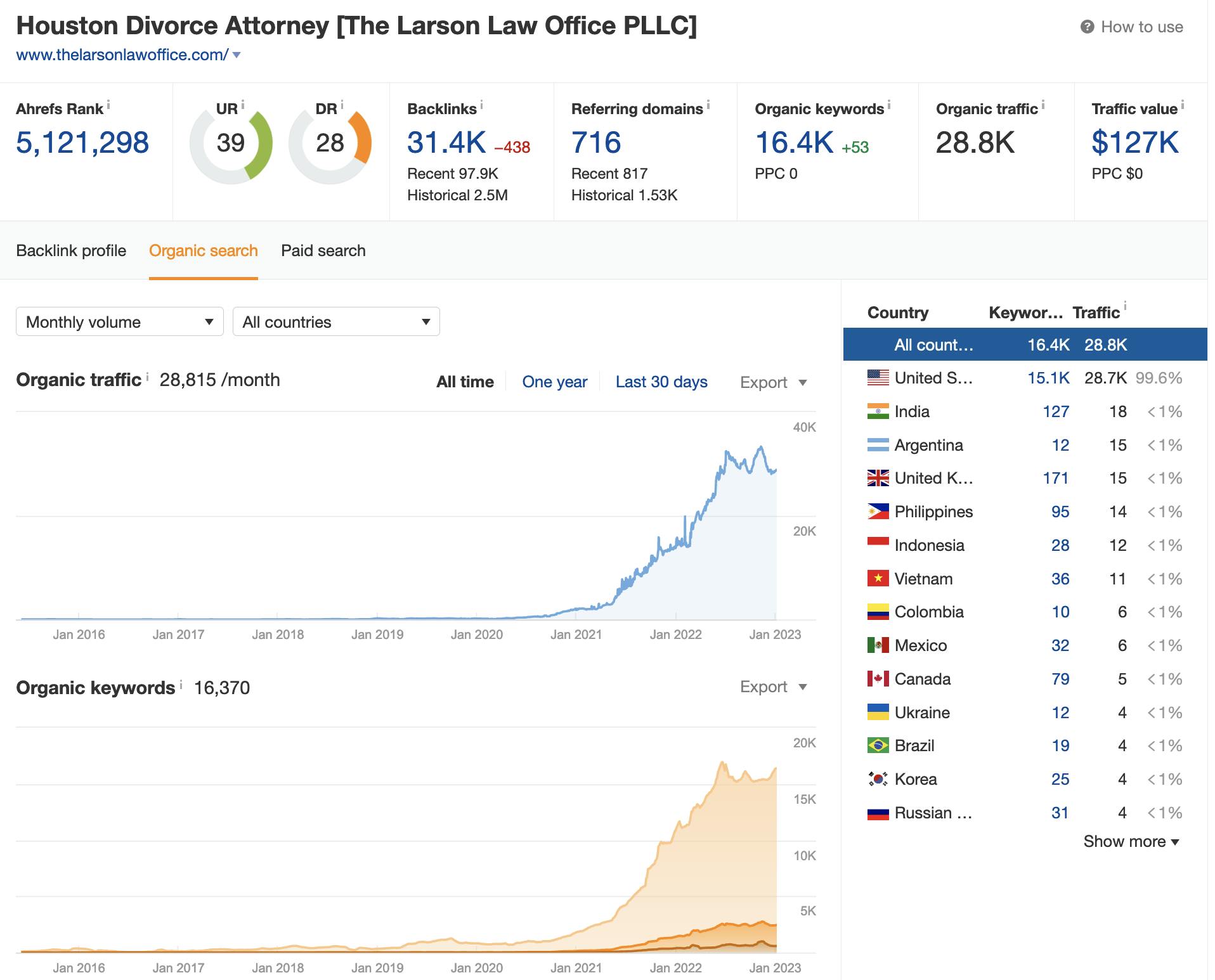 5 – Arizona Family Attorneys
https://www.azfamilylawattorneys.com/
Location: Phoenix
They have an excellent structure with a video and a headline in the top section of the website.
The website should load more quickly on desktop and mobile devices.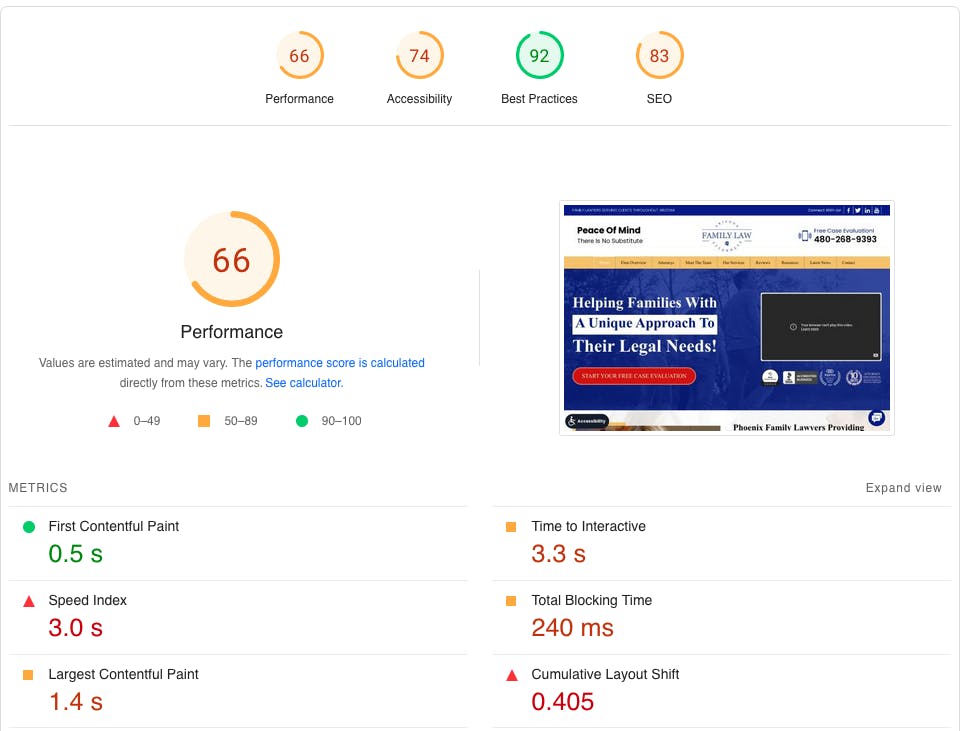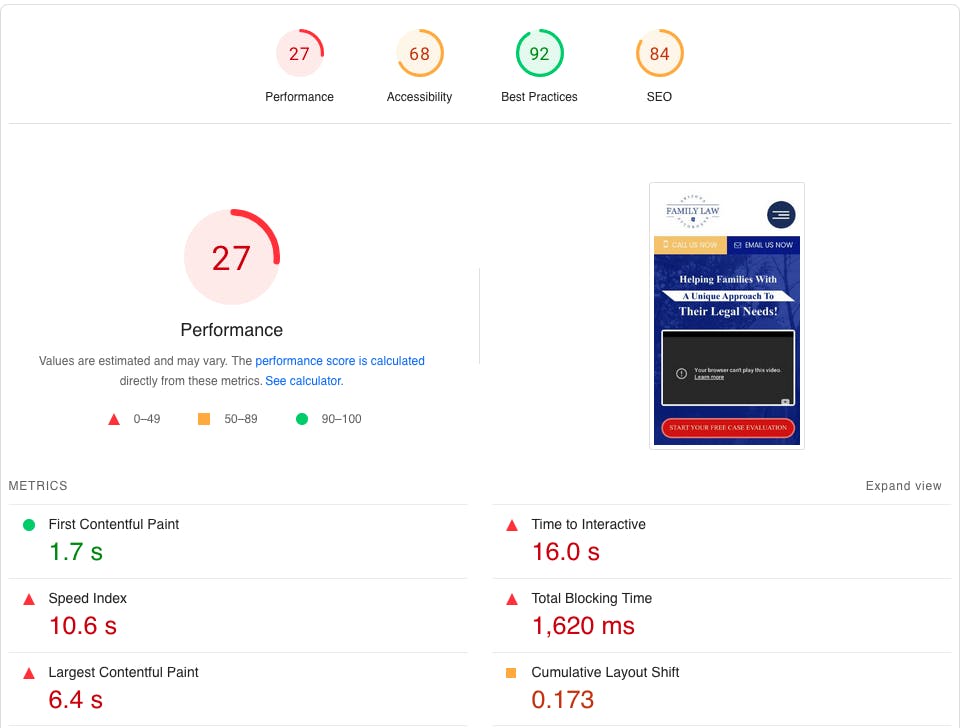 The SEO chart shows that they have seen an increase in organic search traffic in the last year.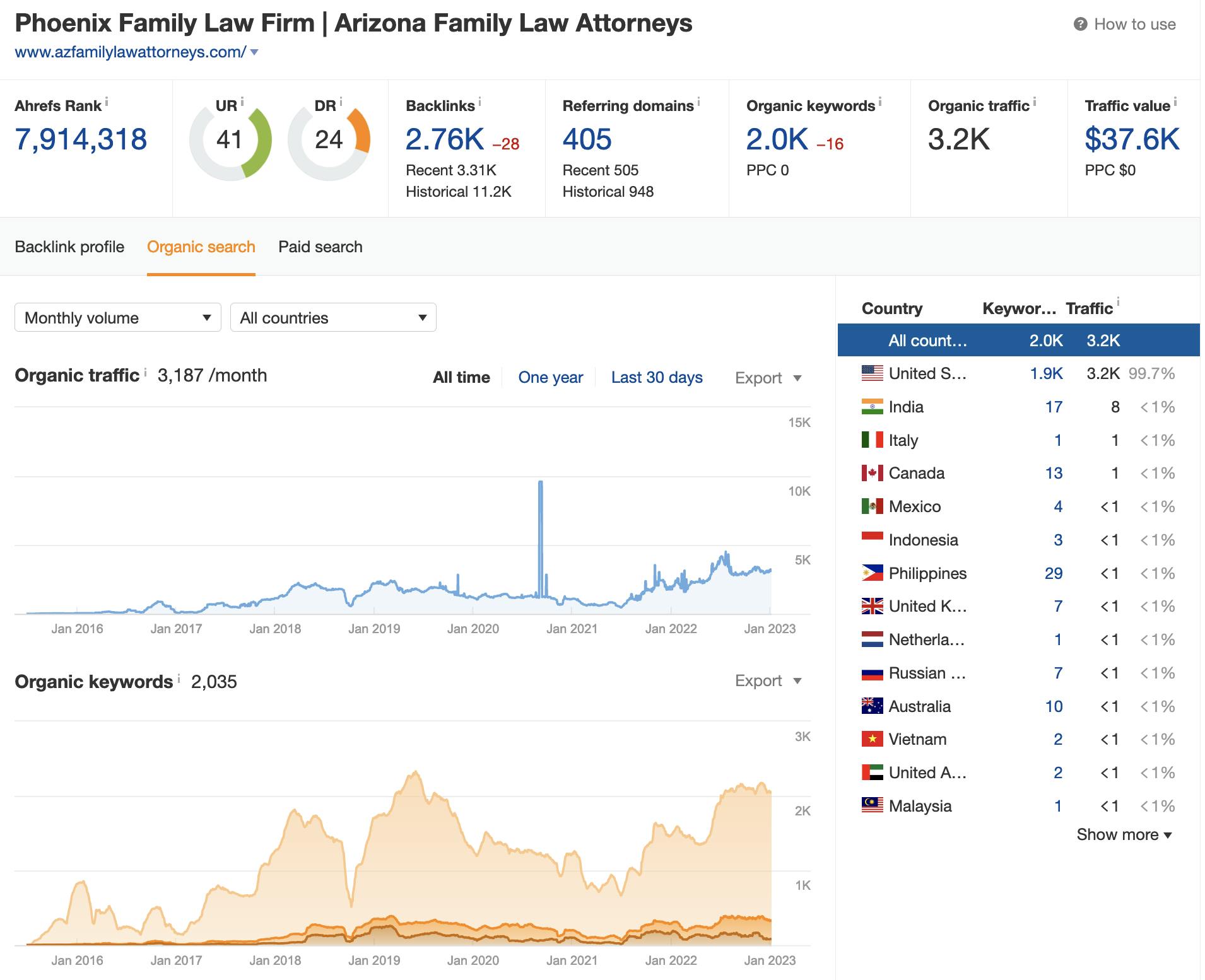 6 – Petrelli Previtera
https://www.petrellilaw.com/philadelphia-family-law-attorney/
Location: Philadelphia
A video on the page is a good choice, and the contact form allows the visitor to contact the law firm immediately. If your divorce attorney website design includes a video, it will immediately grab the visitor's attention which statistically increases the chance they will contact you.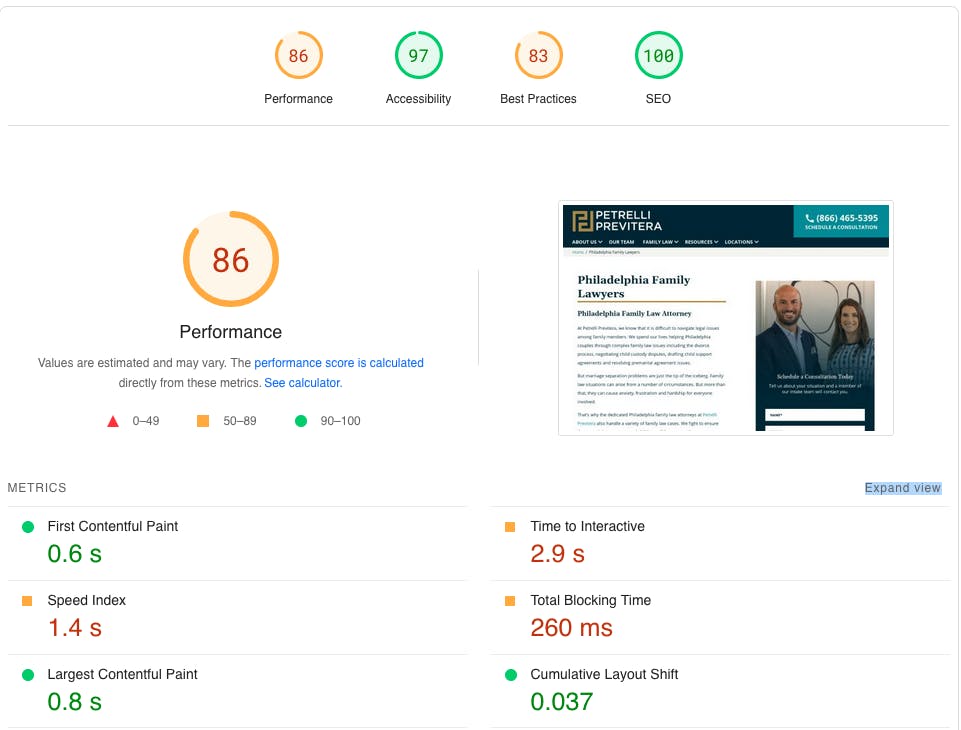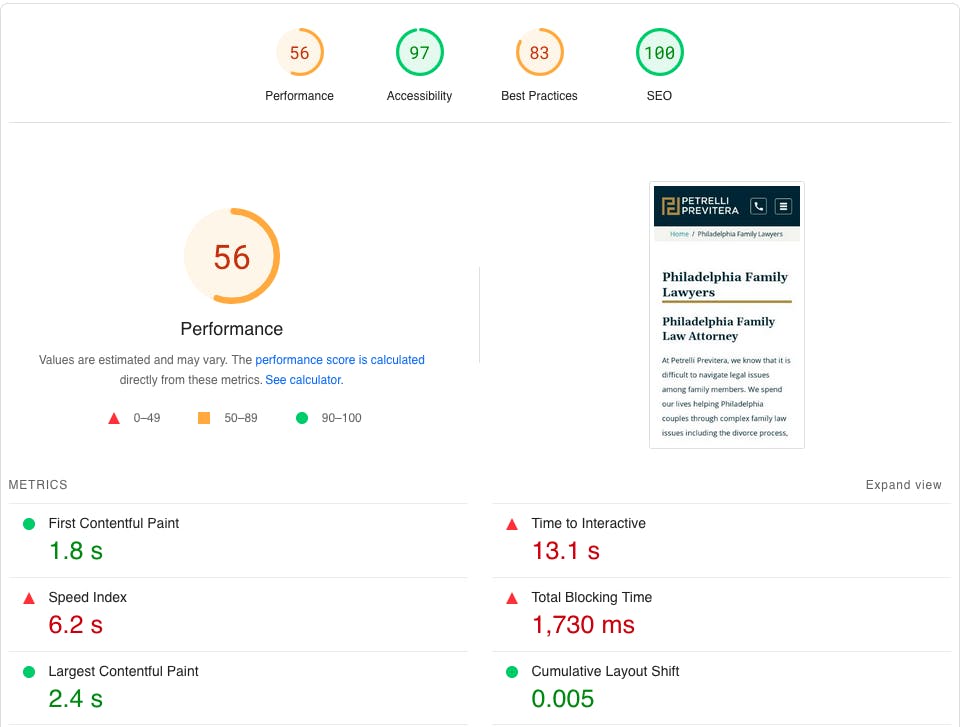 Their organic search traffic is growing year over year, which means their investment in SEO. If you would like to get more specific cases, then you need to attract that particular visitor to your website. If you are a divorce attorney, then your website design for divorce attorney should rank for your desired keyword. You invest once in a good website that is optimized for the right keywords, and you can increase the likelihood of getting more desired clients for years to come.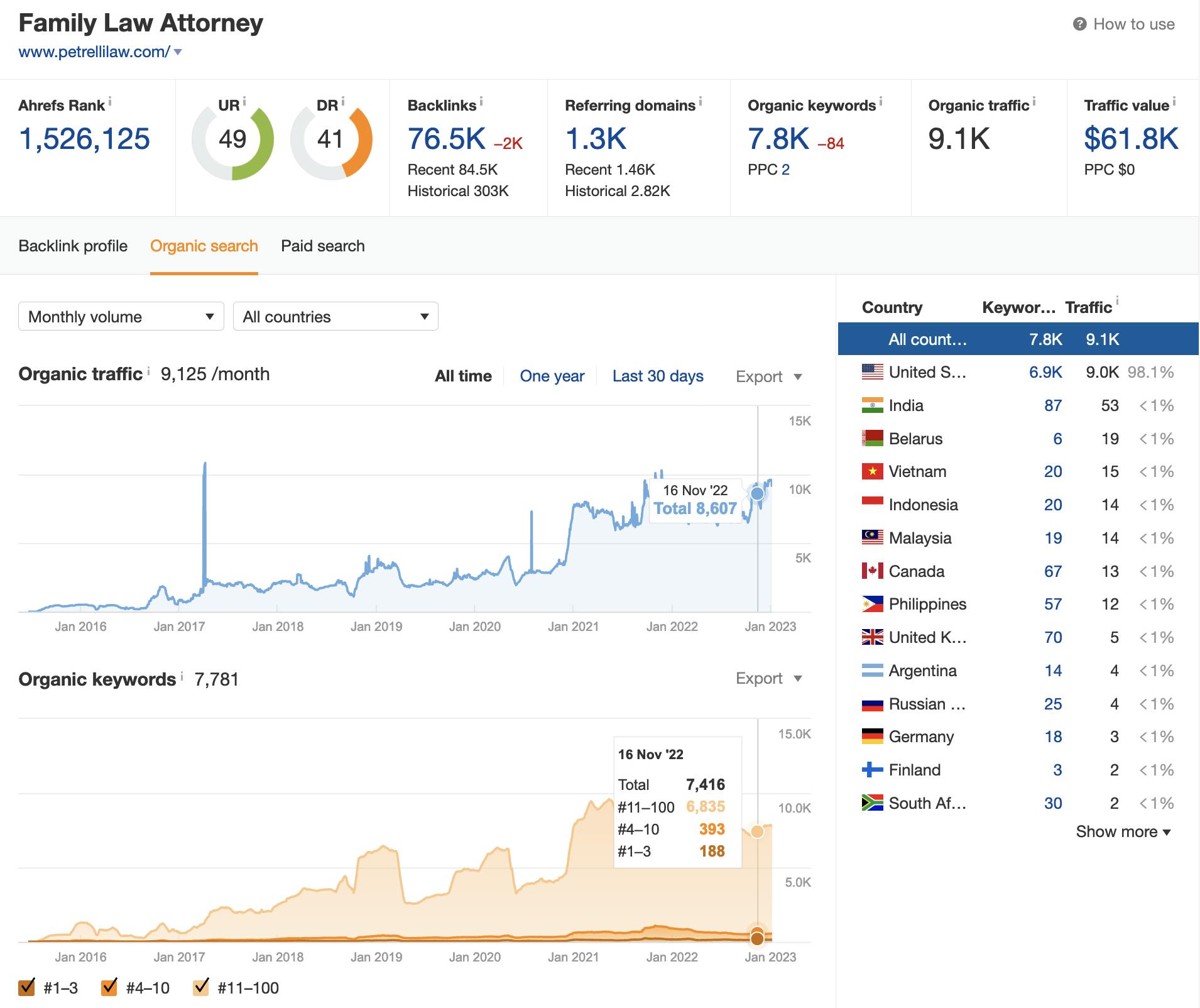 7 – Rebecca J. Carrillo Law Firm
https://www.rjc-lawfirm.com/
Location: San Antonio
A beautifully designed website. It could use a video to grab the visitor's attention. Also, the speed of mobile devices can be improved. The accessibility plugin for visually impaired visitors is a feature not present on most law firm websites.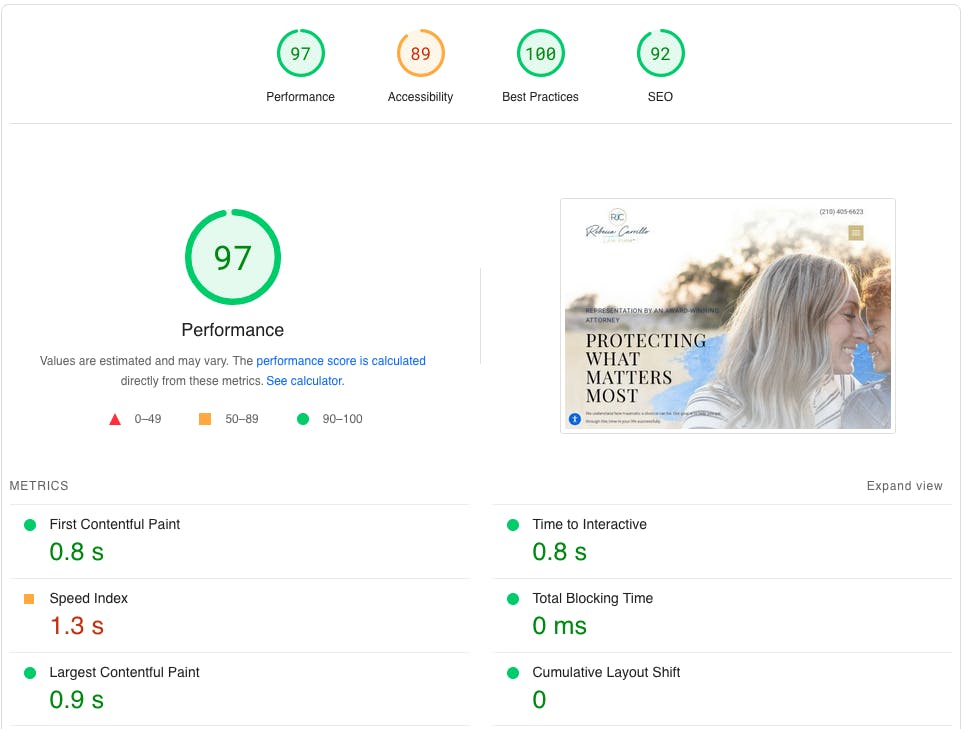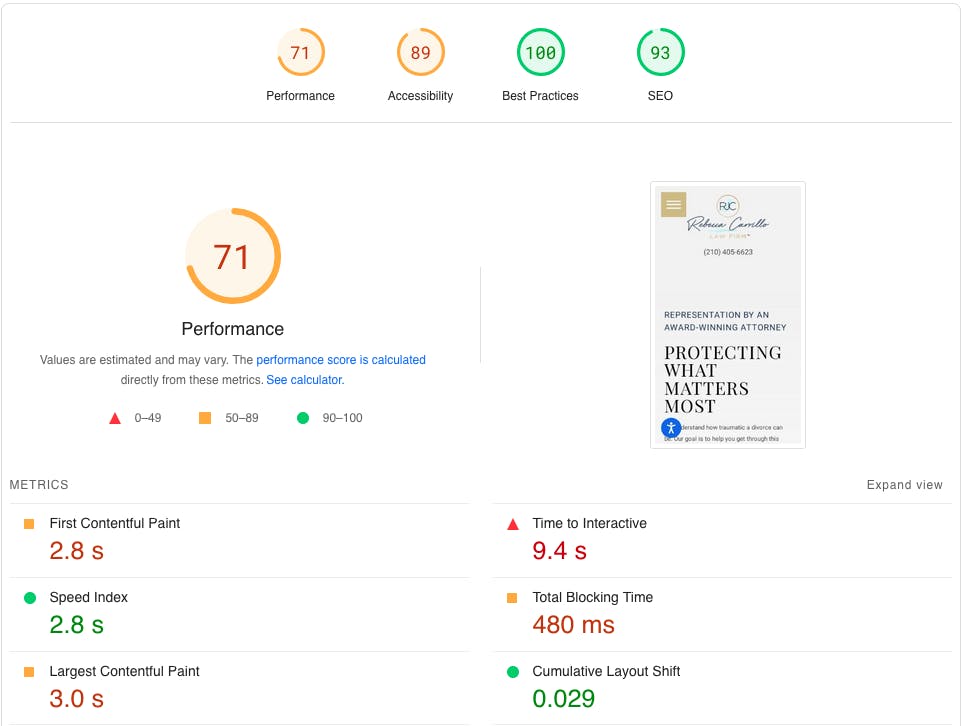 Organic search traffic is growing, which means their SEO is being worked on continuously.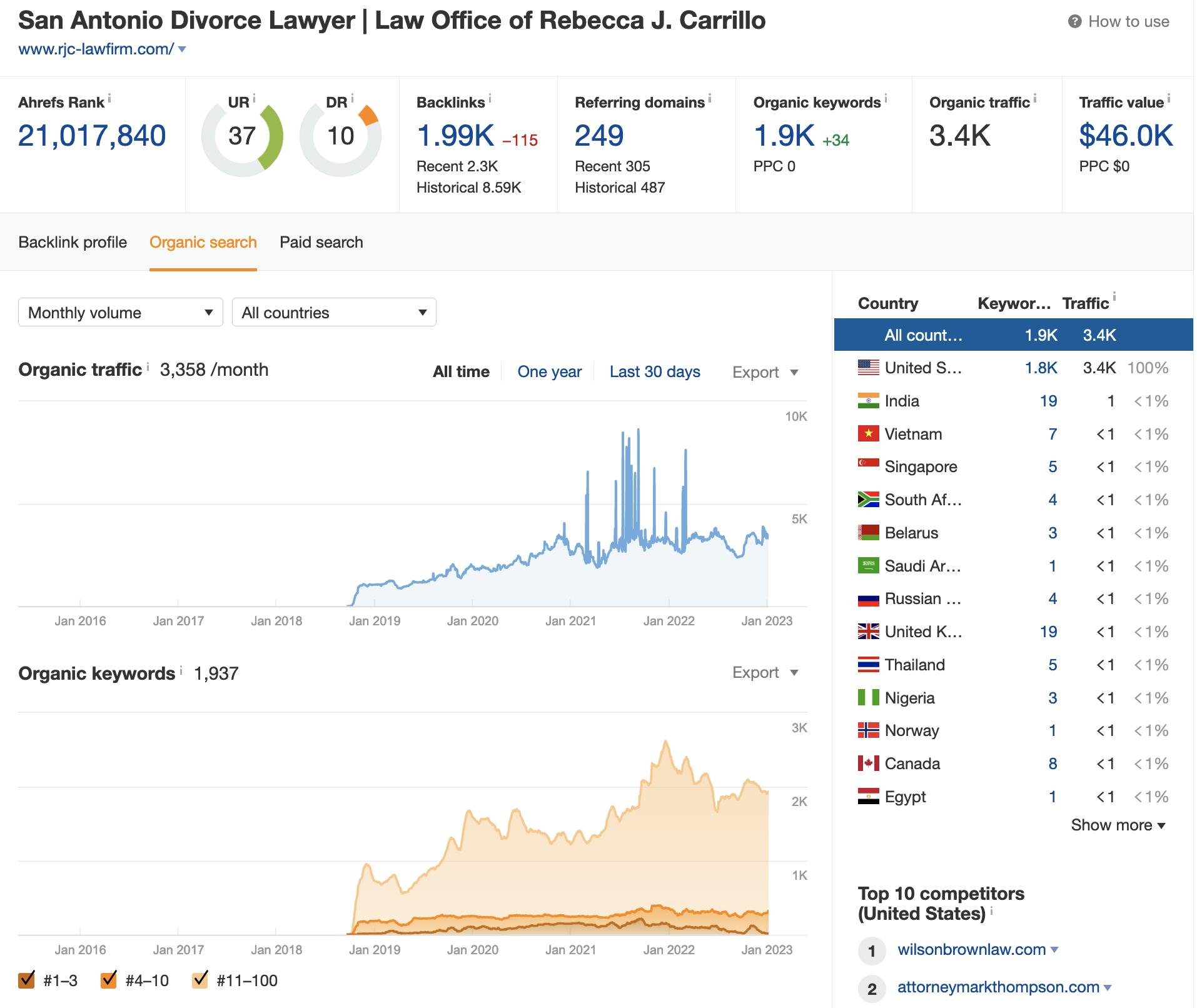 8 - Family Law San Diego
www.familylawsandiego.com/
Location: San Diego
Website performance could be better, especially on mobile devices. A lot of online traffic to websites comes from mobile devices. Optimizing your website for mobile devices becomes more important year over year.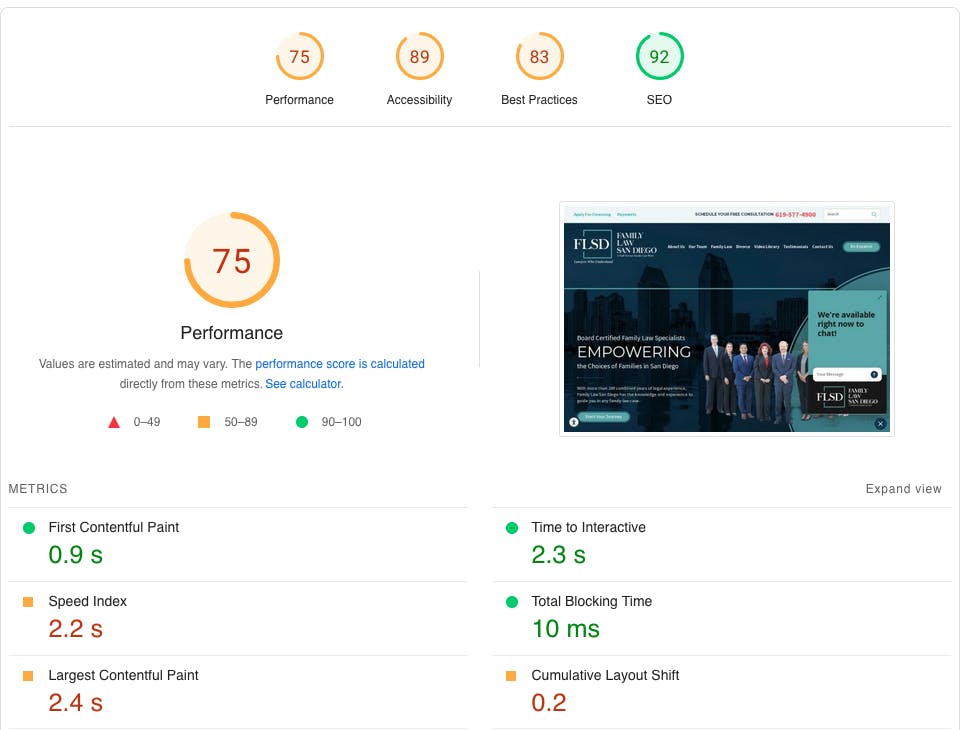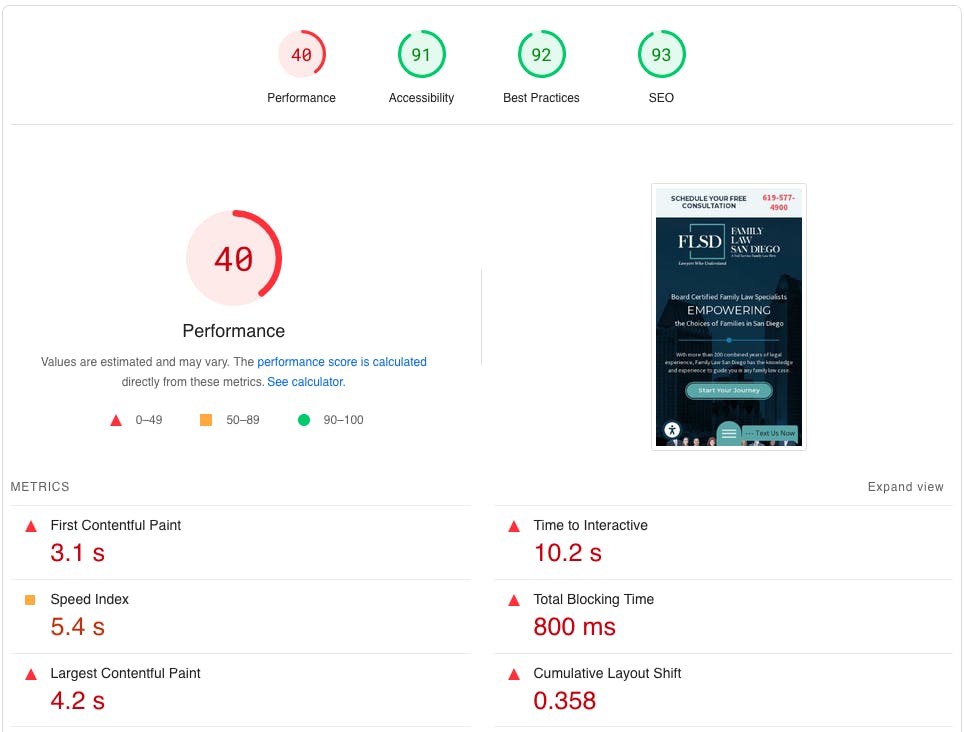 The SEO chart shows that they have been growing yearly, but in the last year, they have seen a decline. This could have been due to an increase in competition, their content not being updated, or a loss in backlinks to their pages.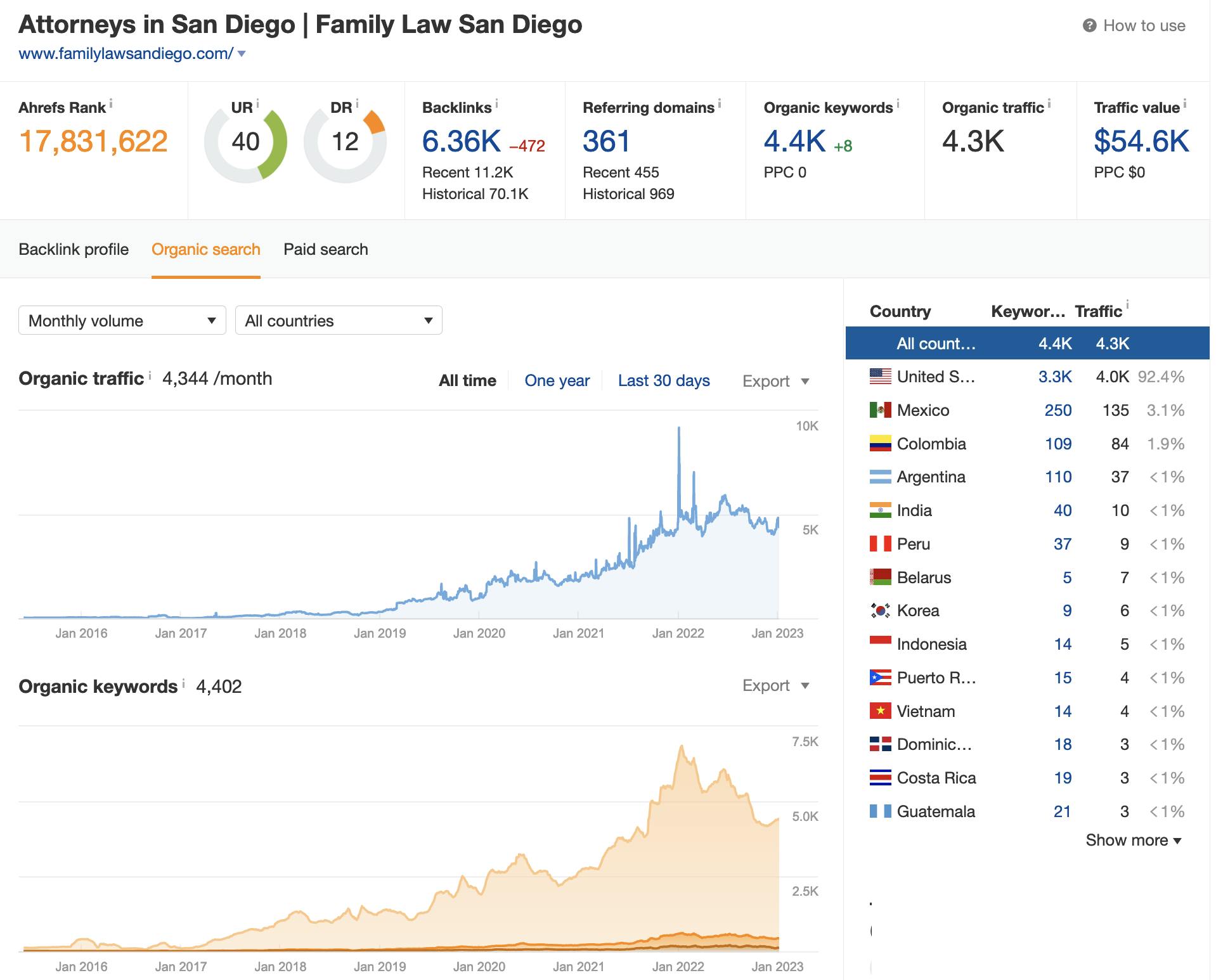 9 - O'Neil Wysocki Family Law
https://www.oneilattorneys.com/
Location: Dallas
A well-designed website with a beautiful top section. The main page includes a video. It would be wiser to have a video near the top, so the user does not have to scroll to the bottom to see it. You have a couple of seconds to get the visitors' attention, or they are leaving.
Having testimonials is great, and it adds the social proof factor to the page. Everyone likes to see that people like them have got help from some particular product or service.
Their website performance on mobile devices should be improved.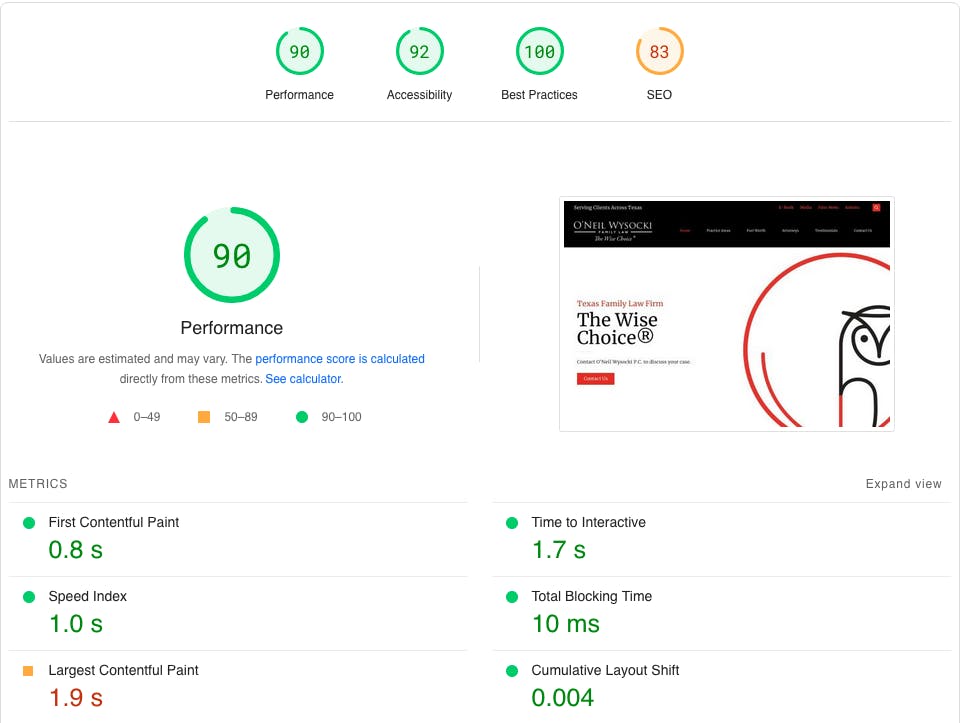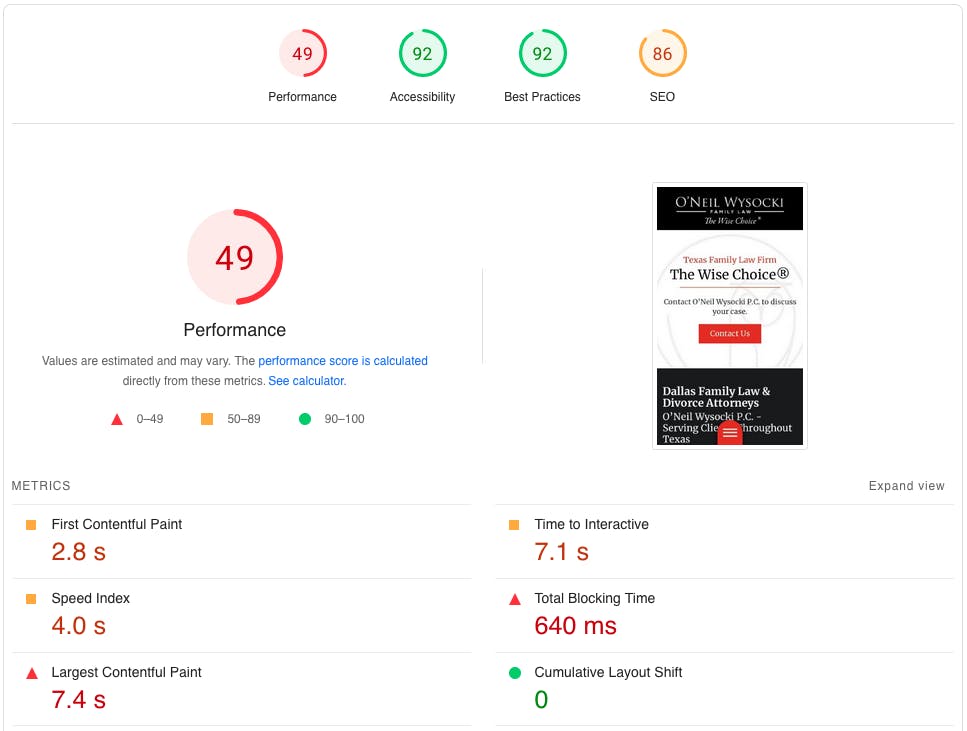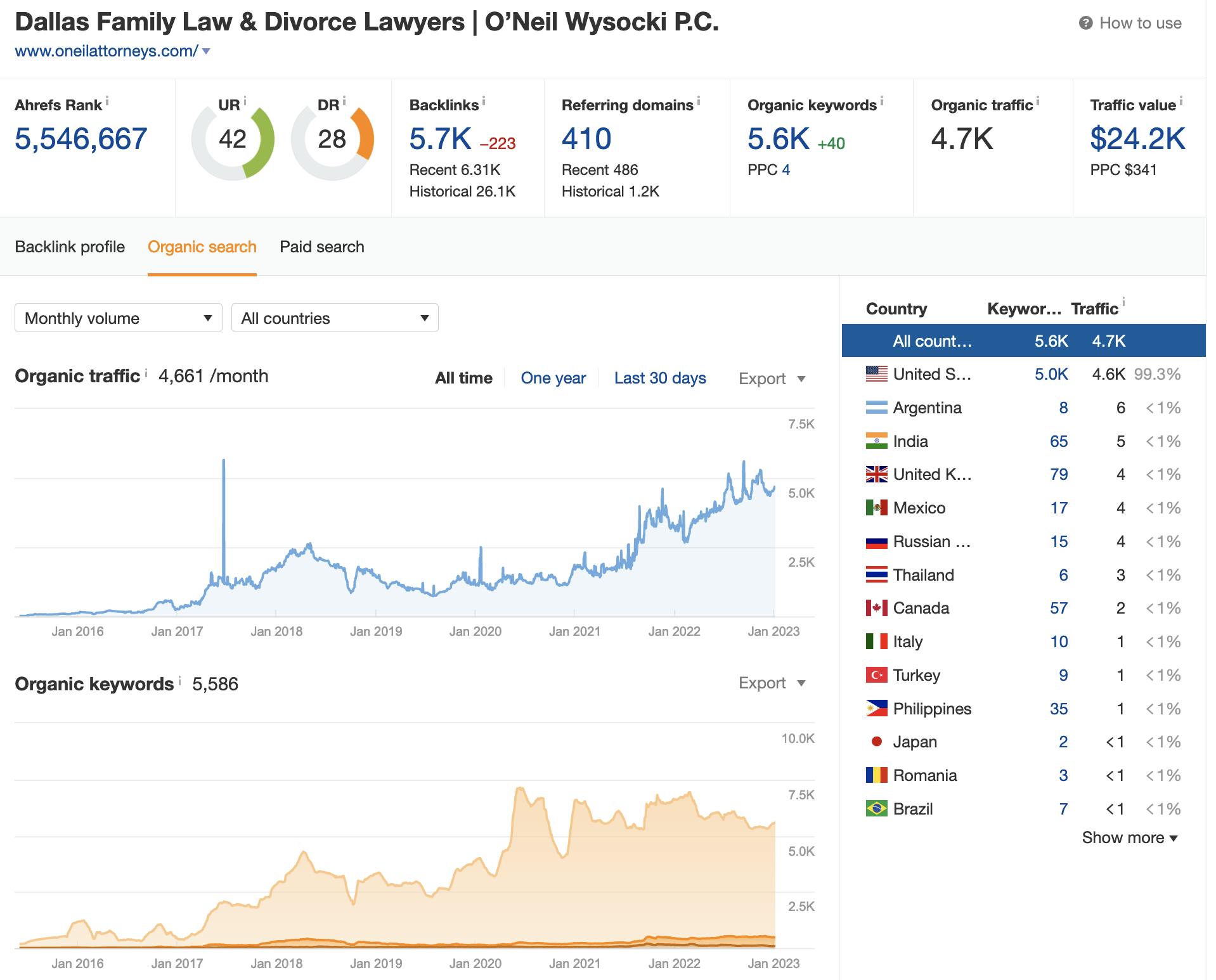 If your website implements the best parts of other attorney websites, you will outrank your competitors in Google! Thank you for reading this article!
If you are looking for a law firm web design agency to help you build an SEO-friendly, modern-looking website using the latest web technologies, contact us today and let's schedule a free consultation!