Best contractor web design - To rank high on google & increase leads
A highly rated and visually appealing contractor web design is what you need to boost leads to your business and increase sales. In this digital era, construction company owners use websites as a marketing strategy. After all, most people search online whenever they need contractors. Whether it is commercial or residential homeowners.
With the best contractor website, you can make a great first impression on potential customers online. A website also allows you to present your services, showcase past projects, and share original contractor-related content. Above all, your website visitors can schedule appointments and book your services more accessible.
Website design for contractors entails more than just creating a beautiful layout. It also involves combining different elements that ensure a seamless user experience. Here at Marketing 1776, we specialize in contractor website development. Our goal is to create a responsive, fast, custom web design for contractors that converts leads to sales. 
To beat your competition on google ranking, you must work with the best contractor website designers. Ours is a reliable contractor web design company that can help you achieve your vision for your company. Therefore, if you need a  website designed or want to upgrade the current one, contact us! Our contractor web designers will sort you out!
How a great web design can boost your contractor business
A mobile-friendly contractor web design is a must-have in your marketing material and strategies. It is the key to beating your competition online and offline. Not only is it essential to attract new customers to your business website, but you also have to keep them interested enough to pay for your construction services.
If you are wondering about the advantages of having a great contractor's website, here is a list. Note that these are not all the benefits your construction business can get, but the top 5. Book our website design services to know how to boost your contractor business with a custom site.
Make a great first impression to potential customers - Visitors judge your construction company just by the first launch of your website. A contractor web design with stunning visuals and speedy responsiveness will likely compel web users to trust your services.
Credibility - Prominent constriction companies use websites to prove transparency, experience, and accountability to their potential clients. 
Customers can easily find and contact your team - Anyone looking for a professional contractor and home repair services in your area will know how and where to see you. 
Faster company growth - A top-rated general contractor website design can help your business grow at least 15% annually. 
You can communicate with your contractor business differentiators - With an efficient construction website design; you can highlight your range of services, success stories, offers, and content.
What makes a contractor's web design effective? 
When it comes to contractor company web design, paying attention to detail is paramount. We understand that an online presence is essential in all the different approaches to contractor marketing. Therefore, we will perfectly combine these elements to make your website the best in the construction industry.
Fast-loading pages.
SEO-optimized content, i.e., blog, videos, and images.
Clickable links to contacts and other pages on the website.
Accessibility and seamless navigation from the top to the bottom of the website.
Trust factors on your construction company website may include testimonials, reviews, awards, and certifications.
Contrasting colors and white space to have a unique and custom website.
A responsive design for various devices, including smartphones, tablets, and desktops.
Helpful content is a must-have for website design contractors to use for business. It engages potential clients and boosts ranking in search engines.
Optimum crawlability and indexing. Regular core web tests indicate where your construction website ranks for any service-related keywords.
Top 9 contractor web design examples 2023
In this general contractors guide, we share 9 design ideas for your firm's website and explain why these templates are great. We shall also discuss any changes that the company's website needs, depending on the type of contractor. Remember that our design agency comes with the best contractor web design services. Therefore, once you have an idea of the company website design you want, contact us, and we shall complete the design process for you!
1. United Elite Group
New York
https://www.unitedelitegroup.com/
What is excellent about this contractor web design:
The company has used a professional contractor web design.
The site uses high-quality images to sell its services.
A slideshow on the homepage displaying elegant renovations.
Well-categorized portfolio.
A process tab to help clients navigate the site.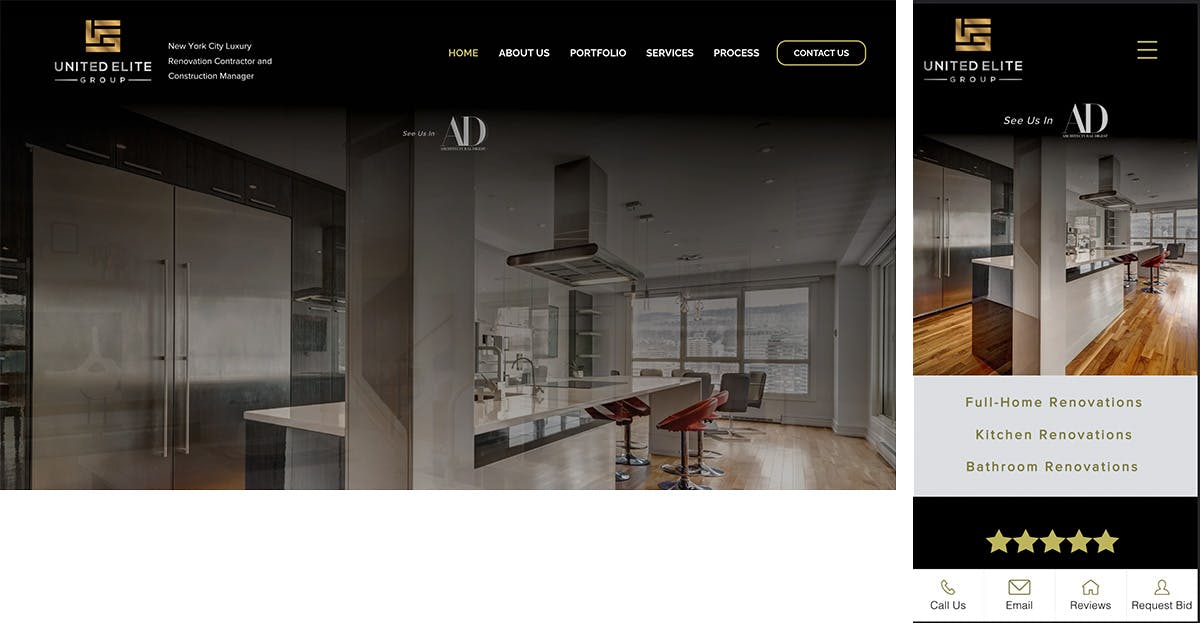 Possible improvements:
Increase more SEO content spaces and categories on the homepage.
2. Schumacher Homes
In Ohio and other states.
https://www.schumacherhomes.com/
Excellent elements of this company's web design:
The website is elegant, stylish, and straightforward.
An in-depth dropdown with internal links, photos, and descriptions.
An attention-grabbing background video on the homepage.
Promotions navigation has been added to the main menu.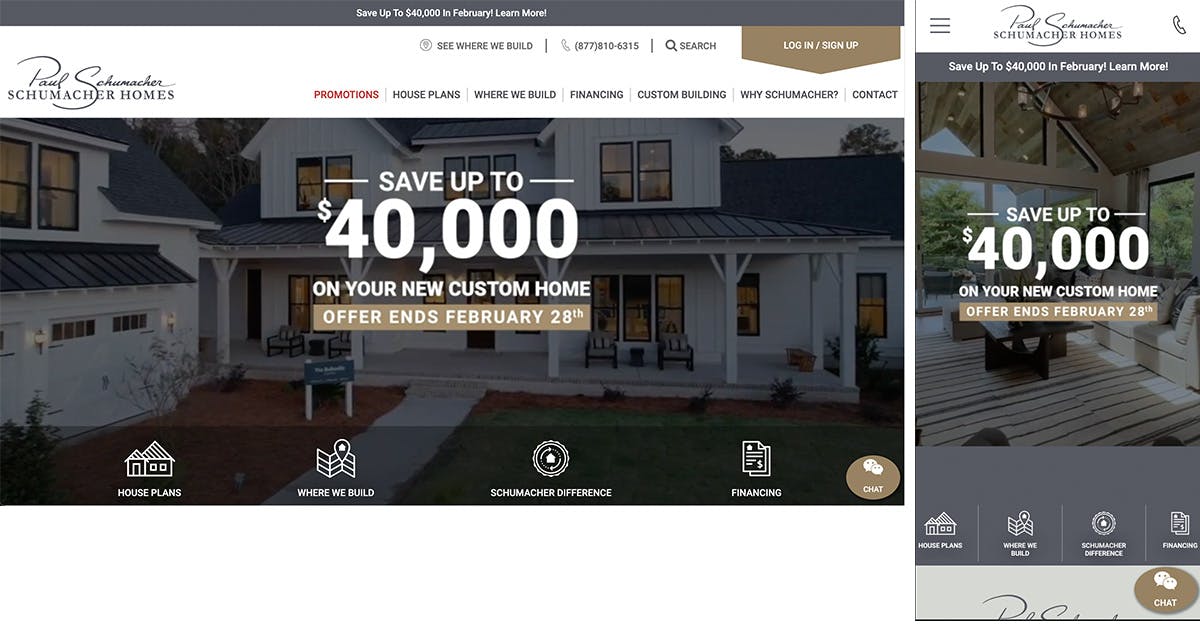 Recommended changes:
The promotions page needs more helpful content explaining the different offers.
3. Timber Ridge
Denver, Colorado
https://timberridgeproperties.net/
Outstanding design elements of this contractor's website:
Horizontal navigation menu with a straight-to-the-point dropdown of sub-categories.
Unique selling proposition content on the landing page.
Clickable links to open the gallery and get in touch.
Original photos in the portfolio.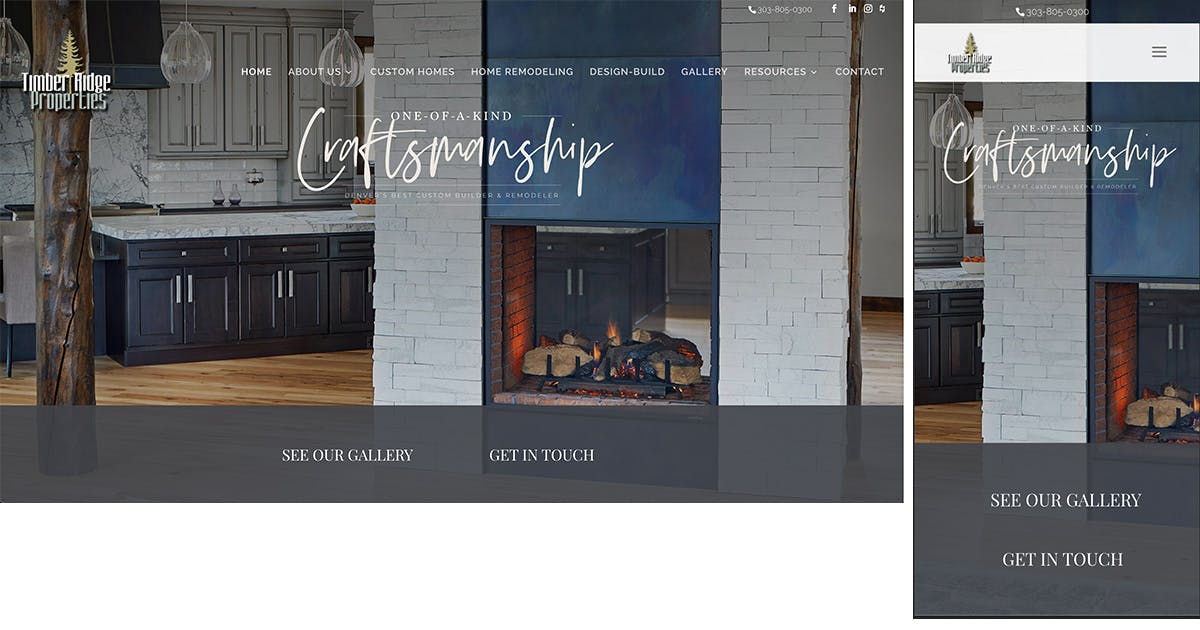 Suggested improvements:
Adding more trust factors and sections, including customer reviews and videos.
4. Connect Homes
California
https://connect-homes.com/
Great features on this website:
A captivating intro animation.
Use of excellent typography.
The fixed sidebar navigation allows easier access to various pages on the site.
High-quality images.
A vivid interactive process page.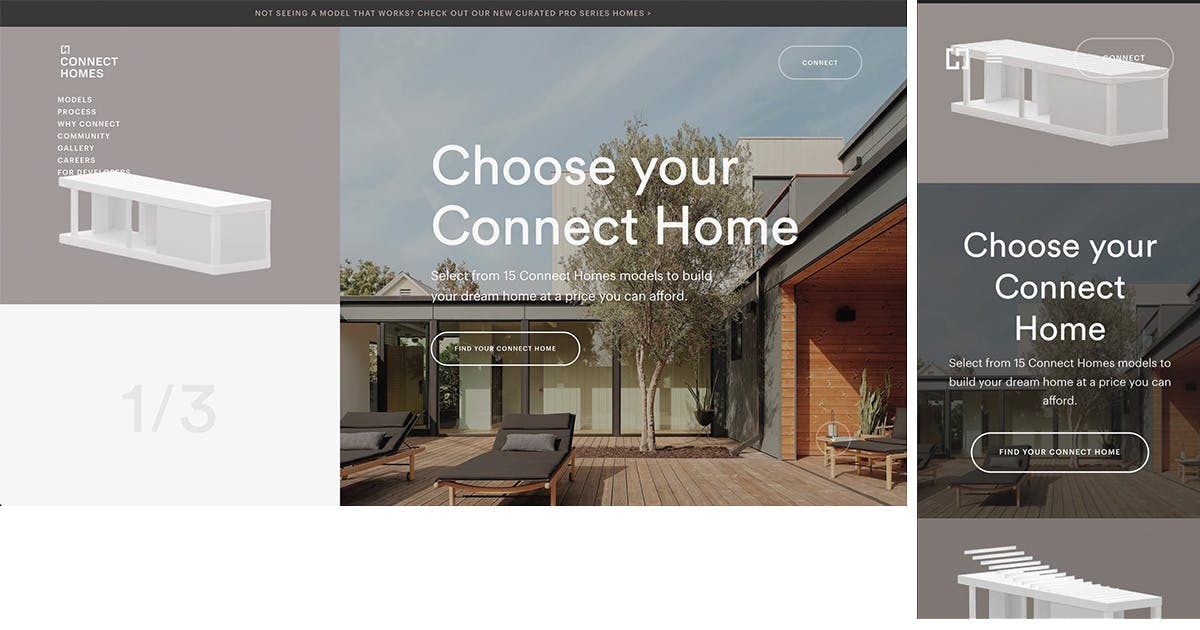 Suggested improvements:
Accessibility needs improvement. Scrolling is a bit complicated, especially while using desktops.
5 Maman Corp
Illinois, Maman Corp
https://www.maman-corp.com/
Great features on this contractor's website design:
The pages are fast-loading, giving users a seamless experience.
A scroll-triggered transition that captures the user's attention.
Well, contrasting typography, color schemes, and white space.
The design uses a minimalist approach.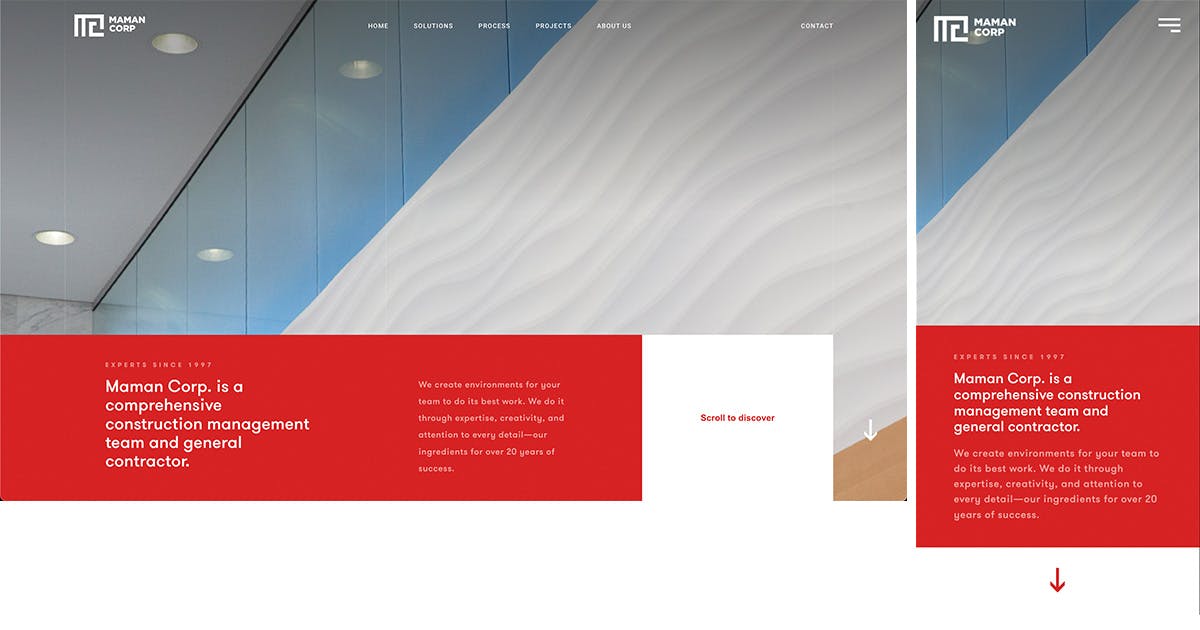 Recommended changes:
There are only two images and 1 video on the homepage. More helpful content should be added, e.g., projects, home services, etc.
6. Level 10 Construction
San Diego
https://www.level10gc.com/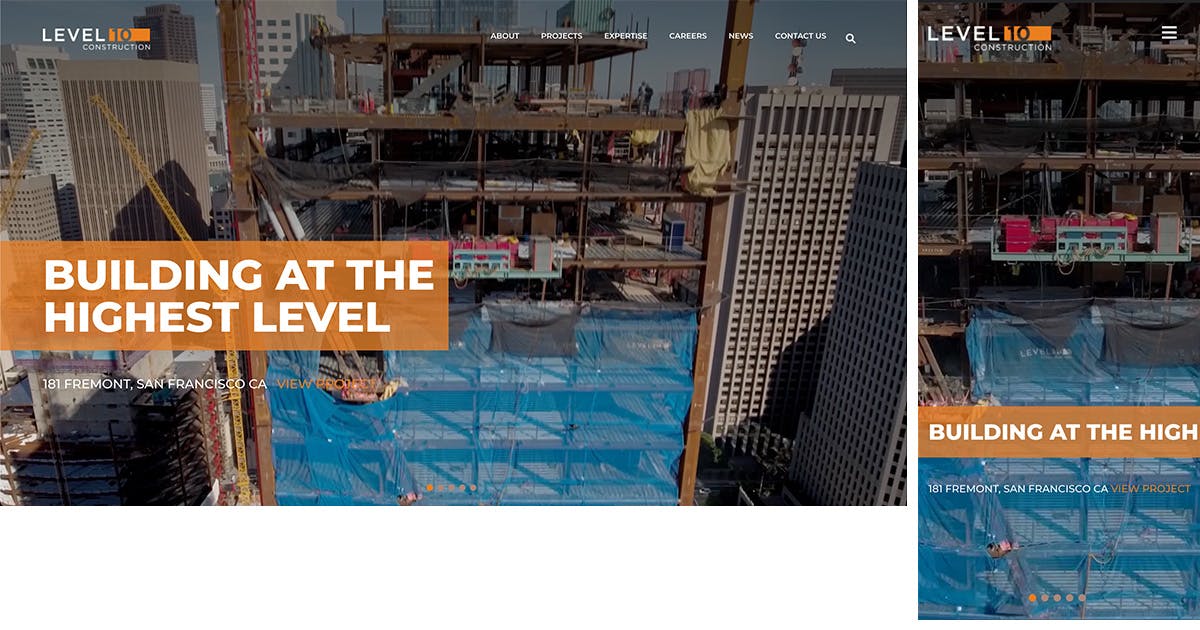 Why we chose this construction web design:
The homepage slider comes with HD videos.
The sticky navigation bar makes it easier for users to explore the website.
Use of credibility factors like awards to build trust.
The top menu is easy to the eye, with main categories and sub-categories.
7. Oasis Builders
Los Angeles, California
https://oasisbuildersinc.com/
Why we picked this contractor site:
One of the best modern websites for contractors.
Intriguing autoplay that keeps the user engaged.
It has a unique off-center menu.
Contemporary typography.
Properly planned white space that makes the website neat.
There is lots of helpful content on the site.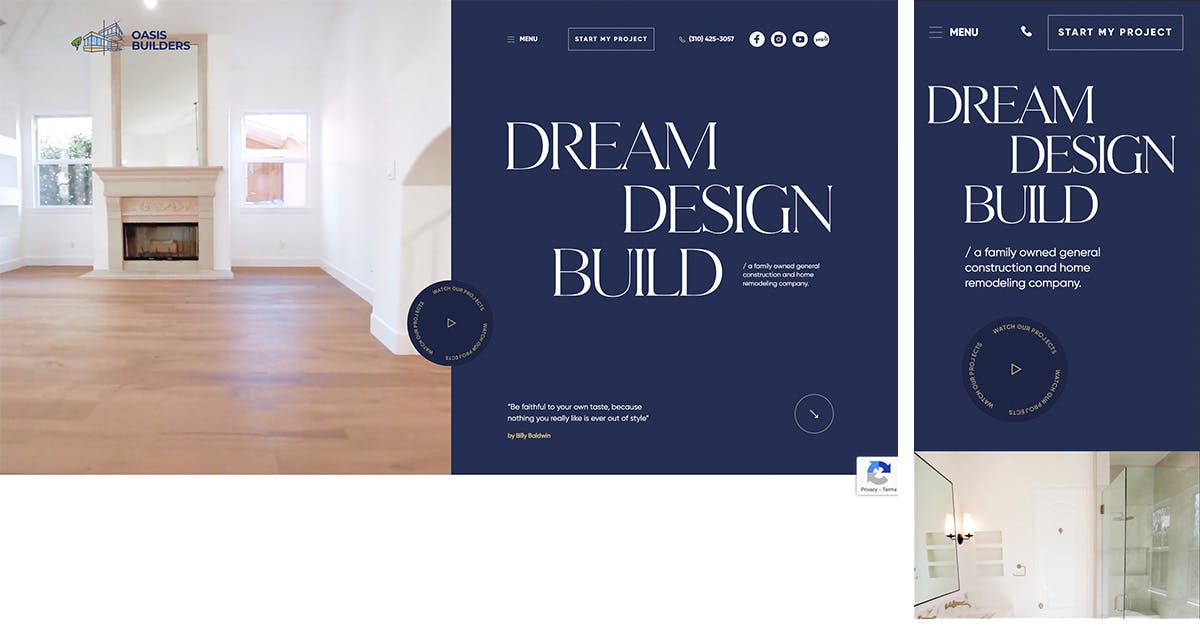 Recommended changes:
The contact form is minimalist, but its placements and visibility could be improved.
8. Unique Construction 
Miami, Florida
https://www.uighomes.com/
Why we picked this construction web design:
This is a professional website with edgy visuals.
Designers added parallax to enhance scrolling.
Immersive and fast-loading pages.
The translation is available in Spanish.
An optimized blog.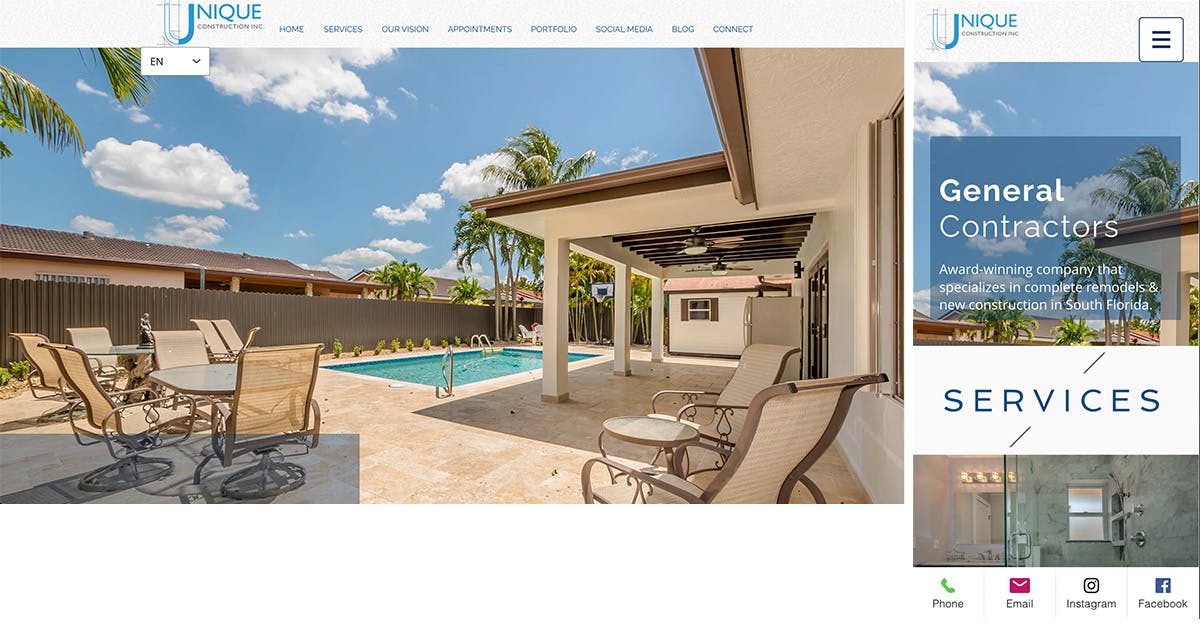 Suggested changes:
This is a fantastic website, but the contact information in the footer should be displayed with more contrasting colors.
9. The Ultimate Pro
Hollywood, California
https://www.theultimatepro.com/
Outstanding elements on this website:
The landing page has a subtle here slider with the company's services.
The website is neat and minimalist.
Visual hierarchy has been used to add professionalism and a modern aesthetic to the site.
Pin location map.
A well-organized portfolio section.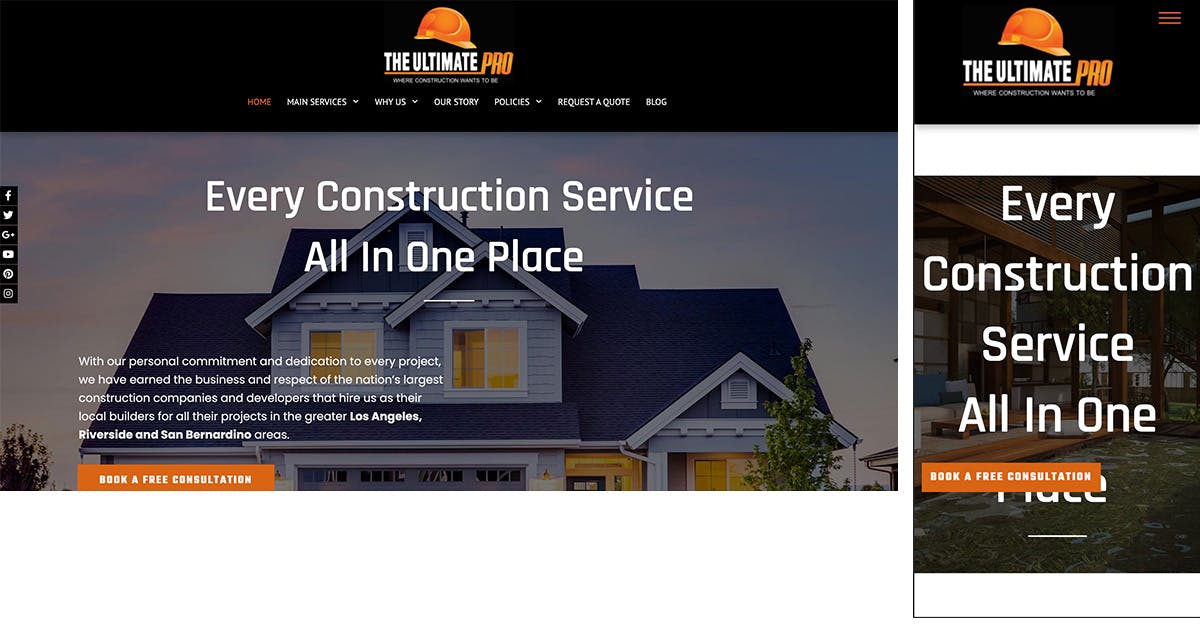 Recommended changes:
Developers could have added images in the service section. 
In conclusion, a highly functional website is necessary for every business owner in the construction industry. Therefore, you must own a well-designed, optimized website representing your company's brand. Kindly contact us for the best contractor web design services and work with experts!